Market Synopsis of IoT Sensor Market:

Market Scenario:

Major giants like IBM Corporation and Texas Instruments are investing into IoT sensor market due to increasing demand from various industry verticals like commercial, consumer and industrial. Increasing need for real time computing of applications is one major factor fueling the growth of IoT sensor market. Texas Instruments is dominating the internet of things market and is considered to be the technology leader in IoT applications.
North America region holds the largest market share of global IoT sensor market followed by Europe and Asia Pacific regions. The growth is North America region is mainly dominated by U.S. and Canada and is attributed to the increasing demand for mobile communication and consumer electronics in the region. The region also has a well-established infrastructure which allows implementation of advanced technologies.
IoT sensor market has been segmented on the basis of component, type, network technology and vertical. The type segment is further bifurcated into proximity sensor, acoustic sensor, temperature sensor, pressure sensor, flow sensor, humidity sensor, inertial sensor, touch sensor, image sensor, motion sensor, occupancy sensor, CO2 sensor, accelerometer, magnetometer, gyroscope and others. Out of which, the pressure sensor market is expected to hold the largest market share of the IoT sensor market. This is owing to the increasing number of applications of IoT sensors in various sectors like healthcare, industrial automation, transportation and consumer electronics.
Major factor driving the growth of IoT sensor market is the growing need for connected devices and increasing adoption of smart devices and wearables. Development of cheaper and smarter internet of things sensor is one major factor responsible for driving the growth of IoT sensor market. As the prices are cheap, the implementation of IoT sensors is increasing day by day across various industry verticals. Supportive initiatives from government is another factor driving the growth of IoT sensor market.
The global IoT sensor market is expected to grow at approx. USD 40 Billion by 2023, at 42% of CAGR between 2017 and 2023.
IoT Sensor Market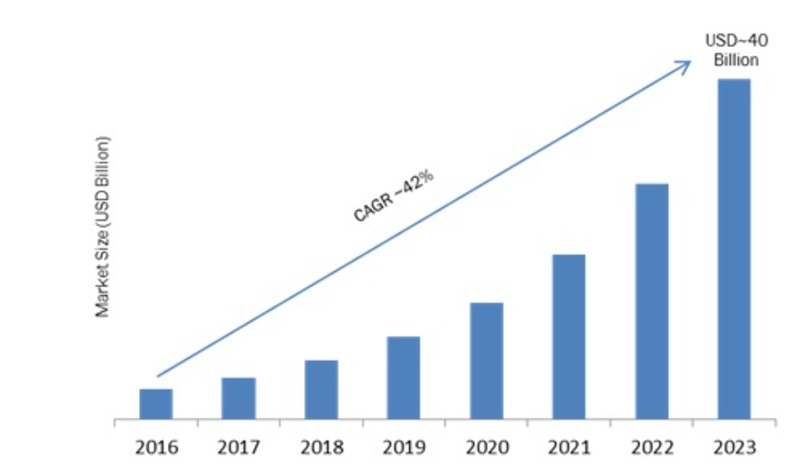 Key Players: The prominent players in IoT sensor market are – Texas Instruments Incorporated (U.S.), STMicroelectronics N.V. (Switzerland), TE Connectivity Ltd. (U.S.), Infineon Technologies Ag (Germany), Analog Devices, Inc. (U.S.), Broadcom Limited (U.S.), Robert Bosch GmbH (Germany), Johnson Controls International Plc. (Ireland), Sony Corporation (Japan), Honeywell International, Inc. (U.S.) among others.
Segments: IoT sensor market can be segmented on the basis of following:
By Component
Hardware Platform
Set Top Boxes
Smart TVs
Home Theatre Projectors
Next Gen Game Consoles
Consumer Appliances



Smart Oven




Smart Dishwasher




Smart Washing Machine




Smart Refrigerator




Others



Wearable Devices



Body wear




Footwear




Eyewear



Software Platform
By Type



Proximity Sensor




Acoustic Sensor




Temperature Sensor




Pressure Sensor




Flow Sensor




Humidity Sensor




Inertial Sensor




Touch Sensor




Image Sensor




Motion Sensor




Occupancy Sensor




CO2 Sensor




Accelerometer




Magnetometer




Gyroscope




Others



Light Sensor
Radar Sensor
By Network Technology
Wired Network Technology
Wireless Network Technology



Wi-Fi




Bluetooth




ZigBee




Z-Wave




NFC




RFID




EnOcean




ProfiBus




Thread




WHART




DECT-ULE




Others



By Vertical
Commercial IoT
Retail



Digital Signage




Real Time Analytics




Safety & Security




Advertising & Marketing




Resource Management




Smart Vending Machine




Smart Shelf & Smart Doors




Intelligent Payment Solution




Entertainment



Logistic & Supply Chain
Financial Institutes
Corporate Offices
Consumer IoT



Home Automation




Smart City




Wearable Electronics



Vertical
Device



Foot Wear




Neck Wear




Body Wear




Wrist Wear




Eye Wear




Others



Industrial IoT



Industrial Automation




Energy




Smart Agriculture




Fish Farming




Precision Farming




Livestock Monitoring




Smart Greenhouse




Others



Healthcare
Transportation
Application



Telematics




Infotainment




ADAS




Predictive Analytics



Vertical



Airways




Roadways




Railways




Maritime



Regional Analysis: The regional analysis of IoT sensor market is being studied for regions such as Asia Pacific, North America, Europe and Rest of the World. It has been observed that North America is estimated to account for the largest share of the market, whereas Asia-Pacific is projected to grow at the fastest rate during the forecast period. The major growth in IoT sensor market in North America is attributed to technical advancements and increasing demand for IoT sensors across various applications in that region.
Intended Audience



Technology Investors




Research/Consultancy Firms




Infrastructure Providers




Chip designers and fabricators




Original equipment manufacturers (OEMs)




Semiconductor Companies




Embedded system companies




Consumer Electronics Manufacturers




Sensor Manufacturers




Technology Providers




Telecommunication companies




Government Bodies



Frequently Asked Questions (FAQ) :
---