Market Snapshot
The Global Intelligent Power Module Market is expected to grow at 9.28% CAGR, witnessing substantial growth during the forecast period. The market was valued at USD 1,854.1 million in 2017; it is expected to reach USD 3,102.5 million by 2023. North America accounted for the most substantial market value of USD 631.5 million in 2017; the market is expected to register a CAGR of 10.85% during the forecast period.
An intelligent power module is an electronic device that integrates a high voltage drive circuit to draw high power performance from either and IGBT power device or MOSFET power device. The intelligent power module is used for protection of systems from short circuits, under-voltage, and extreme temperatures. The significant applications of intelligent power modules can be observed in inverters, heating, ventilation, and air-conditioning (HVAC), solar power generation, wind power generation, uninterrupted power supply devices, and elevators. The high-power efficiency and low power consumption of intelligent power modules make them suitable to be used in smart grids, consumer electronic devices, and the commercial sector. Apart from these, various data center companies are also implementing intelligent power modules in modular data centers, as they require high stabilization of power supply for electric and electronic components.
Global Intelligent Power Module Market, By Voltage Rating (2017 Vs. 2023)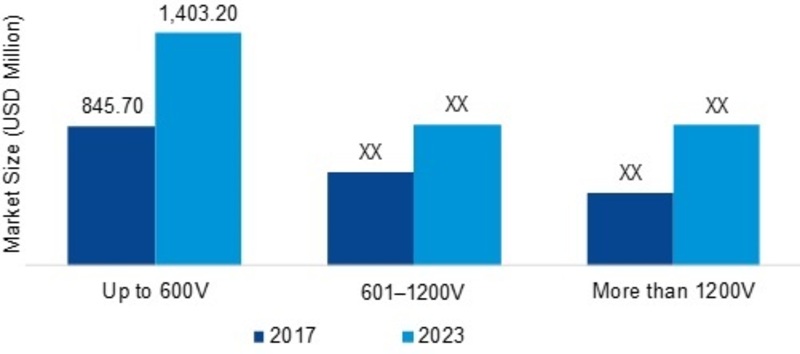 Based on voltage rating, the market has been classified as Up to 600V, 601–1200V, and more than 1200V. The Up to 600V segment accounted for the largest market share in 2017, with a market value of USD 845.7 million; it is expected to register during the forecast period. The 601–1200V segment was the second-highest valued segment with a CAGR of 7.37% during the forecast period. The intelligent power module market is expected to be highly lucrative in terms of its adoption in emerging economies such as China and India for renewable energy systems. 600 V intelligent power module (IPM) is a highly integrated device that contains all high voltage (HV) control ranges from HV-DC to 3-phase output in a small single inline package (SIP). For making a 1200 V IPM, many global players use multilayer epoxy-based isolation systems. In this type of system, alternate layers of epoxy and copper are used to create a shielded printed circuit directly on the aluminum-based plate. Mitsubishi Electric is one of the primary critical players in the IPM market, which introduced the seventh generation 1200 V class IGBT chip technology which operates on the latest thin-wafer processing technology.
The global market for intelligent power modules is multiplying due to rising demand for consumer electronics devices, increasing utilization of renewable energy resources, and increased adoption of electric and hybrid vehicles. The various factors attributing to the growth of global intelligent power modules market are the rising demand of consumer electronic devices, the growing trend of renewable energy resources, and increasing adoption of electric and hybrid vehicles. Furthermore, emerging trends in the electronics industry and the need for intelligent power module will create opportunities for market players during the forecast period.
Companies Covered
The key players of the global intelligent power module market are STMicroelectronics NV (Switzerland), ROHM Semiconductors (Japan), Infineon Technologies (Germany), Texas Instruments Incorporated (US), Mitsubishi Electric Corporation (Japan), ON Semiconductor (US), Fuji Electric Co. Ltd (Japan), Hon Hai Precision Industry Co., Ltd (Taiwan), and Sanken Electric Co. Ltd (Japan).
Regional Analysis
The global intelligent power module market, by region, has been segmented into Asia-Pacific, North America, Europe, and the rest of the world. Asia-Pacific is expected to dominate the intelligent power module market during the forecast period due end users are well aware of the latest advances in technology and increasingly investing in adopting the latest services in the region.
Key Developments


In April 2018, STMicroelectronics NV launched ACEPACK 1 and ACEPACK 2 with six-pack converter+ inverter+ brake (CIB) topologies to provide applications and services to solar panels, welding tools, and power management solutions.




In November 2018, ROHM launched 1700V/250A rated SiC power module for converter and inverter applications in high-power industrial supplies and outdoor power generation system. The SiC power module helps the manufacturers to reduce the power consumption and minimize power loss.




In May 2017, Infineon Technologies AG launched CIPOS, Intelligent power module, that combines single switch boost power factor correction (PFC) and a 3-phase inverter in one package.


Segmentation



By voltage rating

: Up to 600V, 601–1200V, and more than 1200V



By current rating: Up to 100A, 101–600A, and more than 600A




By circuit configuration: 6-pack, 7-pack, phase bridge, and dual




By power device: IGBT, and MOSFET




By application: Consumer electronics, automotive, renewable energy, and others




By region: North America, Asia-Pacific, Europe, and the rest of the world



Key questions addressed by the report



What was the historic market size (2017)?



Which segmentation (

material type

/application) is driving the market growth?



What will be the growth rate by 2023?




Who are the key players in this market?




What are the strategies adopted by key players?



Frequently Asked Questions (FAQ) :
---