Insulated Packaging Market Scenario
Insulated packaging market will grow with an approximate CAGR of 5.68% by 2023.
Factors such as the need for maintaining product efficiency, performance, and safety in diverse industries are driving the demand for insulated packaging globally. Increasing disease prevalence and increasing health awareness among consumers are the other important factors for the market growth. Furthermore, changing lifestyle & rapidly growing e-commerce industries in the developing countries such as China and India are contributing to the growth of insulated packaging market. In the current scenario, people prefer online purchases of products, requiring more product protection, which may be the cause of growing market for insulated packaging. However, fluctuation in the prices of raw materials acts as a restraint for market growth of insulated packaging.
Industry News and key players
The key players of global insulated packaging market are Deutsche Post DHL (Germany), Amcor Ltd. (Australia), E.I. Du Pont De Nemours and Co. (U.S.), Huhtamaki OYJ (Finland), Sonoco Products Company (U.S.), Exeltainer (Spain), American Aerogel Corporation (U.S.), Thermal Packaging Solutions (Australia), TemperPack (U.S.), Insulated Products Corp (U.S), and Davis Core & Pad Co.(U.S.).
Segmentation: Global Insulated Packaging Market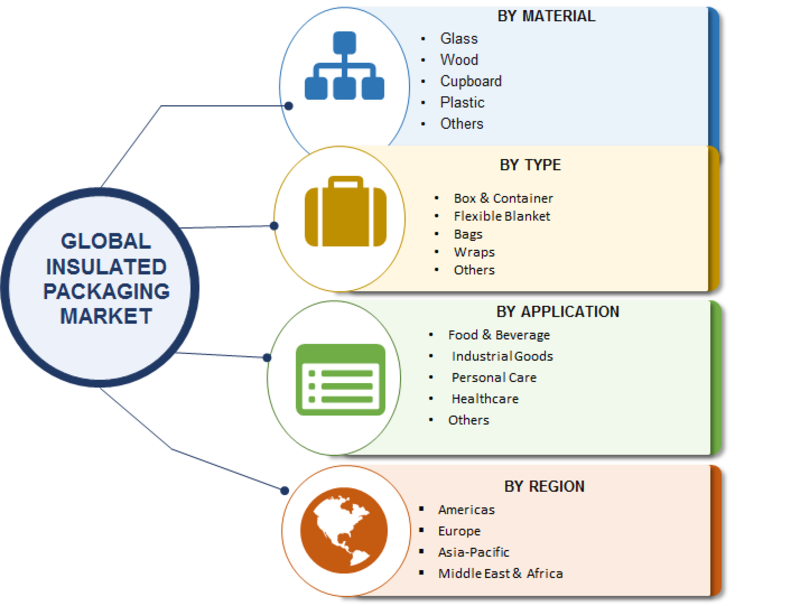 Source: MRFR Analysis
Insulated packaging market is segmented on the basis of material, packaging type, application, and region. On the basis of material, the market is segmented as glass, plastic, wood, cupboard, and others. Plastic packaging is required for products to be stored under a controlled pressure and temperature range. At the same time, glass is used in the packaging of cosmetics, vaccines, and beverages to maintain their properties and the overall quality.
On the basis of packaging type, it is segmented as box & container, flexible blanket, bags, wraps, and others. The use of boxes and containers is expected to increase because of climatic changes and increasing health issues. This kind of packaging is required primarily for pharmaceutical products and vaccines that have to be stored effectively in order to maintain its quality as well as protect it from any external damage.
Based on application, the insulated packaging market has been segmented into Food & Beverage, Industrial, Personal Care, Healthcare and others. Food & Beverage is the largest growing sector and contains a significantly large share in the global market because of the rising disposable income of people, changing lifestyle, and overall growth in population.
Regional Analysis of Insulated Packaging Market
Asia Pacific is expected to be the largest market for insulated packaging. This growth is attributable to the growing population in the region. The other reasons, leading to the high market share in Asia Pacific are the growing manufacturing sector and increasing e-commerce businesses in the region. In Asia Pacific, China and India are supposed to be the leading regional contributors in insulated packaging market due to improved economic conditions and changing consumer lifestyle. The factors mentioned above enable customers to spend their money on food, cosmetics and other products requiring insulated packaging, which is driving the market in this region. On the other hand, in the developing countries, people are preferring westernized diet over traditional diet and are inclined toward ready-to-eat or convenience foods which plays a major role in increasing demand for insulated packaging in food & beverage industry. Europe is the second largest market of insulated packaging. The reason behind this growth is the increasing consumer focus on attractive packaging and product safety. Advancements in the pharmaceutical industry also plays a major role which drives the growth of insulated packaging market in these regions.
Insulated packaging comprises the combination of materials which have low thermal conductivity and are heat-resistant or poor conductors of heat. Insulated packaging is mainly used for shipping of temperature-sensitive products for maintaining product freshness and efficiency. This type of packaging is required in those industries dealing with temperature sensitive products such as food & beverage, chemical, personal care, and healthcare as it protects the product from fire or explosion hazards. Insulated packaging plays an important role in minimizing the effect of variable temperature, maintaining product specifications or keeping the product warm, frozen or refrigerated, and protecting the product from physical damage. The characteristics of insulated packaging are high resistance to heat transfer by conduction, convection or radiation, ease of fabrication & transportation, low cost, low weight, low moisture susceptibility, durability, and mechanical strength. The insulated packaging has witnessed major demand from the overall packaging industry, because of its wide application scope.
The report for Global Insulated Packaging Market of Market Research Future comprises extensive primary research findings along with the detailed analysis of qualitative as well as quantitative aspects by various industry experts, key opinion leaders to gain deeper insight into the market and industry performance. The report gives a clear picture of current market scenario, which includes historical and projected market size in terms of value, technological advancement, macroeconomic and governing factors in the market. The report provides detailed information and strategies of the top key players in the industry. The report also gives a broad study of the different market segments and regions.
Report Scope:
Report Attribute/Metric
Details
Market Size
2027: Significant Value
CAGR
5.68% CAGR (2020-2027)
Base Year
2019
Forecast Period
2020-2027
Historical Data
2018
Forecast Units
Value (USD Million)
Report Coverage
Revenue Forecast, Competitive Landscape, Growth Factors, and Trends
Segments Covered
Material, Packaging Type, and Application
Geographies Covered
North America, Europe, Asia-Pacific, and Rest of the World (RoW)
Key Vendors
Deutsche Post DHL (Germany), Amcor Ltd. (Australia), E.I. Du Pont De Nemours and Co. (U.S.), Huhtamaki OYJ (Finland), Sonoco Products Company (U.S.), Exeltainer (Spain), American Aerogel Corporation (U.S.), Thermal Packaging Solutions (Australia), TemperPack (U.S.), Insulated Products Corp (U.S), and Davis Core & Pad Co.(U.S.)
Key Market Opportunities
New product launches and R&D amongst major key players
Key Market Drivers
Increasing disease prevalence
Increasing health awareness among consumers
Frequently Asked Questions (FAQ) :
---