Industrial Vacuum Cleaner Market Scenario
Industrial vacuum cleaner market size is projected to reach USD 800 Million by 2025 from an estimated USD 800 Million, with 5% CAGR from 2019 to 2025.
Industrial vacuum cleaners are designed to carry out heavy cleaning operations and vacuuming the small and large quantities of dry & wet waste, with a quick-emptying mechanism for the waste container. Industrial vacuum cleaners being powerful, quiet, and easy to handle are considered ideal for sucking in solids, dusts, and liquids across chemical, textile, cement plants, workshops, foundries, and other industries. Industrial vacuum cleaners are found useful in places where no dust emissions are allowed, such as areas with dust-sensitive machinery, clean room facilities, and laboratories. A single-phase vacuum cleaner is preferred for intermittent vacuum, whereas, three-phase vacuum cleaners are used for continuous vacuum of heavier dirt to reduce work times, where greater power is required.
Heavy Duty
The global market is expected to witness high growth during the forecast period owing to the need for improved fuel efficiency and stringent emission regulations driving industrial vacuum cleaner industry sales.
By region, the global industrial vacuum cleaner market is segmented into Asia-Pacific, North America, Europe, and Rest of the World. North America holds the largest market share due to significant adoption across various industries to cater stringent government regulations.
Key Players
The Key Players operating in the global market include Alfred Kärcher GmbH & Co. KG (Germany), American Vacuum Company (US), Goodway Technologies Corp. (US), Wieland Lufttechnik GmbH & Co. KG (Germany), Vac-U-Max (US), Ghibli & Wirbel SpA (Italy), Tiger-Vac International Inc. (Canada), NUMATIC INTERNATIONAL LTD (UK), and Nilfisk Group (Denmark).
The major factors driving the growth of the global market include stringent regulations related to health, safety, and hygiene in various industries, adoption of technological vacuuming solutions replacing manual cleaning options, and demand for high-performance vacuum cleaners.
The rising demand for industrial vacuum cleaners across various industries in emerging economies is expected to provide immense opportunities to the global market players. However, the limited access to certain locations, cumbersome, and the unavailability of spare parts are the factors that are expected to hamper the growth of the global industrial vacuum cleaner market.
Industrial vacuum cleaner manufacturers are primarily driven by consumer needs for compact, efficient, and cost-effective devices through reduction in noise levels, power consumption, number & weight of components, and improved suction through increased motor power.
The Global Market for Industrial Vacuum Cleaner is expected to grow at 4.5% CAGR during the forecast period.
Industry News





In September 2019, VAC-U-MAX introduced Model 1050, a continuous-duty industrial vacuum cleaning system, which is designed to vacuum high-density materials.





Market Segmentation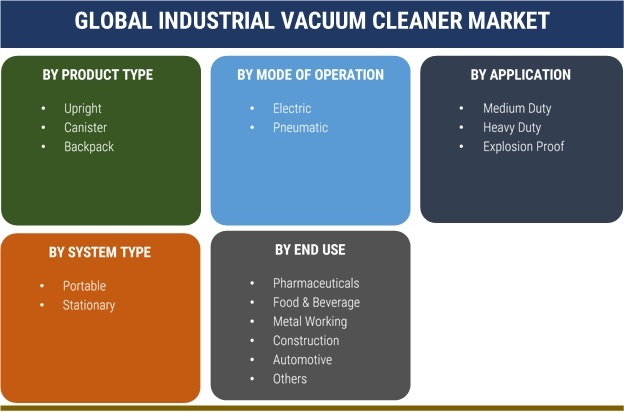 The Global Industrial Vacuum Cleaner Market is segmented by product type, mode of operation, system type, end-use, application, and region. By product type, the global market is classified into upright, canister, and backpack. The canister segment is expected to dominate the market owing to its better suction and flowrate as compared to the upright industrial vacuum cleaner. By mode of operation, the global market is segmented into electric and pneumatic. By system type, the global market is divided into portable and stationary. By end-use, the global industrial vacuum cleaner market is segmented into pharmaceuticals, food & beverage, metalworking, construction, automotive, and others. By application, the global market is segmented into medium-duty, heavy-duty, and explosion-proof.
Intended Audience



Government and research organization




End use industries




Rental companies




Investors and shareholders




Associations of industrial cleaning



Report Scope:
Report Attribute/Metric
Details
Market Size
2025: USD 800 million
CAGR
5% CAGR (2020-2027)
Base Year
2019
Forecast Period
2020-2027
Historical Data
2018
Forecast Units
Value (USD Million)
Report Coverage
Revenue Forecast, Competitive Landscape, Growth Factors, and Trends
Segments Covered
Product Type, Mode of Operation, System Type, End-Use
Geographies Covered
North America, Europe, Asia-Pacific, and Rest of the World (RoW)
Key Vendors
Alfred Kärcher GmbH & Co. KG (Germany), American Vacuum Company (US), Goodway Technologies Corp. (US), Wieland Lufttechnik GmbH & Co. KG (Germany), Vac-U-Max (US), Ghibli & Wirbel SpA (Italy), Tiger-Vac International Inc. (Canada), NUMATIC INTERNATIONAL LTD (UK), and Nilfisk Group (Denmark)
Key Market Opportunities
North America holds the largest industrial vacuum cleaner market share
Key Market Drivers
Stringent regulations related to health, safety, and hygiene in various industries
Adoption of technological vacuuming solutions replacing manual cleaning options
Demand for high-performance vacuum cleaners
Frequently Asked Questions (FAQ) :
---