Fuel Management System Market Scenario
Fuel management system market is expected to grow at a CAGR of more than 4% during the forecast period.
The fuel management system market is segmented on the basis of type by, Card-Based, On-Site and Total Fuel Management. The onsite fuel management systems track down the fuel when it is dispensed into the vehicles and, thus, allows the monitoring of the fuel storage levels. The total fuel management systems use the combination of the card-based systems and the onsite fuel management systems to monitor and optimize the overall fuel consumption. The card based fuel management systems monitor the fuel transaction based on the driver's unique pin and fueling credit card.
Currently, the Fuel Management System market is in the growth stage. This is due to the increase in fuel prices, reduction in the wastage of oil & gas with proper increase in inventory storage, also increasing number of fuel stations and global growth in automobile sector. However, the additional cost and complexity involved with the installation of fuel management systems will hinder the fuel management market growth rate.
Key Players
The key players of global fuel management system market are OPW Fuel Management Systems (U.S), The Triscan Group (U.K), Piusi S.p.a. (Italy), Franklin Fueling Systems (U.S), Timeplan Fuel Solutions (U.K), Guduza System Technologies (South Africa), Banlaw (Australia), Wayne Fueling Systems LLC (U.S), Sokolis Group (U.S) and Orpak Systems Ltd. (Israel).
Market Segmentation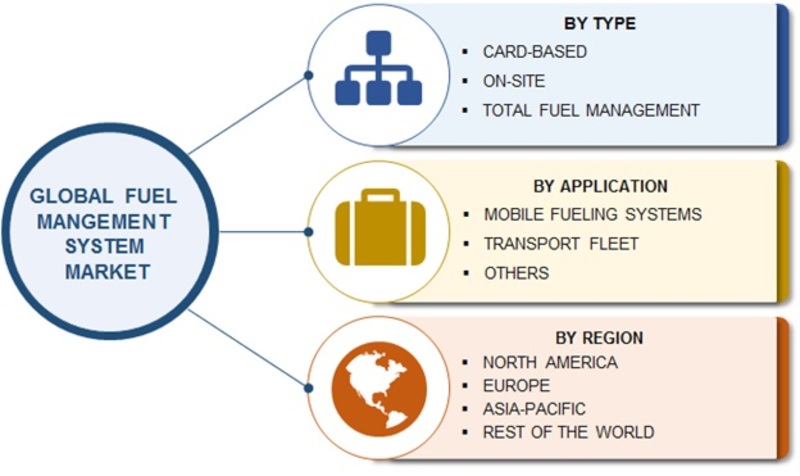 Global Fuel Management System Market
The substantial growth in the overall global energy consumption and volatility in global fuel prices has driven the monitoring and controlling of fuel consumption for cost-effective operation and increase the efficiency of the fuel system. These factors have certainly created a great potential for fuel management system market all around the world. North-America region is the leading market for fuel management systems market and is followed by Europe. The overall growth in transport infrastructure and increase in fuel consumption in the countries such as U.S and Canada, where, major transporting of goods and equipment are depended on transport system with effective and efficient fuel consumption, so as to reduce the transport charge and curb down inflation rates, is driving the market for fuel management systems.
Fuel Management System are primarily used to control, monitor and maintain the fuel consumption and store in large number of industries which utilizes transport, including air, rail, road and water, as a means of commerce trade. Fuel management systems are basically designed to manage the proper utilization of fuel and are also used to effectively measure the fuel consumption in the construction and transport industries. Fuel management systems compromises the most comprehensive solution in the global market for knowing exactly how much fuel is stored, consumed and real-time tracking of the fleet vehicle. Fuel management system provides from complete fuel accountability to total reconciliation and protection against fuel theft.
Report Scope:
Report Attribute/Metric
Details
Market Size
2023: Significant Value
CAGR
4% CAGR (2020-2023)
Base Year
2019
Forecast Period
2020-2023
Historical Data
2018
Forecast Units
Value (USD Million)
Report Coverage
Revenue Forecast, Competitive Landscape, Growth Factors, and Trends
Segments Covered
Type and Application
Geographies Covered
North America, Europe, Asia-Pacific, and Rest of the World (RoW)
Key Vendors
OPW Fuel Management Systems (U.S), The Triscan Group (U.K), Piusi S.p.a. (Italy), Franklin Fueling Systems (U.S), Timeplan Fuel Solutions (U.K), Guduza System Technologies (South Africa), Banlaw (Australia), Wayne Fueling Systems LLC (U.S), Sokolis Group (U.S) and Orpak Systems Ltd. (Israel)
Key Market Opportunities
Additional cost and complexity involved with the installation
Key Market Drivers
Increase in fuel prices
Reduction in the wastage of oil & gas with proper increase in inventory storage
Increasing number of fuel stations and global growth in automobile sector
Frequently Asked Questions (FAQ) :
---