The Global Electrochemical Biosensors Market is expected to register a CAGR of 10.5% and is anticipated to reach USD 30,907.3 Million by 2025. Electrochemical biosensors are analytical devices used to provide analytical information by biological samples, such as tissues, enzymes, and whole-cell, to an electrical signal. It is cost-effective, user-friendly, simple, disposable, and convenient.
Potentiometric sensors, amperometric sensors, and conductometric sensor are detection modes of electrochemical detection. It is used mostly in miniaturized devices and is used for the detection of biological and non-biological matrices. Electrochemical biosensors market is observed to have exponential growth. This growth of the market is mainly driven by increasing diabetic population, rising prevalence of the chronic and lifestyle-induced disease, increasing demand for POCT, and growing application of biosensors in various industries. On the other hand, factors such as strict regulatory requirements and reimbursement policy issues in healthcare systems are hindering the growth of the market.
Market Dynamics
Diabetes is a chronic and non-communicable disease, and its global prevalence is increasing enormously. Nowadays, it is one of the leading causes of death and has an increased risk of developing several severe health problems. It is the primary cause of cardiovascular diseases, kidney diseases, eye disorders, and strokes. According to the report published by the International Diabetes Federation (IDF), in 2013, approximately 384 million people had diabetes, and nearly 592 million people are expected to have diabetes by 2035.
Prevalence of a chronic disease is increasing due to alteration in lifestyle. Obesity, cancer, diabetes, and cardiovascular disease are some of the major diseases caused due to unhealthy lifestyles. Obesity is caused due to diet imbalance, leading to various risk factors for Type 2 diabetes, high blood pressure, heart disease, and other health problems. To reduce the global burden of chronic and lifestyle associated diseases, accurate diagnosis is needed for prevention of such diseases; and biosensors help in detection and monitoring of these diseases. It also helps in the diagnosis of infectious diseases and assists in effective disease management. Also, biosensors are used for the detection of cancer and to determine various target sites. Thus, increasing prevalence of chronic and lifestyle associated disease would drive the growth of the biosensors market.
Global Electrochemical Biosensors Market Size, by Application, 2018 (USD Million)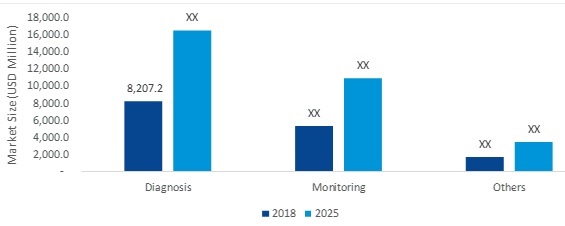 Source: MRFR Analysis
Segmentation
The global electrochemical biosensors market has been segmented into application and end user. Based on application, the market has been segmented into diagnosis, monitoring, and others. The diagnosis segment accounted for a market value of USD 8,207.2 million in 2018. By end user, the market has been divided into point of care testing, diagnostics center, research laboratories, and others.
Key Players
The prominent players in the global electrochemical biosensors market are Siemens Healthineers (Germany), Abbott Laboratories (US), F. Hoffmann-La Roche Ltd (Switzerland), Medtronic PLC (Ireland), Bayer AG (Germany), I-SENS, Inc. (South Korea). Some of the key strategies followed by the players operating in the global electrochemical biosensors market were innovation, product development, acquisition, and expansion.
Europe Electrochemical Biosensors Market Share, by Country, 2018 (%)
Source: MRFR Analysis
Regional Analysis
The global electrochemical biosensors market, based on region, has been divided into North America, Europe, Asia-Pacific, and the Middle East & Africa. North Americas is estimated to dominate the global electrochemical biosensors market during the forecast period. In North America, the electrochemical biosensor market is driven due to increasing health awareness, rising chronic and lifestyle diseases, and appropriate insurance coverage. Usage of biosensor technology in North America is high compared to other regions of the world due to technological advancements and broader application areas in different industries. Since the healthcare expenditure is high in North America, biosensor devices are used extensively for accurate, reliable, and quick results for early detection and prevention of diseases.
Europe holds the second-largest market position in terms of the market share of global electrochemical biosensors market majorly due to rise in geriatric population, increase in lifestyle associated diseases, and increasing awareness of various conditions and rise in diagnostic requirements. In Europe, the market share for Italy in electrochemical biosensors market was 13.6% in 2018.
The electrochemical biosensors market in Asia-Pacific region is growing due to increasing awareness of clinical outcomes, large population base, rise in geriatric population, increase in the diabetic population, and technological advancement in medical devices and equipment. Additionally, Asia-Pacific has become one of the attractive markets for medical device companies due to low regulatory requirements and low-cost manufacturing of devices.
Key Updates


In June 2019, Abbott launched its first-ever rapid point-of-care HbA1c Test to aid in the diagnosis of diabetes. Afinion HbA1c Dx test enables clinicians to develop informed, individualized care plans during a patient




In September 2017, Siemens announced the commercial availability of the Atellica Solution Advanced Diagnostics Analyzers.




In October 2016, Siemens Received FDA Clearance of the Xprecia StrideTM Coagulation Analyzer.


Market Segmentation
Global Electrochemical Biosensors Market, by Application



Diagnosis




Monitoring




Others



Global Electrochemical Biosensors Market, by End User



Point of Care Testing




Diagnostics Center




Research Laboratories




Others



Global Electrochemical Biosensors Market, by Region



Europe







Germany




UK




France




Italy




Spain




Rest of Europe











Asia-Pacific







China




Japan




India




Australia




South Korea




Rest of Asia-Pacific








Available Additional Customizations


Additional Companies


Supply & Demand Analysis


Intended Audience



Medical device manufacturers and distributors




Government research organizations




Hospitals and clinics




Regulatory agencies




Medical device companies



Report Scope:
Report Attribute/Metric
Details
Market Size
USD 30,907.3 Million
CAGR
CAGR of 10.5% (2019-2025)
Base Year
2019
Forecast Period
2020-2026
Historical Data
2018
Forecast Units
Value (USD Million)
Report Coverage
Revenue Forecast, Competitive Landscape, Growth Factors, and Trends
Segments Covered
Application and End User
Geographies Covered
North America, Europe, Asia-Pacific, and Rest of the World (RoW)
Key Vendors
Siemens Healthineers (Germany), Abbott Laboratories (US), F. Hoffmann-La Roche Ltd (Switzerland), Medtronic PLC (Ireland), Bayer AG (Germany), I-SENS, Inc. (South Korea).
Key Market Opportunities
POCT testing offers various advantages such as cost reduction for laboratory testing, faster results, and increased patient satisfaction.
Key Market Drivers
Increasing diabetic population, rising prevalence of the chronic and lifestyle-induced disease.
Increasing demand for POCT, and growing application of biosensors in various industries
Frequently Asked Questions (FAQ) :
---
1 Report Prologue

1.1 Introduction 9

1.1.1 Global Electrochemical Biosensors Market, By Application 9

1.1.2 Global Electrochemical Biosensors Market, By End User 10

1.1.3 Global Electrochemical Biosensors Market, By Region 11

2 Introduction

2.1 Definition 13

2.2 Scope Of Study 13

2.3 Research Objective 13

2.4 Assumptions & Limitations 14

2.4.1 Assumptions 14

2.4.2 Limitations 14

2.5 Market Structure 14

3 Research Methodology

3.1 Research Process 15

3.2 Primary Research 16

3.3 Secondary Research 16

4 Market Dynamics

4.1 Introduction 17

4.2 Drivers 17

4.2.1 Increasing Diabetic Population 17

4.2.2 Rising Prevalence Of Chronic And Lifestyle Induced Disease 18

4.2.3 Increasing Demand For POCT 19

4.2.4 Increasing Application Of Biosensors In Various Industries 19

4.3 Restraints 20

4.3.1 Strict Regulatory Requirements 20

4.3.2 Reimbursement Policies Issues In Healthcare Systems 20

4.4 Opportunities 21

4.4.1 Opportunity From Increasing Demand Of Personalized Medicine 21

5 Market Factor Analysis

5.1 Porters Five Forces Analysis 22

5.1.1 Bargaining Power Of Buyers 23

5.1.2 Bargaining Power Of Suppliers 23

5.1.3 Threat Of New Entrants 23

5.1.4 Intensity Of Rivalry 23

5.1.5 Threat Of Substitutes 24

6 Electrochemical Biosensors Market, By Application

6.1 Introduction 25

6.2 Diagnosis 26

6.3 Monitoring 27

6.4 Other Applications 27

7 Electrochemical Biosensors Market, By End User

7.1 Introduction 29

7.2 Point Of Care Testing 30

7.3 Diagnostics Center 31

7.4 Research Laboratories 32

8 Global Electrochemical Biosensors Market, By Region

8.1 Introduction 33

8.2 North America 34

Electrochemical Biosensors Market, By Application

Electrochemical Biosensors Market, By End User

8.2.1 US 37

Electrochemical Biosensors Market, By Application

Electrochemical Biosensors Market, By End User

8.2.2 Canada 38

Electrochemical Biosensors Market, By Application

Electrochemical Biosensors Market, By End User

8.3 Europe 39

Electrochemical Biosensors Market, By Application

Electrochemical Biosensors Market, By End User

8.3.1 Germany 41

Electrochemical Biosensors Market, By Application

Electrochemical Biosensors Market, By End User

8.3.2 France 42

Electrochemical Biosensors Market, By Application

Electrochemical Biosensors Market, By End User

8.3.3 UK 43

Electrochemical Biosensors Market, By Application

Electrochemical Biosensors Market, By End User

8.3.4 Italy 44

Electrochemical Biosensors Market, By Application

Electrochemical Biosensors Market, By End User

8.3.5 Spain 45

Electrochemical Biosensors Market, By Application

Electrochemical Biosensors Market, By End User

8.3.6 Rest Of Europe 46

Electrochemical Biosensors Market, By Application

Electrochemical Biosensors Market, By End User

8.4 Asia-Pacific 48

Electrochemical Biosensors Market, By Application

Electrochemical Biosensors Market, By End User

8.4.1 Japan 50

Electrochemical Biosensors Market, By Application

Electrochemical Biosensors Market, By End User

8.4.2 China 51

Electrochemical Biosensors Market, By Application

Electrochemical Biosensors Market, By End User

8.4.3 India 52

Electrochemical Biosensors Market, By Application

Electrochemical Biosensors Market, By End User

8.4.4 South Korea 53

Electrochemical Biosensors Market, By Application

Electrochemical Biosensors Market, By End User

8.4.5 Rest Of Asia-Pacific 54

Electrochemical Biosensors Market, By Application

Electrochemical Biosensors Market, By End User

8.5 Middle East & Africa 56

Electrochemical Biosensors Market, By Application

Electrochemical Biosensors Market, By End User

8.5.1 Middle East 58

Electrochemical Biosensors Market, By Application

Electrochemical Biosensors Market, By End User

8.5.2 Africa 59

Electrochemical Biosensors Market, By Application

Electrochemical Biosensors Market, By End User

9 Competitive Landscape

9.1 Introduction 60

10 Company Profile

10.1 F. Hoffmann-La Roche AG 61

10.1.1 Company Overview 61

10.1.2 Product/Business Segment Overview 61

10.1.3 Financials 61

10.1.4 Key Developments 62

10.2 Medtronics 63

10.2.1 Company Overview 63

10.2.2 Product/Business Segment Overview 63

10.2.3 Financial Overview 63

10.2.4 Key Development 64

10.3 Bayer AG 65

10.3.1 Company Overview 65

10.3.2 Product/Business Segment Overview 65

10.3.3 Financial Updates 65

10.4 Abbott Laboratories 67

10.4.1 Company Overview 67

10.4.2 Product/Business Segment Overview 67

10.4.3 Financial Updates 68

10.5 I-SENS, Inc. 70

10.5.1 Company Overview 70

10.5.2 Product/Business Segment Overview 70

10.5.3 Financial Updates 71

10.5.4 Key Development 71

10.6 Siemens Healthcare GmbH 72

10.6.1 Company Overview 72

10.6.2 Product/Business Segment Overview 72

10.6.3 Financial Updates 72

10.6.4 Key Development 73

11 List Of Tables

TABLE 1 GLOBAL ELECTROCHEMICAL BIOSENSORS MARKET, BY APPLICATION 2020–2027 (USD MILLION) 26

TABLE 2 GLOBAL ELECTROCHEMICAL BIOSENSORS MARKET FOR DIAGNOSIS, BY REGION, 2020–2027 (USD MILLION) 26

TABLE 3 GLOBAL ELECTROCHEMICAL BIOSENSORS MARKET FOR MONITORING, BY REGION, 2020–2027 (USD MILLION) 27

TABLE 4 GLOBAL ELECTROCHEMICAL BIOSENSORS MARKET FOR OTHER APPLICATIONS, BY REGION, 2020–2027 (USD MILLION) 27

TABLE 5 GLOBAL ELECTROCHEMICAL BIOSENSORS MARKET, BY END USER 2020–2027 (USD MILLION) 30

TABLE 6 GLOBAL ELECTROCHEMICAL BIOSENSORS MARKET FOR POINT OF CARE TESTING, BY REGION, 2020–2027 (USD MILLION) 30

TABLE 7 GLOBAL ELECTROCHEMICAL BIOSENSORS MARKET FOR DIAGNOSTICS CENTER, BY REGION, 2020–2027 (USD MILLION) 31

TABLE 8 GLOBAL ELECTROCHEMICAL BIOSENSORS MARKET FOR RESEARCH LABORATORIES, BY REGION, 2020–2027 (USD MILLION) 32

TABLE 9 GLOBAL ELECTROCHEMICAL BIOSENSORS MARKET, BY REGION, 2020–2027 (USD MILLION) 34

TABLE 10 NORTH AMERICA ELECTROCHEMICAL BIOSENSORS MARKET, BY COUNTRY, 2020–2027 (USD MILLION) 35

TABLE 11 NORTH AMERICA ELECTROCHEMICAL BIOSENSORS MARKET, BY APPLICATION, 2020–2027 (USD MILLION) 36

TABLE 12 NORTH AMERICA ELECTROCHEMICAL BIOSENSORS MARKET, BY END USER, 2020–2027 (USD MILLION) 36

TABLE 13 US ELECTROCHEMICAL BIOSENSORS MARKET, BY APPLICATION, 2020–2027 (USD MILLION) 37

TABLE 14 US ELECTROCHEMICAL BIOSENSORS MARKET, BY END USER, 2020–2027 (USD MILLION) 37

TABLE 15 CANADA ELECTROCHEMICAL BIOSENSORS MARKET, BY APPLICATION, 2020–2027 (USD MILLION) 38

TABLE 16 CANADA ELECTROCHEMICAL BIOSENSORS MARKET, BY END USER, 2020–2027 (USD MILLION) 38

TABLE 17 EUROPE ELECTROCHEMICAL BIOSENSORS MARKET, BY COUNTRY, 2020–2027 (USD MILLION) 40

TABLE 18 EUROPE ELECTROCHEMICAL BIOSENSORS MARKET, BY APPLICATION, 2020–2027 (USD MILLION) 40

TABLE 19 EUROPE ELECTROCHEMICAL BIOSENSORS MARKET, BY END USER, 2020–2027 (USD MILLION) 41

TABLE 20 GERMANY ELECTROCHEMICAL BIOSENSORS MARKET, BY APPLICATION, 2020–2027 (USD MILLION) 41

TABLE 21 GERMANY ELECTROCHEMICAL BIOSENSORS MARKET, BY END USER, 2020–2027 (USD MILLION) 42

TABLE 22 FRANCE ELECTROCHEMICAL BIOSENSORS MARKET, BY APPLICATION, 2020–2027 (USD MILLION) 42

TABLE 23 FRANCE ELECTROCHEMICAL BIOSENSORS MARKET, BY END USER, 2020–2027 (USD MILLION) 43

TABLE 24 UK ELECTROCHEMICAL BIOSENSORS MARKET, BY APPLICATION, 2020–2027 (USD MILLION) 43

TABLE 25 UK ELECTROCHEMICAL BIOSENSORS MARKET, BY END USER, 2020–2027 (USD MILLION) 44

TABLE 26 ITALY ELECTROCHEMICAL BIOSENSORS MARKET, BY APPLICATION, 2020–2027 (USD MILLION) 44

TABLE 27 ITALY ELECTROCHEMICAL BIOSENSORS MARKET, BY END USER, 2020–2027 (USD MILLION) 45

TABLE 28 SPAIN ELECTROCHEMICAL BIOSENSORS MARKET, BY APPLICATION, 2020–2027 (USD MILLION) 45

TABLE 29 SPAIN ELECTROCHEMICAL BIOSENSORS MARKET, BY END USER, 2020–2027 (USD MILLION) 46

TABLE 30 ROE ELECTROCHEMICAL BIOSENSORS MARKET, BY APPLICATION, 2020–2027 (USD MILLION) 46

TABLE 31 ROE ELECTROCHEMICAL BIOSENSORS MARKET, BY END USER, 2020–2027 (USD MILLION) 47

TABLE 32 ASIA-PACIFIC ELECTROCHEMICAL BIOSENSORS MARKET, BY COUNTRY, 2020–2027 (USD MILLION) 49

TABLE 33 ASIA-PACIFIC ELECTROCHEMICAL BIOSENSORS MARKET, BY APPLICATION, 2020–2027 (USD MILLION) 49

TABLE 34 ASIA-PACIFIC ELECTROCHEMICAL BIOSENSORS MARKET, BY END USER, 2020–2027 (USD MILLION) 50

TABLE 35 JAPAN ELECTROCHEMICAL BIOSENSORS MARKET, BY APPLICATION, 2020–2027 (USD MILLION) 50

TABLE 36 JAPAN ELECTROCHEMICAL BIOSENSORS MARKET, BY END USER, 2020–2027 (USD MILLION) 51

TABLE 37 CHINA ELECTROCHEMICAL BIOSENSORS MARKET, BY APPLICATION, 2020–2027 (USD MILLION) 51

TABLE 38 CHINA ELECTROCHEMICAL BIOSENSORS MARKET, BY END USER, 2020–2027 (USD MILLION) 52

TABLE 39 INDIA ELECTROCHEMICAL BIOSENSORS MARKET, BY APPLICATION, 2020–2027 (USD MILLION) 52

TABLE 40 INDIA ELECTROCHEMICAL BIOSENSORS MARKET, BY END USER, 2020–2027 (USD MILLION) 53

TABLE 41 SOUTH KOREA ELECTROCHEMICAL BIOSENSORS MARKET, BY APPLICATION, 2020–2027 (USD MILLION) 53

TABLE 42 SOUTH KOREA ELECTROCHEMICAL BIOSENSORS MARKET, BY END USER, 2020–2027 (USD MILLION) 54

TABLE 43 ROA ELECTROCHEMICAL BIOSENSORS MARKET, BY APPLICATION, 2020–2027 (USD MILLION) 54

TABLE 44 ROA ELECTROCHEMICAL BIOSENSORS MARKET, BY END USER, 2020–2027 (USD MILLION) 55

TABLE 45 MIDDLE EAST & AFRICA ELECTROCHEMICAL BIOSENSORS MARKET, REGION, 2020–2027 (USD MILLION) 56

TABLE 46 MIDDLE EAST & AFRICA ELECTROCHEMICAL BIOSENSORS MARKET, APPLICATIONS, 2020–2027 (USD MILLION) 57

TABLE 47 MIDDLE EAST & AFRICA ELECTROCHEMICAL BIOSENSORS MARKET, END USER, 2020–2027 (USD MILLION) 57

TABLE 48 MIDDLE EAST ELECTROCHEMICAL BIOSENSORS MARKET, APPLICATION, 2020–2027 (USD MILLION) 58

TABLE 49 MIDDLE EAST ELECTROCHEMICAL BIOSENSORS MARKET, END USER, 2020–2027 (USD MILLION) 58

TABLE 50 AFRICA ELECTROCHEMICAL BIOSENSORS MARKET, APPLICATION, 2020–2027 (USD MILLION) 59

TABLE 51 AFRICA ELECTROCHEMICAL BIOSENSORS MARKET, END USER, 2020–2027 (USD MILLION) 59

TABLE 52 MEDTRONICS: KEY DEVELOPMENT 64

TABLE 53 I-SENS: KEY DEVELOPMENT 71

TABLE 54 SIEMENS: KEY DEVELOPMENT 73

12 List Of Figures

FIGURE 1 GLOBAL ELECTROCHEMICAL BIOSENSORS MARKET SHARE, BY APPLICATION, 2018 (%) 10

FIGURE 2 GLOBAL ELECTROCHEMICAL BIOSENSORS MARKET SHARE, BY END USER, 2018 (%) 11

FIGURE 3 GLOBAL ELECTROCHEMICAL BIOSENSORS MARKET SHARE, BY REGION, 2018 (%) 12

FIGURE 4 RESEARCH PROCESS 15

FIGURE 5 DRIVERS & RESTRAINTS IMPACT ANALYSIS OF GLOBAL ELECTROCHEMICAL BIOSENSORS MARKET 17

FIGURE 6 NUMBER OF PEOPLE SUFFERING FROM DIABETES AGED 20-79 YEARS, 2013 AND 2035 18

FIGURE 7 PORTERS FIVE FORCES ANALYSISOF GLOBAL ELECTROCHEMICAL BIOSENSORS MARKET 22

FIGURE 8 GLOBAL ELECTROCHEMICAL BIOSENSORS MARKET, BY APPLICATION, 2018 AND 2027 25

FIGURE 9 GLOBAL ELECTROCHEMICAL BIOSENSORS MARKET, BY END USER 2018 AND 2027 29

FIGURE 10 GLOBAL ELECTROCHEMICAL BIOSENSORS MARKET SHARE, BY REGION, 2018 (%) 33

FIGURE 11 NORTH AMERICA ELECTROCHEMICAL BIOSENSORS MARKET, BY COUNTRY, 2018 (%) 35

FIGURE 12 EUROPE ELECTROCHEMICAL BIOSENSORS MARKET, BY COUNTRY, 2018 (%) 39

FIGURE 13 ASIA-PACIFIC ELECTROCHEMICAL BIOSENSORS MARKET, BY COUNTRY, 2018 (%) 48

FIGURE 14 MIDDLE EAST & AFRICA ELECTROCHEMICAL BIOSENSORS MARKET, REGION, 2018 (%) 56

FIGURE 15 F. HOFFMANN-LA ROCHE AG.: RECENT FINANCIALS 61

FIGURE 16 F. HOFFMANN-LA ROCHE AG.: BUSINESS REVENUE 62

FIGURE 17 F. HOFFMANN-LA ROCHE AG.: GEOGRAPHICAL REVENUE 62

FIGURE 18 MEDTRONICS: RECENT FINANCIAL 63

FIGURE 19 MEDTRONICS: OPERATING SEGMENTS 64

FIGURE 20 MEDTRONICS: GEOGRAPHICAL MIX 64

FIGURE 21 BAYER CROPSCIENCE: FINANCIAL REVENUE 65

FIGURE 22 BAYER CROPSCIENCE: SEGMENTAL REVENUE 66

FIGURE 23 BAYER CROPSCIENCE: GEOGRAPHICAL REVENUE 66

FIGURE 24 ABBOTT LABORATORIES: FINANCIAL REVENUE 68

FIGURE 25 ABBOTT LABORATORIES: SEGMENTAL REVENUE 68

FIGURE 26 ABBOTT LABORATORIES: GEOGRAPHICAL REVENUE 69

FIGURE 27 I-SENS: FINANCIAL REVENUE 71

FIGURE 28 SIEMENS: FINANCIAL REVENUE 72

FIGURE 29 SIEMENS: GEOGRAPHICAL REVENUE 73