Electric Insulator Market Scenario
Electric insulator market is expected to grow at 5.88% CAGR during the forecast period.
Electric insulator is a type of material that resists the flow of electric current. It is generally used in all the electric devices in the transmission and distribution lines. There are mainly three types of electric insulators, namely, pin insulator, suspension, and shackle, among others. With the increasing investments in transmission and distribution networks, there is high demand for electric insulators in the power industry. According to OECD, the cumulative power sector investment from 2017 to 2040 would approximately reach USD 5.9 trillion for transmission and USD 2.1 trillion for distribution network. Thus, the demand for electric insulators are estimated to increase during the forecast period.
Growing investment in refurbishment of aging grid infrastructure across the developed countries would accelerate the growth of electric insulator market. For instance, according to the World Energy Outlook, an investment of over USD 3.4 trillion would contribute to the refurbishment and replacement of existing assets. Similarly, in 2018, American Electric Power (US) planned to invest USD 17.7 billion in power grid over the next over the next three years. This would further drive the growth of electric insulator market in the power sector. Similarly, Southeast Asian countries are planning to invest aggressively in smart grid infrastructure which can lead to opportunities in the electric insulator market. Moreover, according to the US Energy Information (EIA), major utilities are largely spending on distribution systems, majorly driven by capital expenditures on replacement of aging electrical equipment.
Additionally. the global electric insulator market is projected to grow at a high rate during the forecast period due to the growing adoption of renewable energy sources. According to IEA, renewable energy sources holds the largest share of investment in power generation, with an investment of USD 350 billion annually. Countries across the globe are shifting towards renewable power generation. For instance, the government of China aims to spend USD 360 billion on renewable energy by 2020, leading to increase in the demand for electric insulators in the country.

Global electric insulator market has been segmented based on type, voltage, application, end-user, and region. Based on type, the market is classified into ceramic, glass and composite. Ceramic segment is leading the market and has the largest market share, mainly due to its wide application in rugged environments with minimal leakage and provide mechanical strength with stress resistance. These types of insulators are less expensive and easy to maintain, thereby resulting in higher market share compared to glass insulators.
Key Players
The key players of global electric insulator market are ABB (Switzerland), General Electric (US), Siemens (Germany), NGK Insulators (Japan), Hubbell (US), Toshiba (Japan), Bharat Heavy Electricals Limited (India), Lapp Insulators (Germany), Maclean Fogg (US), and Southwire Company (US).
Market Segmentation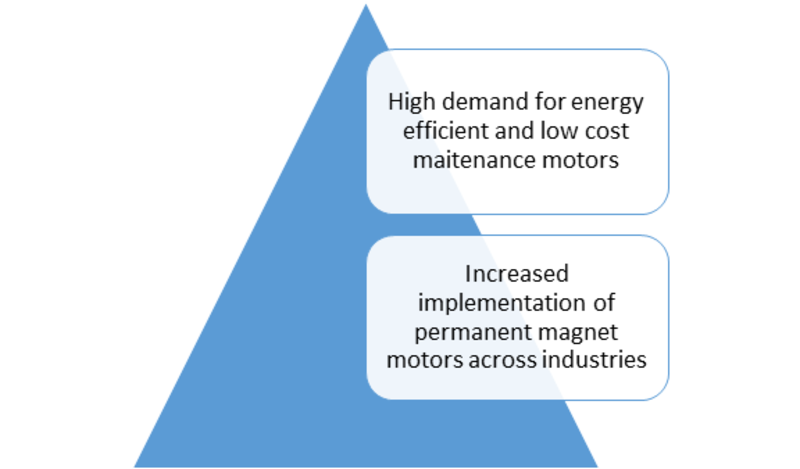 Global Electric Insulator Market
Global electric insulator market is expected to witness substantial growth during the forecast period owing to growing investments power grid infrastructure along with rapid urbanization in emerging economies. According to India Brand Equity Foundation (IBEF), increasing electrification would drive the growth of power consumption to 1,847 TWh in India in 2022. This would drive the electric insulator market globally. Asia Pacific holds the largest share in the electric insulator market due to increased investments in the smart grid infrastructure development, T&D spending, growing dependence on renewable power generation sources, and infrastructural activities in the recent past. China accounted for the highest installed generation and distribution capacity in the Asia Pacific region, resulting in an increased demand for electric insulators.
Report Scope:
| Report Attribute/Metric | Details |
| --- | --- |
| Market Size | 2027: Significant Value |
| CAGR | 5.88% CAGR(2020-2027) |
| Base Year | 2019 |
| Forecast Period | 2020-2027 |
| Historical Data | 2018 |
| Forecast Units | Value (USD Million) |
| Report Coverage | Revenue Forecast, Competitive Landscape, Growth Factors, and Trends |
| Segments Covered | Type , Voltage , Application |
| Geographies Covered | North America, Europe, Asia-Pacific, and Rest of the World (RoW) |
| Key Vendors | ABB (Switzerland), General Electric (US), Siemens (Germany), NGK Insulators (Japan), Hubbell (US), Toshiba (Japan), Bharat Heavy Electricals Limited (India), Lapp Insulators (Germany), Maclean Fogg (US), and Southwire Company (US). |
| Key Market Opportunities | Growing investment in refurbishment of aging grid infrastructure |
| Key Market Drivers | Growing adoption of renewable energy sources |
Frequently Asked Questions (FAQ) :
---