Global Cobalt Market is projected to witness robust growth at an astounding CAGR of over 8% to reach a market value of around USD 13.6 billion by the end of 2027.
Cobalt is a chemical element found in the earth's crust only chemically combined form. It is a free element that is produced by reductive smelting. Cobalt is a by-product of nickel and copper; therefore, most of the cobalt is produced by the production of nickel and copper. Pure metallic cobalt is a hard, lustrous, silver-gray metal and is traditionally used in several industrial applications including high-temperature superalloys (majorly in jet turbines), stainless steels, hard-facing products, medical prosthetics, and cemented carbides. In recent years, lithium-ion batteries have become an increasingly important end-use for cobalt owing to the development of the electric vehicle (EV) industry.
Market Dynamics
The growth of the global cobalt market majorly depends on the demand for rechargeable batteries. These batteries are widely used in a broad range of applications including electric vehicles and small portable electronic devices (mobile phones, notebook computers, games and power tools). Cobalt plays an essential role in lithium-ion batteries chemistry. Compared to other batteries, Li-ion batteries have superior energy, power density, and cycling ability. These properties are useful in electric vehicles, hybrid cars as well as storage systems used in renewable energy farms. The increasing use of Li-ion batteries in electric vehicles is expected to be the prominent factor boosting the demand for cobalt in the coming years. According to various industry experts, growth in the global electric-vehicle (EV) industry is likely to result in a four-fold increase in cobalt demand by 2020 (from 2018 levels) and an eleven-fold increase by 2027. Globally, a large number of governments have and continue to respond to the effects of climate change by raising fuel-economy standards and are promoting the use of EVs as an alternative to traditional fossil fuel-powered vehicles. With the positive outlook of the EV market, the demand for cobalt is likely to grow significantly in the years to follow.
The other major driving factor for the market growth is the increasing use of cobalt for metallurgical uses primarily in high-temperature alloys (superalloys). The predominant user of superalloys is in the gas turbine industry, wherein elevated temperature strength and resistance to thermal oxidation are important for material consideration. Cobalt-based superalloys are widely used in the manufacture of jet turbines and industrial gas turbines (for power generation applications). With the healthy growth of the aerospace industry, the demand for aerospace engines and thus cobalt-based superalloys is expected to increase in the coming years.
Another application of cobalt-based alloys is in the production of cemented carbides to make hard alloys used in drilling tools. Cobalt can deliver wear resistance when used in castings and forging processes. Thus, the growing use of drilling tools in the construction and transportation industry is expected to favor the market growth during the review period.
Global Cobalt Market Revenue, by Application, 2019 (USD Million)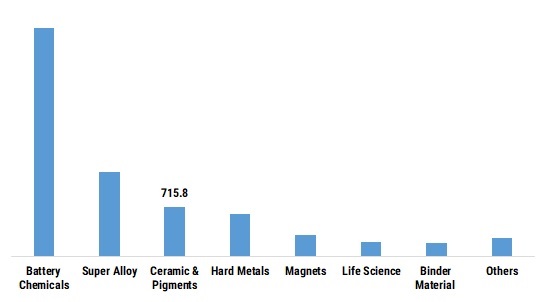 Sources: MRFR Analysis
Segmentation
Based on form, the global cobalt market has been segmented into metal, chemical compound, and purchased scrap. The chemical compound segment held the largest share of the global market with a market value of over USD 3,800 million in 2019. The organic and inorganic chemical compounds of cobalt find their use in various applications. Cobalt electrolyte is used in lithium-ion batteries for high-performance vehicles such as electric trains, electric cars, and bikes. It is also used in various electronic devices such as digital cameras and smartphones. Furthermore, the inorganic cobalt compounds are used to color porcelain, glass, pottery, tile, and enamel wear. Some of these compounds include cobalt blue, cerulean, cobalt yellow, and cobalt green. Inorganic cobalt compounds are also used as a catalyst. For instance, cobalt molybdate is used in the conversion of crude oil to gasoline and for removing sulfur from crude oil.
The market has been segmented on the basis of application into battery chemicals, superalloys, ceramics, and pigments, hard metals, magnets, binder materials, life science, and others. The battery chemicals segment dominated the market with a share of over 48% in 2018 and is projected to register the highest CAGR of around 8.5% during the forecast period. This is mainly attributed to the extensive use of cobalt in manufacturing rechargeable batteries for portable devices such as mobile phones, laptops, and tablets as well as e-mobility vehicles including electric vehicles, hybrid vehicles, electric trains, and electric bikes. Stringent regulations by the US Environmental Protection Agency and the EU's environmental standards regarding CO2 reduction have led to a significant inclination towards the use of electric vehicles, which is driving the cobalt market.

Global Cobalt Market Share, by Region, 2019 (%)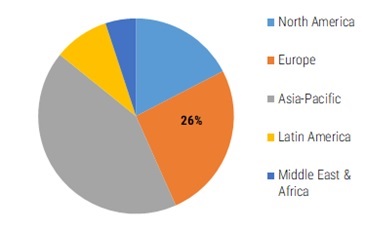 Sources: MRFR Analysis
Regional Analysis
The global cobalt market is studied with respect to five key regional markets—North America, Europe, Asia-Pacific, Latin America, and the Middle East & Africa. The regional market of Asia-Pacific held the largest share of over 42% of the global market in 2018 and is projected to register the highest CAGR of around 8.5% during the review period. The prominent regional economies, including China, India, and Japan are the major drivers of the regional market. China is the largest lithium-ion battery manufacturer in the world and also among the leaders in the EV market. In May 2015, China announced the Made in China 2025 initiative, which demands Chinese domestic firms to acquire significant domestic and global market share within ten advanced technology industries by the year 2025. Two industries within this plan, namely new-energy vehicles (primarily EVs) and aerospace, are likely to positively affect demand for cobalt chemicals and metals in the years to follow. India, the other major country-level market, announced its goal to eliminate the sale of non-electric cars by 2030 and incentivize manufacturing of lithium-ion batteries at the domestic level, which is further expected to propel the growth of the regional market during the review period.
The regional market in Europe held the second-largest market share in 2019. The stringent regulations pertaining to the fuel-economy standards and vehicle emissions, the use of EVs as an alternative to traditional fossil fuel-powered vehicles is increasing. Various European Union (EU) member states such as France, UK, among others have agreed to ban new sales of petrol and diesel cars by 2040 and boost regional production of rechargeable batteries. This is expected to favor the regional market growth in the years to follow.
Key Players
The prominent players in the global cobalt Umicore (Belgium), Glencore (Switzerland), Jinchuan Group International Resources Co. Ltd (Hong Kong), Huayou Cobalt Co., Ltd (China), Freeport Cobalt (Finland), Sherritt International Corporation (Canada), BHP (Australia), Eramet (France), Vale (Brazil), Votorantim Metais SA (Brazil), and Sumitomo Corporation (Japan), among others.
Some of the key strategies followed by the players operating in the global cobalt market are expansion, mergers & acquisitions, joint venture, and agreements.


In June 2018, Vale signed a sales agreement for unmined cobalt at USD 690 million to Wheaton Precious Metals Corp. and Cobalt 27 Capital Corp.


In March 2018, Glencore signed an agreement to sell around 52,800 tons of cobalt hydroxide to GEM Co. Ltd, a Chinese battery recycling company, for the next three years.


In July 2018, Contemporary Amperex Technology Co. Limited signed an agreement with BMW to supply the German automaker with USD 4.7 billion worth of EV battery cells. This is likely to boost the demand for cobalt chemicals in manufacture of these batteries.


Market Segmentation
Global Cobalt Market, by Form



Chemical Compound




Metal




Purchased Scrap



Global Cobalt Market, by Application



Battery Chemicals




Super Alloy




Ceramic & Pigments




Hard Metals




Magnets




Life Science




Binder Material




Others



Global Cobalt Market, by Region



Europe







Germany




UK




Russia




France




Spain




Italy




Rest of Europe











Asia-Pacific







China




Japan




India




South Korea




Rest of Asia-Pacific











Latin America







Brazil




Mexico




Argentina




Rest of Latin America








Available Additional Customizations



Trade Analysis




Pricing Analysis




Global Cobalt Production, by Country




Competitive Benchmarking




Regulatory Framework




Additional

Company Profiles



Intended Audience



Cobalt Producers/Miners




Suppliers and traders of Cobalt




Government, associations, and industrial bodies




Investors and trade experts




Consulting in chemical experts



Frequently Asked Questions (FAQ) :
---