Market Synopsis of Global Chondroplasty Market Market scenario Chondroplasty is a surgery of damaged cartilage with an aim to reduce friction in the joint such as knee joint. In healthy condition articular cartilage which covers the end of the bones that form the joint is smooth and provides low friction surface for the joint structures. However in conditions such as arthritis, trauma, injuries etc. it becomes rough and damaged causing pain and swelling. Joint cartilage once damaged naturally heals poorly in most cases. Chondroplasty is performed to decrease complications, risks, and recovery time. The purpose of Chondroplasty is to remove away the damaged joint surface. The success rate of chondroplasty is about 70%. The drawback of Chondroplasty is that the new growth is not true cartilage/hyaline. Traditional chondroplasty is done by mechanical means such as shavers but has deleterious effects such as fine surface fibrillation, subchondral bleeding and formation of fibrocartilage, which is not as functional as normal hyaline cartilage. Radiofrequency ablation chondroplasty is the latest development and the most non-invasive chondroplasty. It uses radiofrequency waves for welding cracks together in the cartilage. The market drivers for chondroplasty are increasing geriatric population, growing screening for joint and orthopaedic defects, rising number of accidents & trauma cases, growing sports culture, rising awareness and growing income of people. The market restraints are the risks associated with surgery such as bleeding, pain, infection, cost considerations, poor healing in some cases, etc. The global chondroplasty market is expected to reach US$ 14.8 billion by 2023, and the market is projected to grow at a CAGR of ~ 7.2 % during the forecast period 2017-2023.
Research Methodology: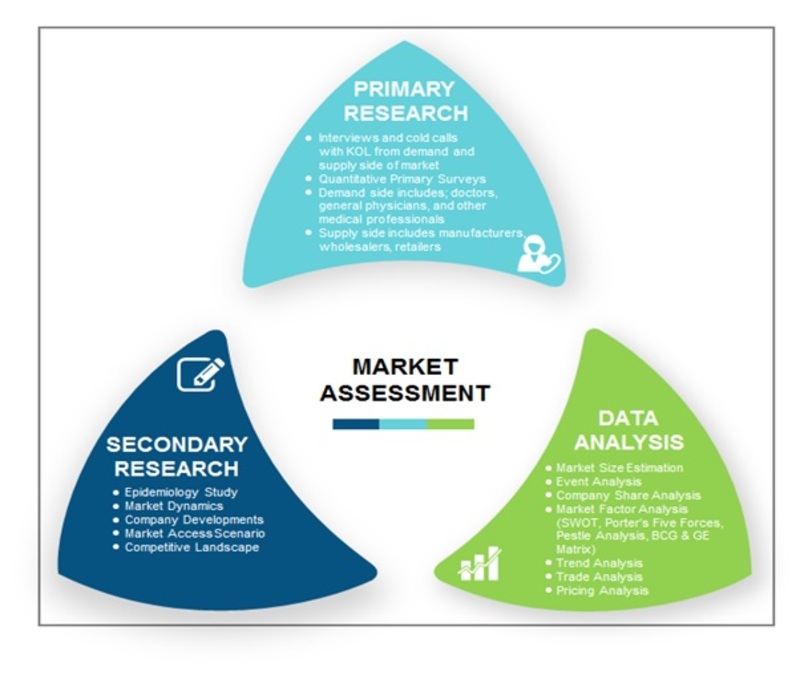 Intended Audience



Global Chondroplasty treatment manufacturers & suppliers




Research and development (R&D) companies




Hospitals and clinics




Academic institutes and universities



Figure 1 Global Chondroplasty Market by Anatomy, 2016 (% market share)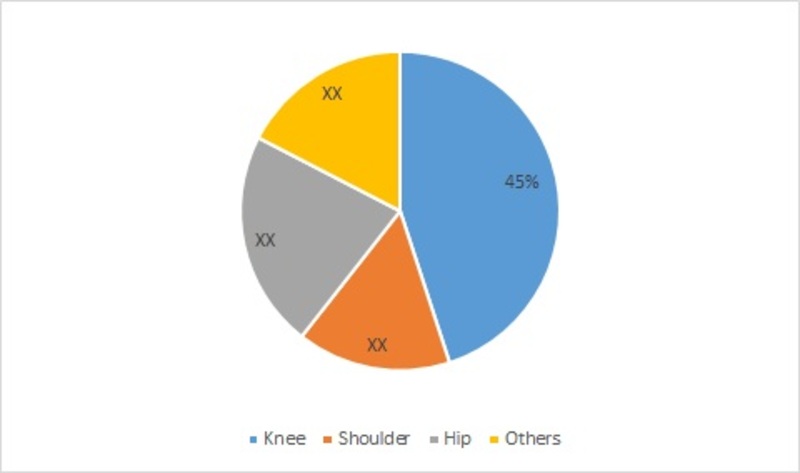 Segments: The global chondroplasty market has been segmented on the basis of types, anatomy, instruments and end users.
Based on types, the market has been segmented as radiofrequency ablation chondroplasty, abrasion chondroplasty, atellar chondroplasty, meniscal repair, tissue removal, and others.
Based on anatomy, the market has been segmented as knee, shoulder, hip, and others.
Based on instruments, the market has been segmented as shavers, RF devices, arthroscope and others.
Based on the end users, the market has been segmented as hospitals & orthopedic clinics, academic & research and others.
Regional analysis: The Americas account for a significant market share owing to extensive use of medications and high expenditure on the health care. Additionally, the fastest uptake of new instruments and surgical techniques in the US drives the chondroplasty market. The good reimbursement scenario and the greater awareness in the developed regions drive the market.
Europe is the second largest market in the world due to high income and healthcare penetration.
Asia Pacific region is expected to grow rapidly and China and India are likely to lead this market due to fast growing healthcare sector during the forecast period.
Gulf nations such as Saudi Arabia and the UAE are estimated to drive the Middle East & African market. The African region is expected to witness a moderate growth owing to poor economic and political conditions and poor healthcare development.
Key Players in the Global Chondroplasty Market Some of key players profiled in the report are B. Braun Melsungen AG, NuOrtho Surgical, Inc., Zimmer Biomet Holdings Inc., Smith & Nephew plc, Nebula Inc., Gpcmedical, Osiris Therapeutics, Inc., Sklar Surgical Instruments, Stryker Corporation, and others.
The report for Global Chondroplasty market by Market Research Future comprises of extensive primary research along with the detailed analysis of qualitative as well as quantitative aspects by various industry experts, key opinion leaders to gain a deeper insight of the market and industry performance. The report gives a clear picture of the current market scenario which includes past and estimated future market size with respect to value and volume, technological advancement, macro economical and governing factors in the market. The report provides detail information about and strategies used by top key players in the industry. The report also gives a broad study of the different market segments and regions.
Table of contents
1. Introduction

1.1 Definition

1.2 Scope of Study

1.2.1 Research Objective

1.2.2 Assumptions & Limitations

1.2.2.1 Assumptions

1.2.2.2 Limitations

1.3 Market Structure
2. Research Methodology

2.1 Research Process

2.2 Primary Research

2.3 Secondary Research
3. Market dynamics

3.1 Drivers

3.2 Restraints

3.3 Opportunities

3.4 Macroeconomic Indicators
4. Market factor analysis

4.1 Porters Five Forces Model

4.2 Bargaining Power of Suppliers

4.3 Bargaining Power of Buyers

4.4 Threat of New Entrants

4.5 Threat of Substitutes

4.6 Intensity of Rivalry
5. Global Chondroplasty Market, by Types

5.1 Introduction

5.2 Radiofrequency Ablation Chondroplasty

5.3 Abrasion Chondroplasty

5.4 Atellar Chondroplasty

5.5 Meniscal Repair

5.6 Tissue Removal

5.7 Others
6. Global Chondroplasty Market, by Anatomy

6.1 Introduction

6.2 Knee

6.3 Shoulder

6.4 Hip

6.5 Others
7. Global Chondroplasty Market, by Instruments

7.1 Introduction

7.2 Shavers

7.3 RF Devices

7.4 Arthroscope

7.5 Others
8. Global Chondroplasty Market, by End Users

8.1 Introduction

8.2 Hospitals & Orthopadic Clinics

8.3 Academic and Research

8.4 Others
9. Global Chondroplasty Market, by Region

9.1 North America

9.1.1 Introduction

9.2 Europe

9.2.1 Introduction

9.3 Asia Pacific

9.3.1 Introduction

9.4 Middle East & Africa

9.4.1 Introduction
10. Competitive landscape

10.1 Major Strategies Adopted by Market Players

10.1.1 Strategic Partnership

10.1.2 Merger & Acquisition
11. Company profile

11.1 Braun Melsungen AG

11.1.1 Overview

11.1.2 Product Overview

11.1.3 Financials

11.1.4 Key Developments

11.2 NuOrtho Surgical, Inc.

11.2.1 Overview

11.2.2 Product Overview

11.2.3 Financials

11.2.4 Key Developments

11.3 Zimmer Biomet Holdings Inc.

11.3.1 Overview

11.3.2 Product Overview

11.3.3 Financials

11.3.4 Key Development

11.4 Smith & Nephew plc

11.4.1 Overview

11.4.2 Product Overview

11.4.3 Financials

11.4.3 Key Development

11.5 Sklar Surgical Instruments

11.5.1 Overview

11.5.2 Product Overview

11.5.3 Financials

11.5.3 Key Development

11.6 Stryker Corporation

11.6.1 Overview

11.6.2 Product Overview

11.6.3 Financials

11.6.3 Key Development

11.7 Nebula Inc., Gpcmedical, Osiris Therapeutics, Inc.,

11.7.1 Overview

11.7.2 Product Overview

11.7.3 Financials

11.7.3 Key Development

11.8 Nebula Inc.

11.8.1 Overview

11.8.2 Product Overview

11.8.3 Financials

11.8.3 Key Development

11.9 Osiris Therapeutics, Inc.

11.9.1 Overview

11.9.2 Product Overview

11.9.3 Financials

11.9.3 Key Development

11.10 Others
12. Conclusion

12.1 Key Findings

12.1.1 From CEO's Viewpoint

12.1.2 Unmet Needs of The Market

12.2 Key Companies to Watch

12.3 Prediction of Chondroplasty Industry
13. Appendix