Global CBRN Defense Market by Purpose (Detection, Protection, Decontamination and Simulation & Training), by Applications (Military and Civil Law Enforcement), and by Geography- Forecast To 2021
Study Objectives of CBRN Defense Market



To provide detailed analysis of the market structure along with forecast for the next 5 years of the various segments and sub-segments of the Global CBRN Defense Market




To provide insights about factors affecting the market growth




To analyse the Global CBRN Defense Market based on various factors- price analysis, supply chain analysis, porter's five force analysis etc.




To provide historical and forecast revenue of the market segments and sub-segments with respect to four main geographies and their countries- North America, Europe, Asia, and Rest of the World (ROW)




To provide country-level analysis of the market with respect to the current market size and future prospective




To provide country-level analysis of the market for segment by purpose and applications




To provide strategic profiling of key players in the market, comprehensively analysing their core competencies, and drawing a competitive landscape for the market




To track and analyse competitive developments such as joint ventures, strategic alliances, mergers and acquisitions, new product developments, and research and developments in the Global CBRN Defense Market



Market Synopsis of CBRN Defense Market
The global CBRN Defense market is expected to grow at a CAGR of around 5% during 2016-2021. This growth is driven due to significant demand and procurement of CBRN defense in military and civil law enforcement applications.
Global CBRN Defense Market ($ billion), 2016-2021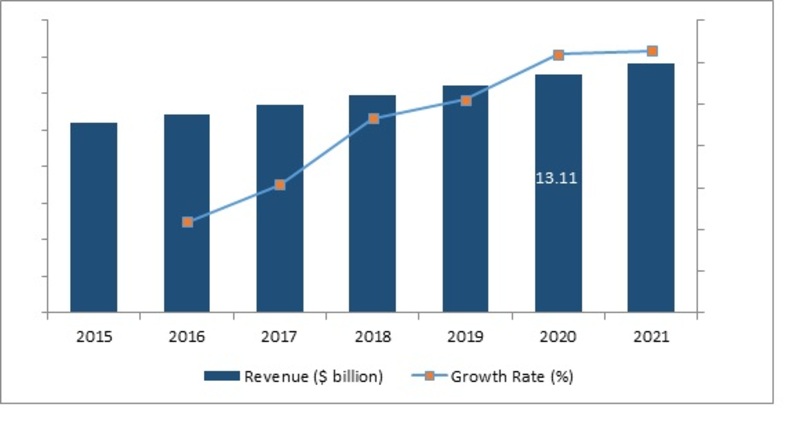 As per the MRFR analysis, an increased investment in CBRND is one of the key drivers for global CBRN Defense market. The challenges associated with the market are defense budget cuts, threat of extremist attacks, its severe impact on environment, and threat to national security would hamper the market growth.
The Americas is leading the global CBRN Defense market in 2015, however APAC will have the fastest growth in terms of overall sales and growth rate and will outpace other regions in the forecast period. China, India, and Pakistan in particular, are pursuing new sea-based nuclear delivery systems, cruise missile, and ballistic missile, and possess over 500 nuclear arsenals.
Key Findings



In 2015, the market was led by Americas with a share of around 38%, followed by EMEA with XX%, and APAC with XX%.



Key Players
The leading market players in the global CBRN Defense market primarily include Alfred Karcher, Bruker Corporation, Chemring Group, Elbit Systems and Smiths Detection. The other prominent vendors include AirBoss of America Corporation, Battelle, Bioquell, Rheinmetall AG and Thales Group.

Market Segmentation of CBRN Defense Market

Regional and Country Analysis of CBRN Defense Market
As per the MRFR analysis, the Americas CBRN Defense market is poised to reach $XX Billion in 2021, to grow at a CAGR of around 4% during the forecasted period. Whereas, EMEA and Asia Pacific will grow at a CAGR of around XX% and XX% respectively.
The reports also cover country level analysis:
Americas (North & Latin)
Europe



Germany




France




Italy




Spain




U.K




Rest of Europe



Asia – Pacific



China




India




Japan




Australia/New Zealand




Rest of Asia-Pacific



Middle East & Africa



UAE




Kuwait




Israel




Rest of Middle East & Africa



The market report for CBRN Defense of Market Research Future comprises of extensive primary research along with the detailed analysis of qualitative as well as quantitative aspects by various industry experts, key opinion leaders to gain the deeper insight of the market and industry performance. The report gives the clear picture of current market scenario which includes historical and projected market size in terms of value and volume, technological advancement, macro economical and governing factors in the market. The report provides details information and strategies of the top key players in the industry. The report also gives a broad study of the different market segments and regions.