Market Scenario:
Global Biomarker Tests Market accounted for USD 9,375 million in 2019 and is projected to reach USD 31859.73 Million by 2027 and register 14.60% CAGR during the forecast period. Biomarker testing, also known as molecular testing or genetic testing, is a set of tests that determines the molecular signs of health, which helps healthcare professionals in offering the best care for their patients. Most healthcare professionals adopt diagnosis tests to elucidate and support their clinical decision making. Some of the factors driving the market growth are increasing the involvement of patients in personal healthcare, mounting demand for biomarkers in other technologies such as next-generation sequencing technologies, ultra-high throughput sequencing, rising prevalence of genetic diseases, and growing potential for biomarkers in targeted therapies. Along with advances in healthcare, people are becoming more health or fitness conscious. Increasing inclination of people towards personalized healthcare is augmenting the market growth. Biomarker test services deal with cancer, cardiovascular diseases (CVDs), and infectious diseases and facilitate their treatment along with specific diagnostic tests and prevention methods are boosting the market growth.
On the contrary, lack of awareness about the possible applications of biomarkers, stringent regulatory framework, and lack of research and indications creating difficulties in their implementation are the factors anticipated to impede the market growth.
Market Dynamics
Growing potential for biomarkers in targeted therapies is fostering market growth. Recent advances in cancer care have been most closely associated with genomic medicine. Studying the genetic mutations of cancerous tumors helps physicians prescribe specific medication to fight particular cancer types. But there are only a few cancers that have been associated with specific genetic mutations. For some forms of breast cancer, doctors have years of experience in genomic analysis to determine the most appropriate treatments for their patients. Physicians use DNA testing to analyze the mutation of the BRCA gene in women with a family history of breast or ovarian cancer. Thus, with biomarkers playing a major role in the detection, diagnosis, and treatment of cancer, this factor is assisting in the market growth.

Global Biomarker Tests Market Size, by Application, 2019 (%)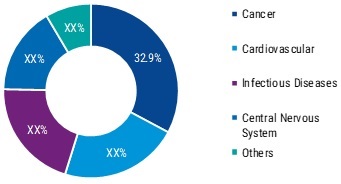 Source: MRFR Analysis
Segmentation
The global biomarker tests market has been segmented into application and end user.
Based on application, the global market has been categorized into cancer, cardiovascular, infectious diseases, central nervous system, and others. Based on end user, the global market has been classified into pharma & biotech companies, diagnostic tool companies, healthcare IT/big data companies, and clinical laboratories.
By application, in 2019, the cancer segment dominated the market due to the growing cases of cancer and the increasing demand for rapid and accurate diagnostic tools and personalized medicines. For instance, according to the World Health Organization (WHO), in 2019, cancer was the second-leading cause of death worldwide and accounted for about 9.6 million deaths. Globally, in 2019, about 1 in 6 deaths were due to cancer.
Regional Analysis
Based on region, the global biomarker tests market is segmented into North America, Europe, Asia-Pacific, and the Middle East & Africa.
North America dominated the market in 2019 due to increasing disease burden, the presence of major market players, favorable government initiatives, and regulatory entities, and growing adoption of biomarker testing in the US and Canada. The presence of market players such as Pfizer Inc., Quest Diagnostics, Abbott, Thermo Fisher Scientific, Inc., and Bio-Rad Laboratories, Inc. is enabling the prompt product supply to the market, thereby contributing to the regional market growth.
Europe is expected to be the second-largest region in the market owing to the increasing cases of cardiovascular diseases, flourishing healthcare industries, and increasing technological advances in products. For instance, as per the data published by European Heart Network, every year, cardiovascular diseases cause 3.9 million deaths in Europe and more than 1.8 million deaths in the European Union (EU).
Asia-Pacific is expected to register the fastest CAGR over the forecast period due to the presence of prominent biomarker companies and increasing R&D investment in developing countries. In addition, the cost of clinical trials in developing countries is lower as compared to the developed countries, which is expected to support this profitable market growth during the assessment period.
The Middle East & Africa is expected to represent moderate market growth in the near future owing to growing awareness about biomarker testing, developing healthcare infrastructure, and increasing adoption of biomarker testing in the UAE, Saudi Arabia, and Egypt.
Key Players
The prominent players in the global biomarker tests market are F. Hoffmann-La Roche AG, Novartis AG, Pfizer Inc., GlaxoSmithKline plc, GE Healthcare, Medtronics plc, and Quest Diagnostics. The market participants have adopted several organic and inorganic growth strategies to gain a competitive advantage. These strategies include new product launches, mergers & acquisitions, partnerships and collaborations, and joint ventures (JVs)
Key Updates



In May 2019

, QIAGEN N.V. launched the first US Food and Drug Administration (FDA)-approved companion diagnostic for identifying breast cancer patients who may benefit from treatment with Novartis' Piqray (alpelisib), a PI3K inhibitor






In May 2017

, Roche Diagnostics received the US FDA's approval for biomarker assay to treat bladder cancer. This biomarker assay test evaluates the status of the patient programmed death-ligand 1 (PD-L1) by using both immune cell staining and tumor cell staining and scoring within the tumor.



Market Segmentation
Global Biomarker Tests Market, by Application



Cancer




Cardiovascular




Infectious Diseases




Central Nervous System




Others



Global Biomarker Tests Market, by End User



Pharma & Biotech Companies




Diagnostic tool companies




Healthcare IT/Big data companies




Clinical laboratories



Global Biomarker Tests Market, by Region



Europe







Germany




France




UK




Italy




Spain




Rest of Europe











Asia-Pacific







Japan




China




India




South Korea




Australia




Rest of Asia Pacific








Available Additional Customizations
Intended Audience



Biomarker test devices manufacturers and vendors




Medical research laboratories




Pharmaceutical & biotechnology companies




Market research and consulting service providers




Potential investors




Government research institutes




Academic institutes and universities



Frequently Asked Questions (FAQ) :
---