Global Automatic Transmission Market Information by Type (Automated Manual Transmission (AMT), Dual-Clutch transmission (DCT), and Continuously Variable Transmission (CVT)), by Vehicle Type (Passenger Car, LCV, HCV), by Fuel (Gasoline, Diesel, and Hybrid) by Region - Forecast to 2022
Market Scenario:
Automatic transmission is a type of transmission that can automatically change gear ratios as the auto vehicle moves. It is also called as auto or self-shifting transmission. Transmission system has evolved to provide better performance in the vehicle. Manufacturers of transmission systems are competing to develop fuel efficient systems without compromising on the performance of vehicle. Automatic transmission is preferred over the manual transmission and the reason behind the inclination towards automatic transmissions is fuel efficiency, increased power, and better comfort level. Automatic transmission car are very much popular in the North America due to stringent emission and fuel efficiency regulation. Enhanced driving experience with respect to auto gear shifting & improved acceleration, increasing vehicle production, and increasing need for fuel efficient systems by the vehicle has driven the market of automatic transmission.
Study Objectives of Global Automatic transmission Market



To provide detailed analysis of the market structure along with forecast for the next six years of various segments and sub-segments of the global Automatic transmission market




To provide insights about factors affecting the market growth




To analyze the global Automatic transmission market based on various factors such as supply chain analysis, and Porter's five forces analysis




To provide historical and forecast revenue of the market segments and sub-segments with respect to four main geographies and their countries - North America, Europe, Asia-Pacific, and ROW.




To provide country level analysis of the market with respect to the current market size and future prospective




To provide country level analysis of the market for segment by types, vehicle type, fuel, and region




To provide strategic profiling of the key players in the market, comprehensively analyzing their core competencies, and drawing a competitive landscape for the market




To track and analyze competitive developments such as joint ventures, strategic alliances, mergers and acquisitions, new product developments, and research and developments in the global automatic transmission market



Market Segmentation


Regional Analysis of Global Automatic transmission Market
North American and European region has stringent emissions and fuel efficiency regulations. Manufacturers and suppliers are developing a transmission system to comply with the emission norms in the market. The North America and European region has seen rapid growth in the market of automotive transmission for its fuel efficiency feature. The higher technology development in the region is also a driving factor for the growth of continuous variable transmission market.
Automatic transmission Market, by Region (USD Million)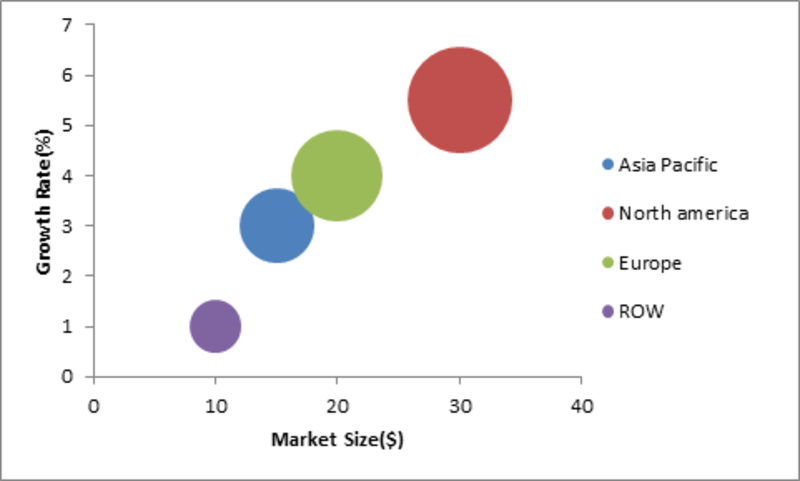 Key Players:
The key players of Global Automatic transmission Market report include- Magna International Inc., Aisin Seiki Co., Ltd., ZF Friedrichshafen AG, Getrag, Jatco Ltd., Eaton Corporation PLC., Continental AG, Allison Transmission Inc., Borgwarner Inc., and GKN PLC.

Target Audience



Automatic transmission manufacturer/dealer/supplier.




Raw material Provider




Government and research organization




Investment bankers and M&A Consultants



Geographic Analysis
Company Information



Profiling of 10 key market players




SWOT analysis, and strategy information of top five players in the market




Competitive landscape including emerging trends adopted by major companies




The report covers brief analysis of country level market information

North America
Europe



U.K.




Germany




Russia




France




Rest of Europe



Asia-Pacific



China




India




Japan




Rest of Asia-Pacific



ROW
The report for Global Automatic transmission Market of Market Research Future comprises of extensive primary research along with the detailed analysis of qualitative as well as quantitative aspects by various industry experts, key opinion leaders to gain the deeper insight of the market and industry performance. The report gives the clear picture of current market scenario which includes historical and projected market size in terms of value and volume, technological advancement, macro economical and governing factors in the market. The report provides details information and strategies of the top key players in the industry. The report also gives a broad study of the different market segments and regions.
TABLE OF CONTENTS
1. REPORT PROLOGUE

2. INTRODUCTION

2.1. DEFINITION

2.2. SCOPE OF THE STUDY

2.2.1. RESEARCH OBJECTIVE

2.2.2. ASSUMPTIONS

2.2.3. LIMITATIONS

2.3. MARKET STRUCTURE

2.4. MARKET SEGMENTATION

3. RESEARCH METHODOLOGY

3.1. RESEARCH PROCESS

3.2. PRIMARY RESEARCH

3.3. SECONDARY RESEARCH

3.4. MARKET SIZE ESTIMATION

3.5. FORECAST MODEL

4. MARKET DYNAMICS

4.1. DRIVERS & OPPORTUNITIES

4.2. CHALLENGES & RESTRAINTS

4.3. VALUE CHAIN ANALYSIS

4.4. PORTER'S FIVE FORCES ANALYSIS

5. AUTOMATIC TRANSMISSIONS MARKET, BY TYPE

5.1. INTRODUCTION

5.2. AUTOMATED MANUAL TRANSMISSION

5.3. DUAL-CLUTCH TRANSMISSION

5.4. CONTINUOUSLY VARIABLE TRANSMISSION

6. AUTOMATIC TRANSMISSIONS MARKET, BY VEHICLE TYPE

6.1. INTRODUCTION

6.2. PASSENGER CARS

6.3. LCV

6.4. HCV

7. AUTOMATIC TRANSMISSIONS MARKET, BY FUEL

7.1. INTRODUCTION

7.2. GASOLINE

7.3. DIESEL

7.4. HYBRID

8. AUTOMATIC TRANSMISSIONS MARKET, BY REGION

8.1. INTRODUCTION

8.2. NORTH AMERICA

8.2.1. U.S.

8.2.2. CANADA

8.2.3. MEXICO

8.3. EUROPE

8.3.1. U.K.

8.3.2. GERMANY

8.3.3. FRANCE

8.4. ASIA–PACIFIC

8.4.1. CHINA

8.4.2. INDIA

8.4.3. JAPAN

8.4.4. SOUTH KOREA

8.5. ROW

8.5.1. BRAZIL

8.5.2. ARGENTINA

8.5.3. RUSSIA

9. COMPANY LANDSCAPE

9.1. INTRODUCTION

9.2. COMPETITIVE STRATEGY ANALYSIS

10. COMPANY PROFILE

10.1. Magna International Inc.

10.1.1. COMPANY OVERVIEW

10.1.2. INDUSTRY /BUSINESS SEGMENT OVERVIEW

10.1.3. FINANCIAL UPDATES

10.1.4. KEY DEVELOPMENTS

10.2. Magna International Inc.

10.2.1. COMPANY OVERVIEW

10.2.2. INDUSTRY /BUSINESS SEGMENT OVERVIEW

10.2.3. FINANCIAL UPDATES

10.2.4. KEY DEVELOPMENTS

10.3. Aisin Seiki Co.

10.3.1. COMPANY OVERVIEW

10.3.2. INDUSTRY /BUSINESS SEGMENT OVERVIEW

10.3.3. FINANCIAL UPDATES

10.3.4. KEY DEVELOPMENTS

10.4. ZF Friedrichshafen AG

10.4.1. COMPANY OVERVIEW

10.4.2. INDUSTRY /BUSINESS SEGMENT OVERVIEW

10.4.3. FINANCIAL UPDATES

10.4.4. KEY DEVELOPMENTS

10.5. Getrag

10.5.1. COMPANY OVERVIEW

10.5.2. INDUSTRY /BUSINESS SEGMENT OVERVIEW

10.5.3. FINANCIAL UPDATES

10.5.4. KEY DEVELOPMENTS

10.6. Jatco Ltd.

10.6.1. COMPANY OVERVIEW

10.6.2. INDUSTRY /BUSINESS SEGMENT OVERVIEW

10.6.3. FINANCIAL UPDATES

10.6.4. KEY DEVELOPMENTS

10.7. Eaton Corporation PLC.

10.7.1. COMPANY OVERVIEW

10.7.2. INDUSTRY /BUSINESS SEGMENT OVERVIEW

10.7.3. FINANCIAL UPDATES

10.7.4. KEY DEVELOPMENTS

10.8. Continental AG

10.8.1. COMPANY OVERVIEW

10.8.2. INDUSTRY /BUSINESS SEGMENT OVERVIEW

10.8.3. FINANCIAL UPDATES

10.8.4. KEY DEVELOPMENTS

10.9. Allison Transmission Inc.

10.9.1. COMPANY OVERVIEW

10.9.2. INDUSTRY /BUSINESS SEGMENT OVERVIEW

10.9.3. FINANCIAL UPDATES

10.9.4. KEY DEVELOPMENTS

10.10. Borgwarner Inc.

10.10.1. COMPANY OVERVIEW

10.10.2. INDUSTRY /BUSINESS SEGMENT OVERVIEW

10.10.3. FINANCIAL UPDATES

10.10.4. KEY DEVELOPMENTS

10.11. GKN PLC

10.11.1. COMPANY OVERVIEW

10.11.2. INDUSTRY /BUSINESS SEGMENT OVERVIEW

10.11.3. FINANCIAL UPDATES

10.11.4. KEY DEVELOPMENTS

11. MRFR CONCLUSION

12. APPENDIX
LIST OF TABLES

Table 1 Global Automatic Transmission Market: By Type, 2014-2022 (USD Billion)

Table 2 AMT: Automatic Transmission Market, By Region, 2014-2022 (USD Billion)

Table 3 DCT: Automatic Transmission Market, By Region, 2014-2022 (USD Billion)

Table 4 CVT: Automatic Transmission Market, By Region, 2014-2022 (USD Billion)

Table 5 Global Automatic Transmission Market: By Vehicle Type, 2014-2022 (USD Billion)

Table 6 Passenger car: Automatic Transmission Market, By Region, 2014-2022 (USD Billion)

Table 7 LCV: Automatic Transmission Market, By Region, 2014-2022 (USD Billion)

Table 8 HCV: Automatic Transmission Market, By Region, 2014-2022 (USD Billion)

Table 9 Global Automatic Transmission Market: By Fuel, 2014-2022 (USD Billion)

Table 10 Gasoline: Automatic Transmission Market, By Region, 2014-2022 (USD Billion)

Table 11 Diesel: Automatic Transmission Market, By Region, 2014-2022 (USD Billion)

Table 12 Hybrid: Automatic Transmission Market, By Region, 2014-2022 (USD Billion)

Table 13 Global Automatic Transmission Market: By Region, 2014-2022 (USD Billion)

Table 14 North America: Automatic Transmission Market, By Type, 2014-2022 (USD Billion)

Table 15 North America: Automatic Transmission Market, By Vehicle Type, 2014-2022 (USD Billion)

Table 16 North America: Automatic Transmission Market, By Fuel, 2014-2022 (USD Billion)

Table 17 North America: Automatic Transmission Market, By Country, 2014-2022 (USD Billion)

Table 18 U.S.: Automatic Transmission Market, By Type, 2014-2022 (USD Billion)

Table 19 U.S.: Automatic Transmission Market, By Vehicle Type, 2014-2022 (USD Billion)

Table 20 U.S.: Automatic Transmission Market, By Fuel, 2014-2022 (USD Billion)

Table 21 Canada: Automatic Transmission Market, By Type, 2014-2022 (USD Billion)

Table 22 Canada: Automatic Transmission Market, By Vehicle Type, 2014-2022 (USD Billion)

Table 23 Canada: Automatic Transmission Market, By Fuel, 2014-2022 (USD Billion)

Table 24 Mexico: Automatic Transmission Market, By Type, 2014-2022 (USD Billion)

Table 25 Mexico: Automatic Transmission Market, By Vehicle Type, 2014-2022 (USD Billion)

Table 26 Mexico: Automatic Transmission Market, By Fuel, 2014-2022 (USD Billion)

Table 27 Europe: Automatic Transmission Market, By Type, 2014-2022 (USD Billion)

Table 28 Europe: Automatic Transmission Market, By Vehicle Type, 2014-2022 (USD Billion)

Table 29 Europe: Automatic Transmission Market, By Fuel, 2014-2022 (USD Billion)

Table 30 Europe: Automatic Transmission Market, By Country, 2014-2022 (USD Billion)

Table 31 U.K.: Automatic Transmission Market, By Type, 2014-2022 (USD Billion)

Table 32 U.K.: Automatic Transmission Market, By Vehicle Type, 2014-2022 (USD Billion)

Table 33 U.K.: Automatic Transmission Market, By Fuel, 2014-2022 (USD Billion)

Table 34 Germany: Automatic Transmission Market, By Type, 2014-2022 (USD Billion)

Table 35 Germany: Automatic Transmission Market, By Vehicle Type, 2014-2022 (USD Billion)

Table 36 Germany: Automatic Transmission Market, By Fuel, 2014-2022 (USD Billion)

Table 37 France: Automatic Transmission Market, By Type, 2014-2022 (USD Billion)

Table 38 France: Automatic Transmission Market, By Vehicle Type, 2014-2022 (USD Billion)

Table 39 France: Automatic Transmission Market, By Fuel, 2014-2022 (USD Billion)

Table 40 Asia-Pacific: Automatic Transmission Market, By Type, 2014-2022 (USD Billion)

Table 41 Asia-Pacific: Automatic Transmission Market, By Vehicle Type, 2014-2022 (USD Billion)

Table 42 Asia-Pacific: Automatic Transmission Market, By Fuel, 2014-2022 (USD Billion)

Table 43 Asia-Pacific: Automatic Transmission Market, By Country, 2014-2022 (USD Billion)

Table 44 China: Automatic Transmission Market, By Type, 2014-2022 (USD Billion)

Table 45 China: Automatic Transmission Market, By Vehicle Type, 2014-2022 (USD Billion)

Table 46 China: Automatic Transmission Market, By Fuel, 2014-2022 (USD Billion)

Table 47 India: Automatic Transmission Market, By Type, 2014-2022 (USD Billion)

Table 48 India: Automatic Transmission Market, By Vehicle Type, 2014-2022 (USD Billion)

Table 49 India: Automatic Transmission Market, By Fuel, 2014-2022 (USD Billion)

Table 50 Japan: Automatic Transmission Market, By Type, 2014-2022 (USD Billion)

Table 51 Japan: Automatic Transmission Market, By Vehicle Type, 2014-2022 (USD Billion)

Table 52 Japan: Automatic Transmission Market, By Fuel, 2014-2022 (USD Billion)

Table 53 South Korea: Automatic Transmission Market, By Type, 2014-2022 (USD Billion)

Table 54 South Korea: Automatic Transmission Market, By Vehicle Type, 2014-2022 (USD Billion)

Table 55 South Korea: Automatic Transmission Market, By Fuel, 2014-2022 (USD Billion)

Table 56 ROW: Automatic Transmission Market, By Type, 2014-2022 (USD Billion)

Table 57 ROW: Automatic Transmission Market, By Vehicle Type, 2014-2022 (USD Billion)

Table 58 ROW: Automatic Transmission Market, By Fuel, 2014-2022 (USD Billion)

Table 59 ROW: Automatic Transmission Market, By Country, 2014-2022 (USD Billion)

Table 60 Brazil: Automatic Transmission Market, By Type, 2014-2022 (USD Billion)

Table 61 Brazil: Automatic Transmission Market, By Vehicle Type, 2014-2022 (USD Billion)

Table 62 Brazil: Automatic Transmission Market, By Fuel, 2014-2022 (USD Billion)

Table 63 Argentina: Automatic Transmission Market, By Type, 2014-2022 (USD Billion)

Table 64 Argentina: Automatic Transmission Market, By Vehicle Type, 2014-2022 (USD Billion)

Table 65 Argentina: Automatic Transmission Market, By Fuel, 2014-2022 (USD Billion)

Table 66 Russia: Automatic Transmission Market, By Type, 2014-2022 (USD Billion)

Table 67 Russia: Automatic Transmission Market, By Vehicle Type, 2014-2022 (USD Billion)

Table 68 Russia: Automatic Transmission Market, By Fuel, 2014-2022 (USD Billion)

Table 69 Automatic Transmission, by Region, 2014-2016 (Units)

Table 70 Automatic Transmission, by Key players, 2014-2016 (Units)



LIST OF FIGURES

FIGURE 1 Global Automatic Transmission market segmentation

FIGURE 2 Forecast Methodology

FIGURE 3 Five Forces Analysis of Global Automatic Transmission Market

FIGURE 4 Value Chain of Global Automatic Transmission Market

FIGURE 5 Global Automatic Transmission Market: By Type, 2014-2022 (USD Billion)

FIGURE 6 Global Automatic Transmission Market: By Vehicle Type, 2014-2022 (USD Billion)

FIGURE 7 Global Automatic Transmission Market: By Fuel, 2014-2022 (USD Billion)

FIGURE 8 Global Automatic Transmission Market: By Region, 2014-2022 (USD Billion)

FIGURE 9 North America Automatic Transmission Market: By Country, 2016 (%)

FIGURE 10 Europe Automatic Transmission Market: By Country, 2016 (%)

FIGURE 11 Asia-Pacific Automatic Transmission Market: By Country, 2016 (%)

FIGURE 12 ROW Transmission Market: By Country, 2016 (%)

FIGURE 13 Automatic Transmission, by Region, 2016 (%)

FIGURE 14 Automatic Transmission, by Key players, 2016 (%)

FIGURE 15 Market Development Analysis, 2014-2016 (%)