Market Scenario An arc flash is the heat and light produced from an electric arc which is supplied through enough electrical energy to cause substantial damage, fire, harm or injury. Also, an arc flash is a phenomenon where a flashover of electric current leaves its intended path and travels through the air from one conductor to another, or to ground. The results are often violent and when a human is in close proximity to the arc flash, serious injury and even death can occur.
The arc flash detection & control system holds the largest share in the arc flash protection market, by equipment type during the forecast period. Arc flash detection & control system comprises of relays, breakers, and fault current limiters. Arc flash control system maintains the flow of current to the electrical equipment. The growing cost of smart arc flash control devices such as relays and current limiters, outside the electrical equipment is expected to boost the arc flash detection & control system. The constant need for electricity and the unstable electricity supply situation in most developing countries will aid in the growth of the arc flash protection market over the forecast period. The expensive power distribution system and its infrastructure needs a protection from potential hazard which is given by the arc flash protection. Also, stringent government regulation to promote arc flash protection in the major end-use industries. However, the high product cost and high maintenance cost of arc flash protection will restrain the market to some extent.
The global arc flash protection market is expected to grow at a CAGR of more than 5% during the forecast period.
Market Segmentation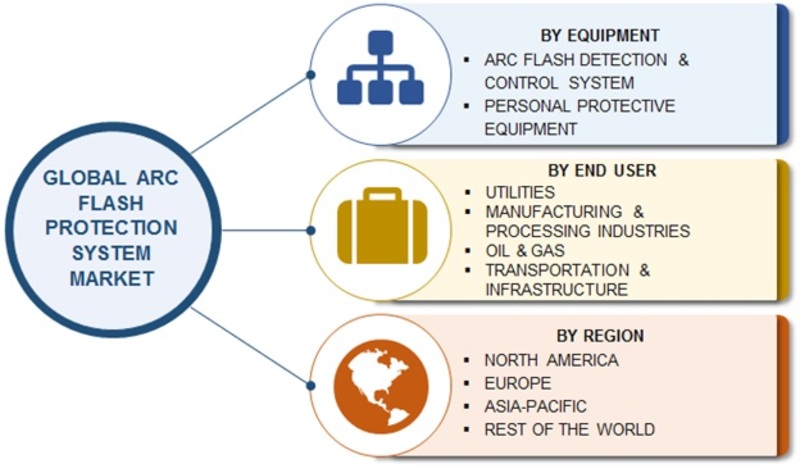 Global Arc Flash Protection Market Currently, the arc flash protection market is in the growth stage. This is due to the increase in demand for power, and in protection device for safe transmission and distribution, worldwide growth in the use more renewable and non-conventional energy sources, the global need to upgrade transmission & distribution grids (both grounded & undergrounded) boost the global arc flash protection market. The market is mainly driven by increasing investment in electrical network, global growth in electrical component manufacturing market and stringent regulation from associations such as, NFPA and OSHA to promote arch flash safety in the end user industries. The North-America region is the leading market for arc flash protection market and is followed by Asia-Pacific.
Key Players The key players of global arc flash protection market are ABB Group (Switzerland), Siemens Ltd. (Germany), General Electric Company (USA), Larsen & Toubro, Ltd. (India), Toshiba Corporation (Japan), Basler Electric Company. (USA), Mitsubishi Electric Corporation (Japan), Schweitzer Engineering Laboratories, Inc. (USA), Littelfuse, Inc. (USA), Schneider Electric SA (France), DuPont (USA) and Eaton Co. Plc. (Ireland).
Frequently Asked Questions (FAQ) :
---
1 Executive Summary

2 Research Methodology

2.1 Scope of the Study

2.1.1 Definition

2.1.2 Research Objective

2.1.3 Assumptions

2.1.4 Limitations

2.2 Research Process

2.2.1 Primary Research

2.2.2 Secondary Research

2.3 Market size Estimation

2.4 Forecast Model

3 Market Dynamics

3.1 Market Drivers

3.2 Market Inhibitors

3.3 Supply/Value Chain Analysis

3.4 Porter's Five Forces Analysis

4 Global Arc Flash Protection Market, By Equipment

4.1 Introduction

4.2 Arc Flash Detection & Control System

4.3 Personal Protective Equipment

5 Global Arc Flash Protection Market, By End User

5.1 Introduction

5.2 Utilities

5.3 Manufacturing & Processing Industries

5.4 Oil & Gas

5.5 Transportation & Infrastructure

6 Regional Market Analysis

6.1 Introduction

6.2 North America

6.2.1 U.S.

6.2.2 Canada

6.3 Europe

6.3.1 U.K.

6.3.2 France

6.3.3 Germany

6.3.4 Rest of Europe

6.4 Asia-Pacific

6.4.1 China

6.4.2 Japan

6.4.3 India

6.4.4 Rest of Asia-Pacific

6.5 Rest of the World

7 Competitive Analysis

7.1 Introduction

7.2 Competitive Scenario

7.2.1 Market Share Analysis

7.2.2 Market Development Analysis

7.2.3 Insulation Type/Service Benchmarking

7.3 ABB Group (Switzerland)

7.3.1 Overview

7.3.2 Insulation Type/Service Offering

7.3.3 Strategy

7.4 Siemens Ltd. (Germany)

7.4.1 Overview

7.4.2 Insulation Type/Service Offering

7.4.3 Strategy

7.5 General Electric Company (USA)

7.5.1 Overview

7.5.2 Insulation Type/Service Offering

7.5.3 Strategy

7.6 Larsen & Toubro, Ltd. (India)

7.6.1 Overview

7.6.2 Insulation Type/Service Offering

7.6.3 Strategy

7.7 Toshiba Corporation (Japan)

7.7.1 Overview

7.7.2 Insulation Type/Service Offering

7.7.3 Strategy

7.8 Basler Electric Company. (USA)

7.8.1 Overview

7.8.2 Insulation Type/Service Offering

7.8.3 Strategy

7.9 Mitsubishi Electric Corporation (Japan)

7.9.1 Overview

7.9.2 Insulation Type/Service Offering

7.9.3 Strategy

7.10 Schweitzer Engineering Laboratories, Inc. (USA)

7.10.1 Overview

7.10.2 Insulation Type/Service Offering

7.10.3 Strategy

7.11 Littelfuse, Inc. (USA)

7.11.1 Overview

7.11.2 Insulation Type/Service Offering

7.11.3 Strategy

7.12 Schneider Electric SA (France)

7.12.1 Overview

7.12.2 Insulation Type/Service Offering

7.12.3 Strategy

7.13 DuPont (USA)

7.13.1 Overview

7.13.2 Insulation Type/Service Offering

7.13.3 Strategy

7.14 Eaton Co. Plc. (Ireland)

7.14.1 Overview

7.14.2 Insulation Type/Service Offering

7.14.3 Strategy