Global Air Separation Plant Market Information Report by Type (Under 20,000 m3/h, 20,000-40,000 m3/h, 40,000-80,000 m3/h, More than 80,000 m3/h), Process (Cryogenic Distillation Process, Non-Cryogenic Distillation Process), Application (Chemical, Oil & Gas, Paper, Metallurgy and Others), Gas (Nitrogen, Oxygen, Argon, Carbon Dioxide) and Regions (North America, Europe, Asia-Pacific, Rest of World) - Forecast To 2022
Market Synopsis of Global Air Separation Plant
Air separation plants are used to separate the atmospheric air into its various primary components like nitrogen, oxygen, and other inert gases. The most common method for air separation is cryogenic distillation. The growth of the air separation plant market is influenced by the product innovations & technologies. Furthermore, growth in the demand for industrial & speciality gases, has led to the emergence of Asia-Pacific as the fastest growing region. However, Issues such as high operational & technological cost hinder the growth of the air separation plant market.
Global Air Separation Plant Market was valued at USD 4,132 Million in 2015, and is expected to reach USD 5,852.7 Million by 2022.
Study objectives of Global Air Separation Plant Market



To provide detailed analysis of the market structure along with forecast for the next ten years of various segments and sub-segments of the global air separation plant market.




To provide insights about factors affecting the market growth




To analyze global air separation plant market based on various tools such as Price Analysis, Supply Chain Analysis and Porters Five Force Analysis.




To provide historical and forecast revenue of the market segments and sub-segments with respect to four main geographies and their countries- North America, Europe, Asia-Pacific and Rest of World.




To provide country level analysis of the market with respect to the current market size and future prospective




To provide country level analysis of the market for segment by material, by application and by regions.




To provide strategic profiling of the key players in the market, comprehensively analyzing their core competencies, and drawing a competitive landscape for the market.




To track and analyze competitive developments such as joint ventures, strategic alliances, mergers and acquisitions, new product developments, and research and developments in the global air separation plant market.



Segmentation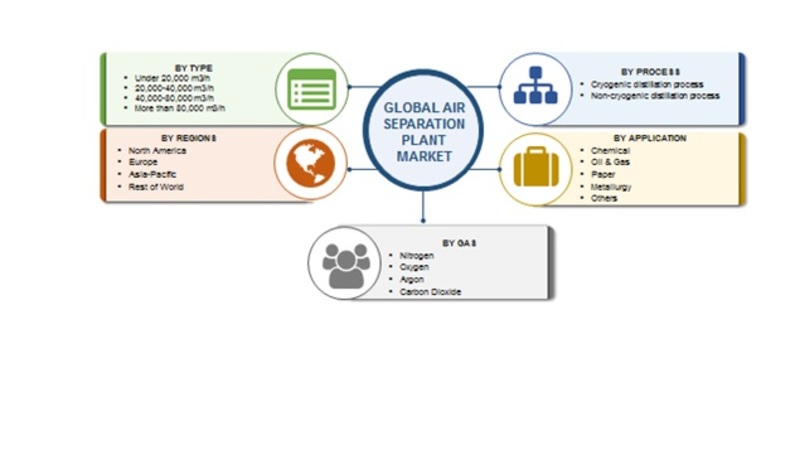 Regional Analysis of Global Air Separation Plant Market
Asia-Pacific dominates the air separation plant market with share of 40.70% in 2015, and it is expected to grow at 6.09% CAGR during the forecast period. Stringent safety and environmental regulations in the healthcare sector is driving the market in the region. While, North America market was valued at USD 1,223.1 million in 2015 and is expected to grow at 4.70% CAGR.
Key Players
Linde AG (Germany) , Air Liquide S.A. (France), Praxair, Inc.(U.S.), Taiyo Nippon Sanso Corporation (Japan), Air Products and Chemicals, Inc. (U.S.), Messer Group GmbH (Germany), Enerflex Ltd. (Canada), Gas Engineering LLC (U.S.), Universal Industrial Gases (U.S.) and Technex Limited (India) are some of the leading players operating in this market.
Target Audience



Manufactures




Raw Materials Suppliers




Aftermarket suppliers




Research Institute / Education Institute




Potential Investors




Key executive (CEO and COO) and strategy growth manager



Product Analysis
Additional Information



Regulatory Landscape




Pricing Analysis




Macroeconomic Indicators



Geographic Analysis
Company Information



Profiling of 10 key market players




In-depth analysis including SWOT analysis, and strategy information of related to report title




Competitive landscape including emerging trends adopted by major companies



The report for Global Air Separation Plant Market of Market Research Future comprises of extensive primary research along with the detailed analysis of qualitative as well as quantitative aspects by various industry experts, key opinion leaders to gain the deeper insight of the market and industry performance. The report gives the clear picture of current market scenario which includes historical and projected market size in terms of value and volume, technological advancement, macro economical and governing factors in the market. The report provides details information and strategies of the top key players in the industry. The report also gives a broad study of the different market segments and regions.