Market Research Future (MRFR) has published on the "Global Potato Milk Market".
Global Potato Milk Market
Potato milk is a thick, milk-like beverage prepared from potatoes without any dairy. It functions exactly like any other milk on the market and is just the most environmentally friendly choice. There are only a few components needed, and it is simple to prepare at home.
The growing consumption of various types of hot drinks particularly tea and coffee across the globe coupled with the increased inclination of consumers towards plant-based milk is likely to create huge opportunities for the potato milk market during the forecast period. For instance, after water, tea is the beverage that people drink the most in the world. Around 7 billion metric tonnes of tea were expected to be produced worldwide in 2020, according to the FAO, with China, India, Kenya, Sri Lanka, and Indonesia ranking among the top tea producers in terms of production volume.
According to a recent study, most people drink tea in Turkey. One estimate puts the annual tea consumption of each Turk at over 1,300 cups (3.16kg). That amounts to 3–4 cups per day; during the bitterly cold winter, that figure is anticipated to increase to 10 cups.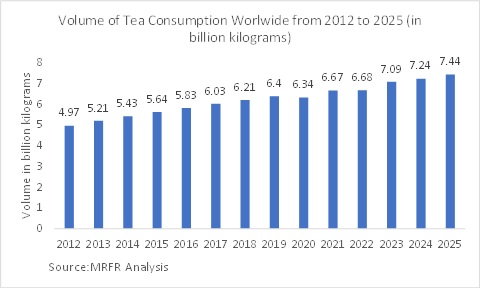 In July 2023, The Canadian Intellectual Property Office (CIPO) informed Veg of Lund AB that it plans to approve the patent for the company's special vegetable milk substitute known as "Vegan potato emulsion". This indicates that the Canadian market is covered by the impending patent protection.
Market Synopsis
According to the MRFR analysis, the global Potato Milk market is projected to grow at a CAGR of 5.2%.
The curbing population across the globe suffering from diabetes as well as obesity coupled with the benefits associated with the consumption of potato milk as the main allergen's lactose, milk, soy, gluten, and nuts are not present in potato milk, which is low in sugar and fat. 15 percent of the daily recommended dosage of calcium, 15 percent of the daily recommended value of vitamin D, 15 percent of the daily recommended value of riboflavin, and 15 percent of the daily recommended value of vitamin B12 are all included in DUG Original. Only DUG, a plant-based dairy substitute, contains 15% of the necessary amount of folic acid. The product includes 39 calories and 1.5 grams of fat per serving for individuals who are controlling their weight. As a part of this, according to Diabetes Research Institute, in 2018, 10.5% of Americans, or 34.2 million people, have diabetes. 10.2% of the population, or around 26.8 million people, were projected to have diabetes. There are about 7.3 million diabetics who have not yet received a diagnosis. In addition, there were 1.5 million new cases of diabetes identified in adults in the United States. Over 210,000 children and teens under the age of 20 are included.
COVID-19 Impact on Potato Milk Market.
The COVID-19 pandemic has had a significant impact on the production and sales of Potato Milk products across the globe. The major impact of the pandemic on the Potato Milk industry across the globe has been the disruption of supply chains. To stop the spread of the virus, many countries closed their borders and restricted trade, making transit of raw materials and finished products difficult. This resulted in ingredient shortages and production delays, leading many businesses to struggle to meet demand. Additionally, many manufacturing facilities had to shut down or operate at reduced capacity due to health and safety regulations, which further disrupted production and sales. Companies' costs rose as a result of the need to implement additional safety measures and invest in remote work technologies.
Access full report @ https://www.marketresearchfuture.com/reports/potato-milk-market-12126
Competitive Landscape
The global Potato Milk market is highly consolidated and consists of some top players such as Veg of Lund, Company 2, Company 3, Company 4, Company 5, Company 6, Company 7, Company 8, Company 9, and Company 10.
Segmentation
By Consumer Group



Gen X: The term "Generation X" describes those who were born between 1965 and 1981, during the period of post-World War II reconstruction in Europe. Their life has not been simple because it was exceedingly difficult to obtain work after a period of turbulence. Idealism had no place in their worldview since they thought life was about creating and working. They were raised with ideals that place high importance on independence, aspiration, and reliance on jobs. Moreover, Cargill estimates that 34% of households with kids under 18 are likely to purchase dairy substitutes, with women (55%) and millennials (38%) making up most plant-based dairy consumers. However, with 25% and 23% of their respective populations purchasing dairy alternatives, Gen X and baby boomers aren't far behind. What was once a choice for those with allergies and sensitivities, or those leading a vegan or vegetarian lifestyle, has now just become another choice for the regular consumer.




Gen Z: Generation Z, also known as Gen Z, iGen, or centennials, is the generation that came after millennials and was born between 1997 and 2012. By 2020, some of this generation's eldest members will have graduated from college and will be working. They were raised on the internet and social media. According to recent data from Barclays in the UK, people between the ages of 16 and 24 (known as Generation Z) consume 550 percent more vegan milk than their older counterparts. Moreover, teenagers usually consume more plant-based foods, such as purchasing more avocados, coconut oil, dark chocolate, hummus, kale, tofu, and quinoa.




Millennials: The generation that immediately follows Generation X in terms of age is the millennial generation, sometimes referred to as Generation Y or the Net group. The phrase was originally used in Neil Howe and William Strauss' 1991 book Generations: The History of America's Future, 1584 through 2069. The Millennial cohort, as defined by Howe and Strauss, consists of people born between 1982 and 2004. According to a YouGov survey, in contrast to 13% of Gen Xers and 11% of baby boomers, 22% of millennials are predicted to adopt plant-based diets. Although the shift to a healthy plant-based diet started around 2015–16, the pandemic gave the movement worldwide momentum because having a robust immune system was essential. According to a study, millennials will be the main drivers of this desire for plant-based alternatives to dairy and meat through 2024. Clinical studies have demonstrated that consuming too much dairy raises the chance of developing conditions such as lactose intolerance, allergies, acne, hormonal imbalance, Crohn's disease, multiple sclerosis, cancer, and Type 2 diabetes. Compared to meat eaters, vegans had a 32% lower risk of hospitalization or death from heart disease.




Baby Boomers: The term "baby boomer" refers to anyone born between 1946 and 1964. Particularly in industrialized countries, the baby boomer generation makes up a sizeable fraction of the global population. It comprised 73 million people in the United States as of July 2019, according to the most recent census report. The baby boomers have had, and most likely will continue to have, a big impact on the economy. Before the millennial generation narrowly surpassed them, the baby boomers were the largest generation in American history. According to the Dalhousie University Agri-Food Analytics Lab, 45% of Canadian baby boomers are much inclined towards consuming plant-based food.



By Application



Hot Drinks: Hot Drinks usually include tea and coffee. Tea is a beverage made from the curing of Camellia Sinensis (tea plant) leaves and the addition of hot water. After water, tea is the most consumed beverage worldwide. The Camellia Sinensis plant originated in Asia and Africa because it thrives in tropical and subtropical regions. A higher tea intake was linked to a tad bit lower risk of death, according to a prospective study of 500,000 tea drinkers in the UK. The study is a large-scale and thorough examination of the possible mortality advantages of drinking black tea, the most popular variety of tea drunk in the United Kingdom. In August 2022, findings were published in the journal Annals of Internal Medicine.




Smoothies: Smoothies, commonly referred to as smoothies, are blended frozen drinks created from a variety of fruit, fruit juice, yogurt, supplementary powders, and ice combinations. They are frequently offered as healthier substitutes for sugary soft beverages and fatty milkshakes in health food stores and exercise facilities, or as meal replacements when nutritious powders are added. The traditional varieties offered in the United States are largely devoid of dairy components and rely on fruits like bananas for sweetness and thickness. Yogurt is frequently used as a thickening and honey is frequently used as a natural sweetener in smoothies made in other nations.




Bakery & Confectionery: Bakery goods such as bread, rolls, cookies, pies, pastries, and muffins are often manufactured with flour or meal derived from grains. Numerous nutrients are provided in the human diet by bread, which was already a common staple in prehistoric times. The growing consumption of bakery and confectionery items coupled with the increased inclination of consumers towards plant-based foods is likely to boost its market growth in the upcoming years. The retail performance of baked goods has been bolstered by rising consumer incomes, a more Westernized way of life in Chinese cities, a growing variety, and an increased presence in stores like supermarkets and hypermarkets. Additionally, traditional Chinese pastries are facing competition from Western-style pastries, which are become a staple diet for many middle-class urban customers. In China, sales of baked products retail total 41% of all sales, or USD 14 billion annually, go-to cakes. Retail sales of cake experienced an 8.3% compound annual growth rate (CAGR) from 2015 to 2020, according to Euromonitor International, and are anticipated to stay at this level for the following five years. Market fragmentation for bakeries is still very severe. Nearly 600,000 bakeries operate in China, most of which are small local enterprises. As a result of growing labor and rent expenses, many bakers have closed their physical stores, and e-commerce is gaining market share.




Residential/Retail: The growing population across the world coupled with the wide usage of potato milk for cooking as well as baking is likely to boost its market growth in the upcoming years. As a part of this, despite the effects of COVID-19, there was a significant increase in new home building in the United States from 2019 to 2022, reaching around 910 billion in that year. However, through 2025, it is predicted that annual declines in home development would occur. The value of the home renovation sector, which includes additions, changes, and significant replacements, is included in this metric in addition to the value of single-family and multi-family housing construction. It is anticipated that non-residential construction spending will follow a similar pattern.



By Distribution Channel



Store-Based: The growing benefits that store-based such as supermarkets and hypermarkets have, such as operating on a self-service basis, providing a variety of goods discounts on various commodities, giving customers freedom of choice, as well as the ability to make big profits, are projected to fuel market expansion during the projection period. For instance, in October 2021, The Swedish potato milk brand Dug, which is owned by the start-up Veg of Lund, will begin to be carried by Waitrose in February. With a formula based on studies conducted by Prof. Eva Tornberg at Lund University, Dug asserts to be the most environmentally friendly alternative milk on the market. According to the company, the potato milk is tasty and creamy, and a foaming barista version that "won't ever separate in your coffee or tea" has also been developed.




Non-Store Based: E-commerce websites and conventional marketplaces like Amazon, Flipkart, and many others are common examples of online sales channels. E-commerce is a method of distribution that uses the internet to move products and services from suppliers to customers. One way for people to buy and sell goods more conveniently is through e-commerce. This channel also includes online purchases made from websites of pure-play e-tailers as well as those of brick-and-mortar businesses. The primary benefits of this channel include its rapid expansion, global marketing reach, capacity to be run directly by consumers, and a slew of additional perks. Moreover, the availability of potato milk at various e-commerce sites such as Amazon is likely to boost its market growth in the upcoming years.



By Region



North America: One of the important reasons driving the growth of the Potato Milk industry in North America is owing to the growing consumer preference towards plant-based drinks owing to the various benefits associated with their consumption. As a part of this, the ability to enhance mental clarity is an additional benefit of plant-based energy drinks. Superfoods like maca and matcha, which are believed to have cognitive-enhancing effects, are frequently found in these drinks. A plant-based energy drink might be able to help an individual to seek for a solution to increase mental capacity.




Europe: The presence of key players across the region adopting various strategies to strengthen its foothold in the market coupled with the growing consumer preference towards potato milk is set to fuel its market growth in the upcoming years. For instance, the Swedish company DUG was founded on the findings of Professor Eva Tornberg's research at Lund University. It's where they created its proprietary emulsion technique and where they are still working to find new ways to use potatoes. Currently, stores in Sweden, Ireland, and the UK sell their plant-based beverages. Veg of Lund is the owner of the DUG brand. Moreover, in December 2022, Veg of Lund signed a contract with a European company, to produce its plant-based beverage DUG for the Swedish market and surrounding markets. Manufacturing will occur in northern Germany and will supplement already-existing manufacturing in England, which will primarily service the markets in the UK and Ireland.




Asia-Pacific: The growing vegan across the Asia-Pacific region is likely to increase the demand for potato milk, which in turn would boost its market growth during the forecast period. As a part of this, India is narrowly behind China in terms of population. In 2022, India will have 1.4 billion inhabitants, second only to China, which will have 1.45 billion. According to recent studies, 9% of Indians are vegans, 8% are pescatarians, and 24% of Indians are severe vegetarians.




Rest of the World: The Potato Milk market in South America, the Middle East, and Africa is growing. The Middle East has an adequate share of the market in Row and is anticipated to develop rapidly throughout the projection period owing to the growing consumption of plant-based drinks across the region. As a part of this, in November 2022, Toluna recently conducted a study in the UAE and KSA to better understand how the plant-based category is changing. The results showed that more than half of consumers had "either tried or started consuming" plant-based products in the previous six months, compared to just 9% who said they had begun doing so "more than two years ago." Furthermore, approximately half of customers who only eat plant-based foods anticipate consuming more of them during the next two years. A kind of revolution in the food and beverage sector is being foreshadowed by the rate at which the plant-based universe is growing.