Market Synopsis
With the outbreak of COVID-19 and the escalating numbers of infected, city-wide lockdowns and transport network breakdowns are impacting the world indiscriminately and affecting the global economy. The impact on chemicals & materials supply chains, and manufacturing operations across the world are expected to be significantly felt in the days and weeks to come.
The lockdown of cities and countries have brought transportation to a halt. There are thousands of chemical companies that have temporarily shut down or are on the verge of shutting down. The most impacted companies are those heavily dependent on factories in China for raw materials, parts, or finished goods.
In the last few years, to reduce the cost of manufacturing, several companies have implemented supply chain strategies such as lean manufacturing, outsourcing, and offshore production. However, the spread of COVID-19 has resulted in severe disruptions in global supply chains.
Overview of Chemicals & Materials Companies during COVID-19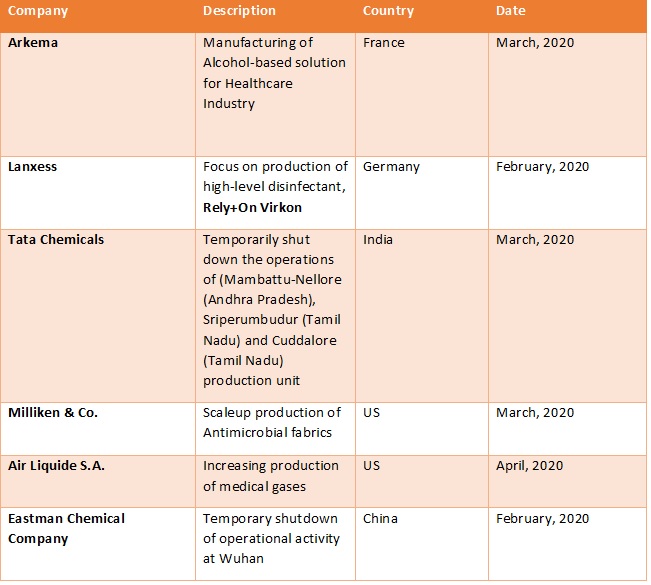 Current and Post Impact analysis
The unpredictable situation has caused a crisis in the global economy. Several companies have been forced to shut down their production units. The indiscriminate spread of COVID-19 is already impacting the port traffic globally.
Between January and February 2020, China's overall exports reduced by 17.2% and imports fell by 4% in terms of value (USD). The country also posted a trade deficit of USD 7.1 billion in the first two months of the same year.
MRFR estimates that COVID-19 will have a significant effect on the manufacturing industries, such as steel, chemicals, agrochemical, textile, paper, and automobile, worldwide for the next five to six months.
Market Drivers
Market Challenges
Market Opportunity
Segmentation
BY Type
By Region



North America




Europe




Asia-Pacific




Latin America




Middle East & Africa



Regional Analysis
The alarming increase in the COVID-19 cases around the whole world has slowed down day to day life. Each country is concentrating on finding a cure for this novel virus. The US has become an epicenter of this pandemic as the number of cases in the country is growing rapidly.
According to the American Chemistry Council (ACC), the chemical industry must maintain the operations to supply disinfectant and antimicrobial plastics for packaging. Many European chemical manufacturers are facing operational difficulties, especially in countries where there are several positive cases such as Italy, Germany, France, Spain, and the UK. The Germany Industry Association stated that the chemical industry's marginal growth is expected to witness a 1.5% decline in 2020.
The early stage of COVID-19 was initially identified in China from where it spread across the world. Companies such as LG Chem and Eastman Chemical have stopped their production in China. Some of the disinfectant producers come up with expansion plans to fight against COVID-19. For instance, Lanxess announced that it would increase the production of disinfectant RelyOn Virkon. However, other facilities of Lanxess were closed in China.
Table of Contents

1. EXECUTIVE SUMMARY

2. MARKET INTRODUCTION

2.1. Chemical & Materials Industry: COVID-19 Outbreak

2.2. Scope of the Study

2.3. Market Structure

2.4. Assumption and Limitations

3. SUPPLY SIDE

3.1. Current & Post Impact Analysis

3.1.1. Raw Material Availability and Pricing Fluctuations Overview

3.1.2. Production Scenario

3.1.3. Challenges facing in Distribution & Sales Channel

3.1.4. Trade complexities

3.1.5. Downstream Supply Outlook

4. DEMAND SIDE

4.1. Current & Post Impact Analysis

4.1.1. Change in demand during COVID-19 outbreak

4.1.2. Post Impact Demand Analysis

4.1.3. Market Influence on End-use Industry

5. ECONOMIC OUTBREAK

5.1. Industry Challenges

5.2. Workforce Issues

5.3. Government Polices

6. INDUSTRY DYNAMIC

6.1. Market Drivers and Impact of Current Situation

6.2. Restraining and Limitations to the growth of Industry

6.3. Remarkable Opportunites

6.4. Challenges

7. CHEMICAL & MATERIALS INDUSTRY-YEAR 2017,2018, 2019, THE EFFECTED 2020 AND FORECAST TILL 2022 (SHORT TERM), 2025 (LONG TERM)

7.1. Introduction

7.2. Industry Sectors

7.3. Basic Chemicals

7.3.1. Ammonia

7.3.2. Iodine

7.3.3. Sodium Bicarbonate

7.3.4. Ethylene Carbonate

7.3.5. Others

7.4. Specialty Chemicals

7.4.1. Petrochemical

7.4.2. Paints & Coatings

7.4.3. Chloroprene Rubber

7.4.4. Oilfield Chemicals

7.4.5. Carbon Black

7.4.6. Lubricants

7.4.7. Others

7.5. Polymer & Plastics

7.5.1. Polyurethane

7.5.2. Automotive Plastics

7.5.3. Decorative High-Pressure Laminates

7.5.4. Antimicrobial Additives

7.5.5. Others

7.6. Materials & Advanced Materials

7.6.1. Textile Fabrics

7.6.2. EMI & RFI Shielding Materials

7.6.3. Building Insulation Material

7.6.4. Others

7.7. Renewable Chemicals

7.7.1. Bio-Based Chemicals

7.7.2. Others

7.8. Metals & Alloys

7.8.1. Aluminum

7.8.2. Steel

7.8.3. Cobalt

7.8.4. Superalloys

7.8.5. Others

8. CHEMICAL & MATERIALS INDUSTRY POST COVID-19 OUTBREAK, BY REGION

8.1. Introduction

8.2. North America

8.2.1. US

8.2.2. Canada

8.3. Europe

8.3.1. Germany

8.3.2. UK

8.3.3. France

8.3.4. Spain

8.3.5. Italy

8.3.6. Russia

8.3.7. Rest of Europe

8.4. Asia Pacific

8.4.1. China

8.4.2. Japan

8.4.3. India

8.4.4. Australia and New Zealand

8.4.5. Indonesia

8.4.6. South Korea

8.4.7. Rest of Asia Pacific

8.5. Latin America

8.5.1. Brazil

8.5.2. Mexico

8.5.3. Argentina

8.5.4. Rest of Latin America

8.6. Middle East & Africa

8.6.1. UAE

8.6.2. Saudi Arabia

8.6.3. Turkey

8.6.4. South Africa

8.6.5. Rest of the Middle East & Africa

9. RECOMNDATION

NOTE:

Table of Content is tentative and subject to change as the research progress. Chemicals & materials can be include or exclude based on client intere