The Surveillance Camera Intelligent Transportation System Market statistical report, published by Market Research Future contains succinct information on intelligent transportation system market, segmented by Surveillance Camera as AID Camera and Thermal Camera among others.
Surveillance camera or closed circuit camera are the integral part of intelligent transportation systems. It is the most basic ITS technologies that are used that are used as a security systems and are utilized in both small and large transits systems to monitor the safety of the passengers. These systems are also used to track the operating status of transportation network. Smart cameras are widely used in various road transportation systems that includes security and law enforcement, traffic management, surveillance, driver assistance and control access systems, and automated parking garages. In general, the aim of surveillance camera systems helps to increase the safety and security.
The factors contributing to the growth of the intelligent transportation system are increasing concern about traffic congestion, increasing need for road safety, increasing government initiatives and reduced fatalities & injuries. Furthermore, increasing implementation of connected cars technology and the increasing growth in wireless technology is expected to boost the market over the forecast period.
Global Thermal Camera of Surveillance Camera Intelligent Transportation Market is expected to reach USD 2.95 Billion by 2022 with a CAGR of 16.11%

Figure 1 GLobal intelligent transportation system Market, By surveillance camera, 2015 VS 2022 (USD billion)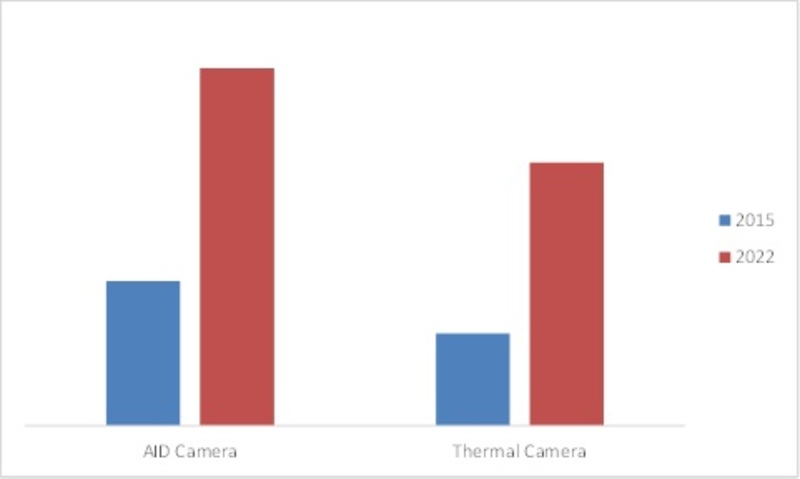 Table of Contents
1. Info graphics Information
1.1 Global Intelligent Transportation System Market, By Surveillance Camera, 2015 VS 2022 (USD Billion)
2. Introduction
3. Global Intelligent Transportation System Market, By Surveillance Camera, Market Data

List of Tables
Table 1 Global Intelligent Transportation System Market, By Surveillance Camera, 2015-2022 (USD Billion) ………..5

List of Figures
Figure 1 Global Intelligent Transportation System Market, By Surveillance Camera, 2015-2022, (USD Billion) ………6