The global Tahini market by application statistical report published by Market Research future contains a brief overview of global Tahini market by application. The market has been segmented on the basis of application as paste & spreads, halva & other sweets, and sauces & dips to provide a clear picture of Tahini industry in the world. The global market for Tahini has witnessed continued demand during the last few years and is projected to grow at a CAGR of 5.51% by 2022.
Paste & spreads functions as a condiment with dishes such as falafel, as an ingredient in other sauces & dips such as hummus & baba ganoush and as a spread for baked foods. Sauces & dips are used as a salad dressing, drizzled over vegetables & meat and often used as creamy dressing with a zesty and nutty sesame flavour in in pita sandwiches and marinades. Halva is a dense, sweet dessert served across the Middle East, South Asia, Central Asia, West Asia, North Africa, the Horn of Africa, the Balkans, Central Europe, Eastern Europe, Malta and the Jewish diaspora. Tahini is used as ingredient to prepare halwa and other desserts. Though Tahini is a native to Middle East, it is quite preferred in the Mediterranean region.
Owing to the huge demand for low-calorie spreads and sauces, diverse functionality of Tahini along with its diverse applications, growing demand of authentic Mediterranean and Arabic food and growing increasing demand of tahini paste and sauces in the hotel and restaurants will drive the growth of the global tahini market over the assessment period. Also, increasing urbanization, growing disposable income leading to change in spending habits of consumer, changing dietary patterns with higher demand for packaged and ready-to-eat products and consumer preference of halva and halva bars as a dessert will support the Tahini market growth in the coming years.
Global Market Size (Volume) Share of Tahini by application 2011-2022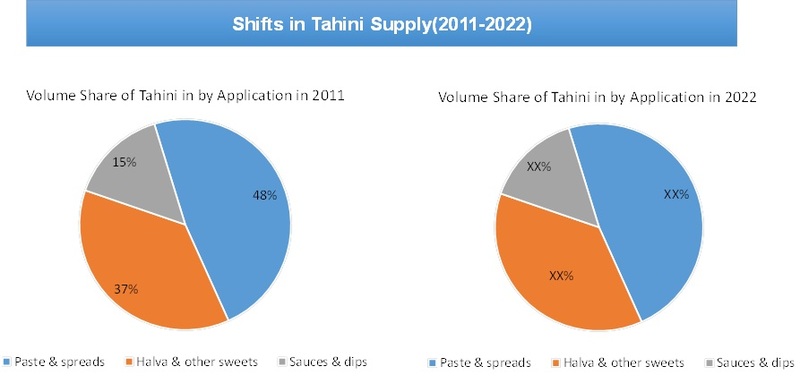 Source: Company websites, Journals, Industry websites
The Global Tahini market is in the growing stage of its life cycle with a positive outlook. Middle East and Mediterranean regions hold lucrative opportunities for Tahini market growth due to the easy availability of Tahini and consumer awareness of tahini's health benefits. Tahini is a great source of essential fatty acids and nutrients such as Vitamin B1, magnesium, iron & phosphorous and contains proteins and dietary fibres, and owing to these properties, tahini finds its application in various food products. Paste & spreads held 48% of the global market share in 2011 in terms of volume whereas halva & other sweets, and sauces & dips accounted for 37% and 15% respectively in 2011.
Through this report Market Research future aims to provide understanding of the global Tahini market and assists identification of ongoing trends along with anticipated growth in the coming years. For this research extensive primary research was conducted to gain a deeper insight of the market performance. Various industry experts and Key Opinion Leaders (KOLs) were contacted from both supply side and demand side of global Tahini market. The supply side industry experts consisted of CEOs, Directors, Marketing Managers, Sales Mangers, R&D Specialists, Country Manager, Regional Managers of Tahini companies, Retailers, and Distributors amongst others.