Peroxyacetic acid is also known as peracetic acid or PAA, is an organic compound having a formula of CH3CO3H which is a colorless and highly acidic liquid. In the manufacturing process of peroxyacetic acid acetic acid and hydrogen peroxide are used as principal constituent. Compared to parent acetic acid peroxyacetic acid is weaker acid.
Peroxyacetic Acid is consumed in the wise range of applications such as food industry, healthcare industry, water treatment industry, pulp & paper industries and others such as agriculture and laundry. Peroxyacetic acid is used as an antimicrobial for indoor hard surfaces, such as, washrooms, bathrooms, medicinal offices, rural premises and sustenance foundations. It can furthermore be consumed as a part of wineries, beverage plants, and bottling works as pasteurizers, on nourishment preparing equipment, in dairy/cheddar handling plants, as disinfectant in therapeutic supplies, in pulp industry for anticipation of bio film development, and as disinfectant and water purifier. It can also be used to protect food for a longer period of time.
Global Peroxyacetic Acid Market, By Application, 2014-2027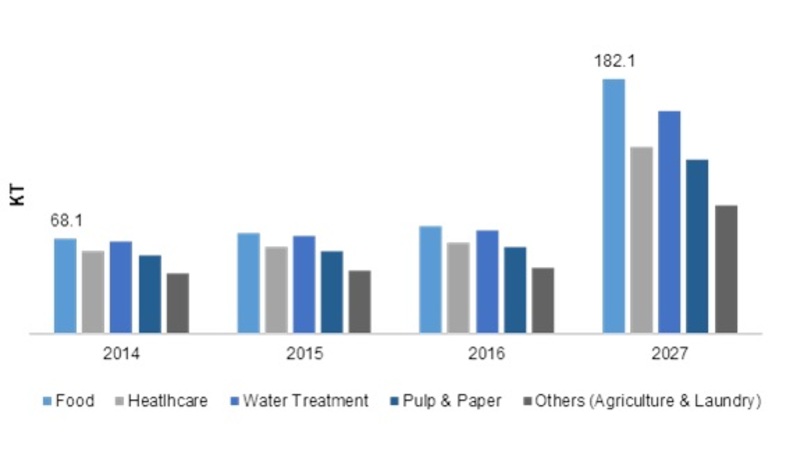 Food industry is a major consumer of peroxyacetic acid among all the applications in the global peroxyacetic acid market. In the current scenarios, food safety is a major issue where the growing microbial contamination is a critical issue. To avoid the food contaminants, peroxyacetic acid plays a major role in keeping the food free from bacteria and for a longer duration. However, the demand for peroxyacetic acid is gradually rising in order to keep food hygienic. As per MRFR analysis, in 2015, Europe was one of the leading consumer of food followed by North America and Asia-Pacific.
Market Research future through this report aims to provide understanding of the global color master batch market on the basis of application, and also assists identification of ongoing trends along with anticipated growth during the forecasted period. For this report, extensive primary research was conducted to gain a deeper insight of the market performance. Various industry experts and Key Opinion Leaders (KOLs) were contacted and interviewed to get an idea of global color master batch market.
List of Tables
TABLE 1 GLOBAL FOOD MARKET: BY REGIONS, 2014-2027 (KT) 8
TABLE 2 NORTH AMERICA FOOD MARKET: BY COUNTRY, 2014-2027 (KT) 9
TABLE 3 EUROPE FOOD MARKET: BY COUNTRY, 2014-2027 (KT) 9
TABLE 4 ASIA-PACIFIC FOOD MARKET: BY COUNTRY, 2014-2027 (KT) 10
TABLE 5 GLOBAL HEALTHCARE MARKET: BY REGION, 2014-2027 (KT) 12
TABLE 6 NORTH AMERICA HEALTHCARE MARKET: BY COUNTRY, 2014-2027 (KT) 12
TABLE 7 EUROPE HEALTHCARE MARKET: BY COUNTRY, 2014-2027 (KT) 13
TABLE 8 ASIA-PACIFIC HEALTHCARE MARKET: BY COUNTRY, 2014-2027 (KT) 13
TABLE 9 GLOBAL WATER TREATMENT MARKET: BY REGIONS, 2014-2027 (KT) 14
TABLE 10 NORTH AMERICA WATER TREATMENT MARKET: BY COUNTRY, 2014-2027 (KT) 15
TABLE 11 EUROPE WATER TREATMENT MARKET: BY COUNTRY, 2014-2027 (KT) 15
TABLE 12 ASIA-PACIFIC WATER TREATMENT MARKET: BY COUNTRY, 2014-2027 (KT) 16
TABLE 13 GLOBAL PULP & PAPER MARKET: BY REGION, 2014-2027 (KT) 17
TABLE 14 NORTH AMERICA PULP & PAPER MARKET: BY COUNTRY, 2014-2027 (KT) 18
TABLE 15 EUROPE PULP & PAPER MARKET: BY COUNTRY, 2014-2027 (KT) 18
TABLE 16 ASIA-PACIFIC PULP & PAPER MARKET: BY COUNTRY, 2014-2027 (KT) 19
TABLE 17 OTHERS (AGRICULTURE & LAUNDRY) MARKET: BY REGION, 2014-2027 (KT) 19
TABLE 18 NORTH AMERICA OTHERS (AGRICULTURE & LAUNDRY) MARKET: BY COUNTRY, 2014-2027 (KT) 20
TABLE 19 EUROPE OTHERS (AGRICULTURE & LAUNDRY) MARKET: BY COUNTRY, 2014-2027 (KT) 20
TABLE 20 ASIA-PACIFIC OTHERS (AGRICULTURE & LAUNDRY) MARKET: BY COUNTRY, 2014-2027 (KT) 21 
List of Figures
FIGURE 1 GLOBAL PEROXYACETIC ACID MARKET SIZE BY APPLICATION (KT) (2014-2027) 7
FIGURE 2 GLOBAL FOOD MARKET SHARE FOR PEROXYACETIC ACID: BY REGION, 2015 (% SHARE) 8
FIGURE 3 GLOBAL HEALTHCARE MARKET SHARE FOR PEROXYACETIC ACID: BY REGION, 2015 (% SHARE) 11