The North-America Intelligent Transportation System Market statistical report, published by Market Research Future contains succinct information on intelligent transportation system market, segmented by Components as Sensor, Surveillance Camera, Software, Interface Board, Monitoring and Detection System and Telecommunication Network among others.
Development in the field of Intelligent Transportation Systems is very rapid and is estimated to grow at a promising rate in next ten years. With the use of these transportation systems companies ensure the 100% efficiency in the human safety, due to which level of fault ratio is drastically reduced. Intelligent Transportation Systems currently plays a vital role in reducing the cost, improving operator ergonomics, amplified service quality and safety. Increasing collaboration between various technological companies and funding by government bodies will ensure intelligent transportation systems prevalence in automotive telematics, traffic management, collision avoidance system, traffic signal control and as well as other Components in the coming years.
Due to the high demand in the technological advancement and consumer experience this market is growing globally. Increased demand for smart ticketing service and new service development in the transportation system market has led to a considerable market share in the global Intelligent Transportation Systems (ITS) market. Automotive sector is also expected a significant growth with the increased incorporation of sophisticated electronic devices and software in automobiles.
North-America Telecommunications Network of Intelligent Transportation System Market is expected to reach USD 3.10 Billion by 2022 with a CAGR of 9.66%

Figure 1 North-America intelligent transportation system Market, By component, 2015 VS 2022 (USD billion)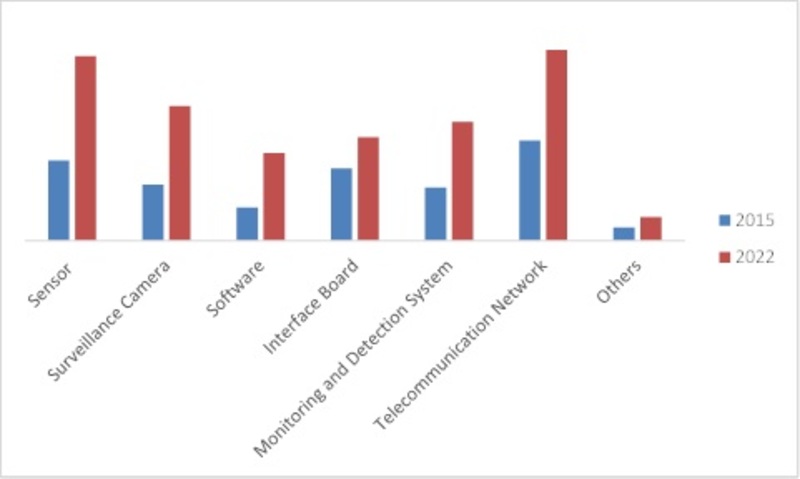 Table of Contents
1. Info graphics Information
1.1 North-America Intelligent Transportation System Market, By Component, 2015 VS 2022 (USD Billion)
2. Introduction
3. North-America Intelligent Transportation System Market, By Component, Market Data

List of Tables
Table 1 North-America Intelligent Transportation System Market, By Component, 2015-2022 (USD Billion) ………..5

List of Figures
Figure 1 North-America Intelligent Transportation System Market, By Component, 2015-2022, (USD Billion) ………6