North America Micro-Pump Market, is projected to grow at a CAGR of 16.0% during the period of 2016-2027. United States commanded the largest share of the North America micro-pump market in 2015 and it is expected to reach $3.02 Billion by the end of 2027.
North America has been the largest market for micro pump ever since the technology came into existence. US being the major contributor in the North American Micro-pump Market acquiring the largest market share in 2015. There are several factors for tremendous growth of the Micro-pump market such as wider acceptance of the technology, the micro-pump technology was initially adopted by the North American countries, over the years the use of the micro-pumping systems has increased. The major market players such as Cole Palmer, IDEX Corporation, Bio-Chem Fluidics and World Precision Instruments among others are based in USA, which has led to the development of the state of the art infrastructure required for the micro-pumping technology. The government funding is another crucial factor in the overall market growth. With the rise in overall healthcare expenditure and the applications of these micro pumps in various industries including pharmaceutical, medical, microfluidics, chemical and few others; moreover because of the benefits such as high accuracy, reliability and quick results in the various fluid handling processes, the use of these devices has increased which has led to the growth of the micro-pump market in the North American Region.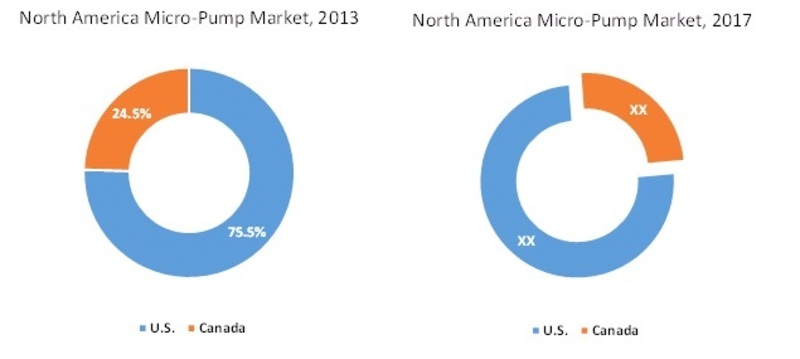 The North America micro-pump market statistical report published by Market Research future contains a brief overview of micro-pump market in the North America region. United States has majorly dominated the North American market for micro-pumps and is expected to grow continuously during the forecasted period of 2016-2027. The report analyzed the North America micro-pump market and presents systematic data of market share on the basis of segments and countries and its growth rate for 2016 to 2017, along with forecast till 2027.
Market Research future through this report aims to provide understanding of the North America micro-pump market on the basis of country, and also assists identification of ongoing trends along with anticipated growth during the forecasted period. For this report, extensive primary research was conducted to gain a deeper insight of the market performance. Various industry experts and Key Opinion Leaders (KOLs) were contacted and interviewed to get an idea of North America micro-pump market.