North America Commodity Plastic Market
North America has, conventionally, always been a strong market for commodity plastic. Globally, the North American market has been a leader with respect to demand as well as product innovation in terms of quality and application development. Key countries in the North American market are the U.S. (the most dominant market, accounting for a significant market share) and Canada. BASF (US), Dow Chemicals Inc. (U.S.), SABIC (US), and DuPont (US) are the most dominant commodity plastic manufacturers in North America.
After the financial crisis of 2011, almost each segment of the commodity plastic market had retreated owing to decline in its key end-user industries including packaging, consumer goods and automotive markets. North America was an outlet for 22.0% of the global commodity plastic market in terms of volume in 2015. The North American market is highly regulated with the EPA (Environment Protection Agency) playing a key role in the monitoring and commercialization of commodity plastic products.
US Commodity Plastic Market Size, 2014-2022 (USD Billion)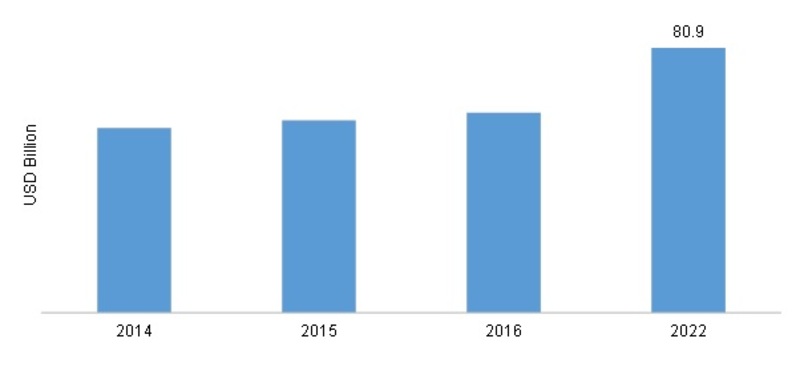 United States is the leading country with respect to commodity plastic market in North America having a market share of more than 70% in 2015, followed by Canada. US economy is recognized as a matured economy, however the commodity plastic market growth is growing on a moderate level but when it comes to the market demand and production, major manufacturers have decided to increase the production capacity and are coming up with several projects in future. However, this will create a huge scope for commodity plastic market growth.
Market Research future through this report aims to provide understanding of the North America Commodity Plastic Market on the basis of country, and also assists identification of ongoing trends along with anticipated growth during the forecasted period. For this report, extensive primary research was conducted to gain a deeper insight of the market performance. Various industry experts and Key Opinion Leaders (KOLs) were contacted and interviewed to get an idea of North America Commodity Plastic Market.

List of Tables
TABLE 1 NORTH AMERICA COMMODITY PLASTIC MARKET, BY COUNTRY, 2014-2022 (USD BILLION)
TABLE 2 NORTH AMERICA COMMODITY PLASTIC MARKET, BY COUNTRY, 2014-2022 (MMT)
TABLE 3 NORTH AMERICA COMMODITY PLASTIC MARKET, BY TYPE, 2014-2022 (USD BILLION)
TABLE 4 NORTH AMERICA COMMODITY PLASTIC MARKET, BY TYPE, 2014-2022 (MMT)
TABLE 5 NORTH AMERICA COMMODITY PLASTIC MARKET, BY APPLICATION, 2014-2022 (USD BILLION)
TABLE 6 NORTH AMERICA COMMODITY PLASTIC MARKET, BY APPLICATION, 2014-2022 (MMT)
TABLE 7 US COMMODITY PLASTIC MARKET, BY TYPE, 2014-2022 (USD BILLION)
TABLE 8 US COMMODITY PLASTIC MARKET, BY TYPE, 2014-2022 (MMT)
TABLE 9 US COMMODITY PLASTIC MARKET, BY APPLICATION, 2014-2022 (USD BILLION)
TABLE 10 US COMMODITY PLASTIC MARKET, BY APPLICATION, 2014-2022 (MMT)
TABLE 11 CANADA COMMODITY PLASTIC MARKET, BY TYPE, 2014-2022 (USD BILLION)
TABLE 12 CANADA COMMODITY PLASTIC MARKET, BY TYPE, 2014-2022 (MMT)
TABLE 13 CANADA COMMODITY PLASTIC MARKET, BY APPLICATION, 2014-2022 (USD BILLION)
TABLE 14 CANADA COMMODITY PLASTIC MARKET, BY APPLICATION, 2014-2022 (MMT)

List of Figures
FIGURE 1 NORTH AMERICA COMMODITY PLASTIC REVENUE MARKET SHARE (%), 2015
FIGURE 2 NORTH AMERICA COMMODITY PLASTIC MARKET SHARE (VOLUME) (%), 2015
FIGURE 3 US COMMODITY PLASTIC MARKET (2014-2022) (USD BILLION)
FIGURE 4 CANADA COMMODITY PLASTIC MARKET, 2014-2022 (USD BILLION)