The Metrology Market statistical report, published by Market Research Future contains succinct information on the metrology market, segmented by end user (Manufacturing, automotive, consumer electronics, aerospace, energy & power, and others) and forecast from 2016-2027. The growing quality requirement in industrial products and the emerging high tech robots and semiconductor wafer inspection are driving the metrology market.


Automotive is the largest end-user industry to have implemented metrology measurement techniques into every step of their production process. Energy & power is the second largest industry in metrology market followed by aerospace, manufacturing and consumer electronics.


High adoption of advanced technology in mobiles, tablets, and growing cloud technology has shown positive impact over growth in consumer electronics market. Due to high demand of small & precise but technically upgraded Semiconductor chips, or diodes is increasing adoption of metrology measurement services in consumer electronics market.


Manufacturing Segment by End-User is expected to dominate the market in 2027 with a CAGR of 9.97%


FIGURE 1: GLOBAL METROLOGY, BY TYPE, 2016 VS 2027 (USD MILLION)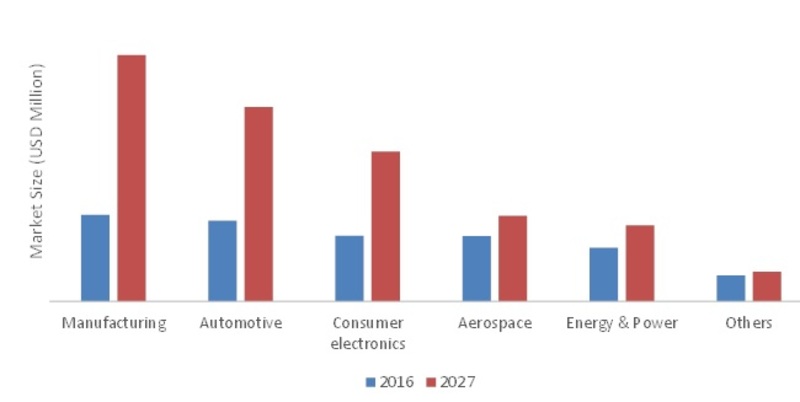 Table of Contents
1. Info graphics Information
1.1 Metrology Market Size, By Type, 2016-2027 (USD Million)
1.2 Metrology Market Share, By Type, 2016-2027 (%)
2. Introduction
3. Global Market Data
List of Tables
Table 1 Metrology Market, by Type, 2016-2027 (USD Million)…………………………..5
List of Figures
Figure 1 Metrology Market, By Type, 2016-2027 (%)……………………………………………………..6