Middle East and Africa regions are growing at a steady pace. Some wealthy nations such as Dubai, Saudi Arabia in Middle East and South Africa in African region are developing due to increasing healthcare expenditure and increasing technological advancement which has lead into acceptance of high quality products and services in the region. The growing demand of micro-pumps has developed the market in Middle East & Africa. Company like IDEX Corporation are spreading their distribution network towards untapped market like in Middle East and Africa. These distributors provide assistance in solving challenging fluid handling applications. The team working with Micro-pumps application assists in selecting the right pumps for the application. They also provide local availability of Micro-pump products and services that are critical to keeping plant operations running. Due to the following reason it is expected that there will be a rise in the growth of micro-pumps market in the Middle East region.
Middle East & Africa Micro-Pump Market, is projected to grow at a CAGR of 9.5% during the period of 2016-2027. Middle East commanded the largest share of the Middle East & Africa micro-pump market in 2015 and it is expected to reach $122.7 Million by the end of 2027.

Middle East & Africa Micro-pump Market Share, 2013 & 2017 (%)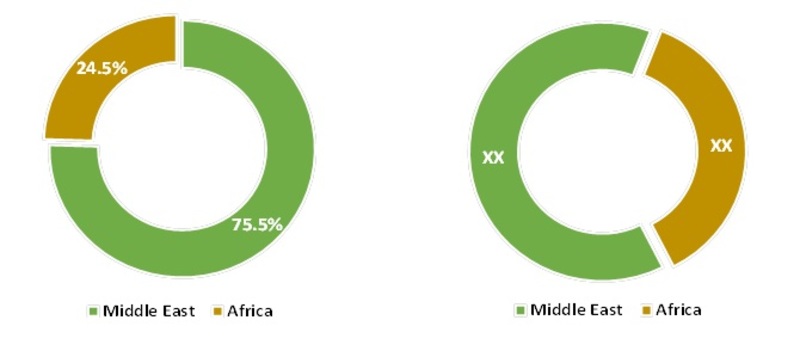 In many African countries, due to lack of awareness and less acceptance of micro-pumps across various applications has slowdown the growth in the region. But private sector infrastructure in African region is ramping investments in building hospitals, clinics, and by forming partnership with international centers of excellence from the U.S. and Europe and the demand of healthcare within the local population, and growth in building local credentials to attract medical tourists, is deriving corresponding investments in the region.
The Middle East & Africa micro-pump market statistical report published by Market Research future contains a brief overview of micro-pump market in the Middle East & Africa region. Middle East has majorly dominated the Middle East & Africa market for micro-pump and is expected to grow continuously during the forecasted period of 2016-2027. The report analyzed the Middle East & Africa micro-pump market and presents systematic data of market share on the basis of segments and countries and its growth rate for 2016 to 2017, along with forecast till 2027.
Market Research future through this report aims to provide understanding of the Middle East & Africa micro-pump market on the basis of country, and also assists identification of ongoing trends along with anticipated growth during the forecasted period. For this report, extensive primary research was conducted to gain a deeper insight of the market performance. Various industry experts and Key Opinion Leaders (KOLs) were contacted and interviewed to get an idea of Middle East & Africa micro-pump market.