Global high purity alumina is used in range of hi-tech applications. The market is segmented based on application as LED, semiconductors, phosphor, and others. LED and semiconductors are estimated to be the prominent applications. LED segment is estimated to be the largest segment which has acquired more than half of the market share in 2016. And it has been anticipated that this segment will retain its dominance over the forecast period. This can be attributed to growing demand in LED lightings in global market. Sapphire substrate made of high purity alumina are used in LED lightings and there is no suitable alternative available in the market. Semiconductors, which is another prominent application for high purity alumina is estimated to be on the second position in terms of value and volume by 2016 end. The segment is anticipated to witness steady growth owing to increasing demand from SOS (sapphire on silicon) semiconductors. Furthermore, others segment which comprises applications such as, Li-ion batteries and industrial applications is anticipated to witness robust growth. The segment growth is attributed to increasing demand of Lithium ion batteries in electric vehicles.
Global High Purity Alumina Market Size, By Application (USD Million) (2014-2022)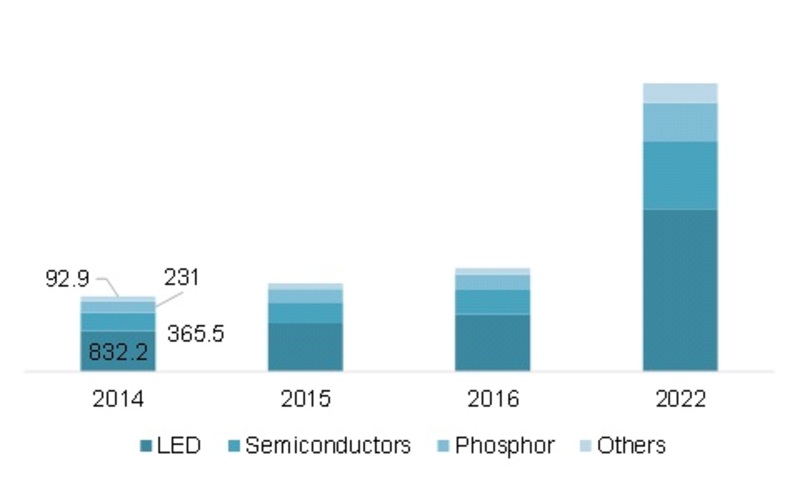 Source: MRFR Analysis
High purity alumina ingots are cut in to slices and, thereafter ground to sapphire substrates of desired thickness. These substrates are used in LED lightings. The segment is estimated to account for dominating share of more than half in overall market by 2016 end. The segment is primarily driven by increasing LED lightings market. As per MRFR analysis, the global LED lightings market is anticipated to witness robust growth, expanding at double digit CAGR over the forecast period. However, current requirement of larger substrate size and cost reduction are major challenges for the manufacturers. The segment is anticipated to witness robust demand from Asia Pacific, which accounts for 68.5% in overall segment revenue. This is attributed to higher demand from LED markets in China along with Japan, Korea, and Taiwan.
Market Research future through this report aims to provide understanding of the global high purity alumina market on the basis of application, and also assists identification of ongoing trends along with anticipated growth during the forecasted period. For this report, extensive primary research was conducted to gain a deeper insight of the market performance. Various industry experts and Key Opinion Leaders (KOLs) were contacted and interviewed to get an idea of global magnesium sulphate market.