The Global Magnesium Sulphate Market Outlook (2016–2027) statistical report, published by Market Research Future contains brief information on global magnesium sulphate market segmented by region. On a global scenario, the region has been divided into North America, Europe, Asia-Pacific, Latin America and MEA.
Geographically, global magnesium sulphate market has very strong hold on Asia-Pacific region and is expected to lead the global market followed by North America and Europe. In terms of market share, Asia-Pacific is expected to grow from 43.37% in 2015 to 45.11% in 2027. The share of Asia Pacific in world consumption of magnesium sulphate is 43.37%. The per annum growth for magnesium sulphate is expected to be at 3.28% for 2015-2027. China is leading in magnesium sulphate market followed by India and Japan. These countries are categorized into underdeveloped sectors where the key economic growth business is agriculture.

Global Magnesium Sulphate Market Size, by Region (2016–2027)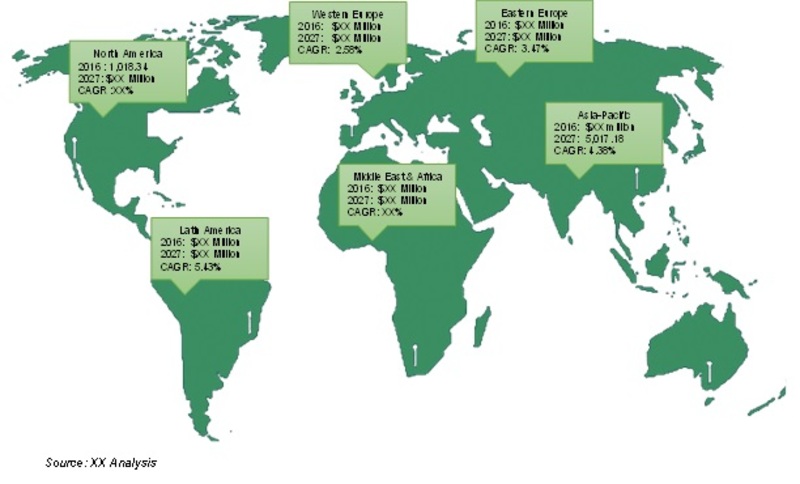 As health care & agriculture sectors in Asia Pacific are witnessing relatively high growth in the region, demand for Magnesium sulphate is shooting high attracting investments in the market. Consequently, new entrants are seeking opportunities in the region. Moreover, in China about 36% of the population and 40% of India's population is dependent on agriculture. In China, near 33% of total population are employed in agriculture which indicates magnesium sulphate which helps in preserving the plants has huge opportunities in these countries including other countries of APAC region.
North America is a relatively matured market as far as investment in fertilizer industry is concerned. Spending in agriculture industry continues to be constraint in the US, whereas Canada is expected to be the fastest growing market with a CAGR of 3.44% during the forecasted period. The share of North America in global magnesium sulphate consumption is 16.74% in 2015 and is estimated to reach 15.57% by 2027.
Market Research future through this report aims to provide understanding of the global magnesium sulphate market on the basis of region, and also assists identification of ongoing trends along with anticipated growth during the forecasted period. For this report, extensive primary research was conducted to gain a deeper insight of the market performance. Various industry experts and Key Opinion Leaders (KOLs) were contacted and interviewed to get an idea of global magnesium sulphate market.