Glycidyl Methacrylate is one of the key raw material which is mainly used in the industrial application for the production of plastics, adhesives and polymer coatings. As per the analysis, the growing industrial application has resulted in increasing demand of glycidyl methacrylate across the globe. Adhesives as an industrial application is estimated to be the second leading market with the global market share of 28%. Adhesives are primarily used interchangeably with glue, mucilage, cement or paste and is a material which is applied to one or both surfaces, of two separate products that binds them together and resists their separation. In the production of adhesives, glycidyl methacrylate plays an integral role and owing to this, the need of glycidyl methacrylate in the production of adhesives is considerably very high. Apart from this, Asia-Pacific is the leading consumer and manufacturer of plastic however, there is a huge opportunity for the manufacturer of glycidyl to increase the production to meet the current market demand. Plastic is one of the key industrial application which has significantly boosted the global demand for glycidyl methacrylate. Glycidyl methacrylate is a key raw material used in the production of plastic. Similarly, in polymer coating the use of special polymers such as PTFE, PFA, FEP and others provide surfaces that are both oleophobic and hydrophobic and prevent numerous materials such as rubber, adhesives, synthetic materials or food ingredients from sticking. The growing automotive industry has resulted in increasing demand for glycidyl methacrylate. Glycidyl methacrylate is used in the production of polymer coating and there is huge demand is coming from the automotive industry.
Global Market Share for Glycidyl Methacrylate: By Industrial Application, 2015 (% Share)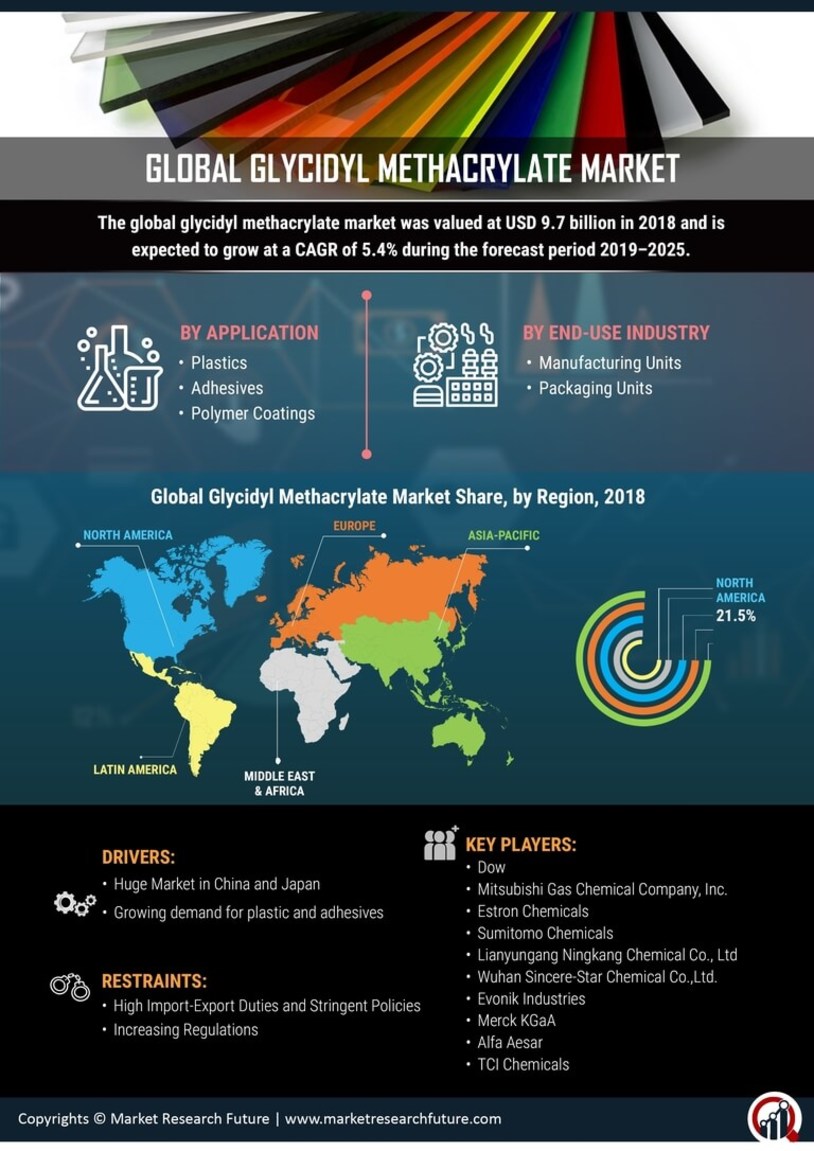 Market Research future through this report aims to provide understanding of the global glycidyl methacrylate market on the basis of industrial application, and also assists identification of ongoing trends along with anticipated growth during the forecasted period. For this report, extensive primary research was conducted to gain a deeper insight of the market performance. Various industry experts and Key Opinion Leaders (KOLs) were contacted and interviewed to get an idea of global glycidyl methacrylate market.