The Global Frozen Fruits Market by Fruit Form Statistical Report published by Market Research future contains a brief overview of global frozen fruits market by fruits form. The market has been segmented on the basis of fruit forms in globe as whole, puree, topping, bar and other processed forms to provide a clear picture of frozen fruits industry in world. The global market for frozen fruits has witnessed continued demand during the last few years and is projected to grow at a CAGR of 5.34% from 2016 to 2027. Increase in versatile demand across various food and beverage segments particularly convenience foods and beverages is likely to drive the global frozen fruits market.
Whole/sliced/cut forms contributed major market share in 2014 followed by puree which are high in demand in the frozen fruits market. Whole/sliced/cut forms has grown at the rate of 2.30% which is more than any other frozen fruits forms during 2011 to 2016. After whole/sliced/cut, frozen fruit puree form market is growing at a higher rate.
Fig: Frozen Fruit Production –By Form-2012 Vs 2027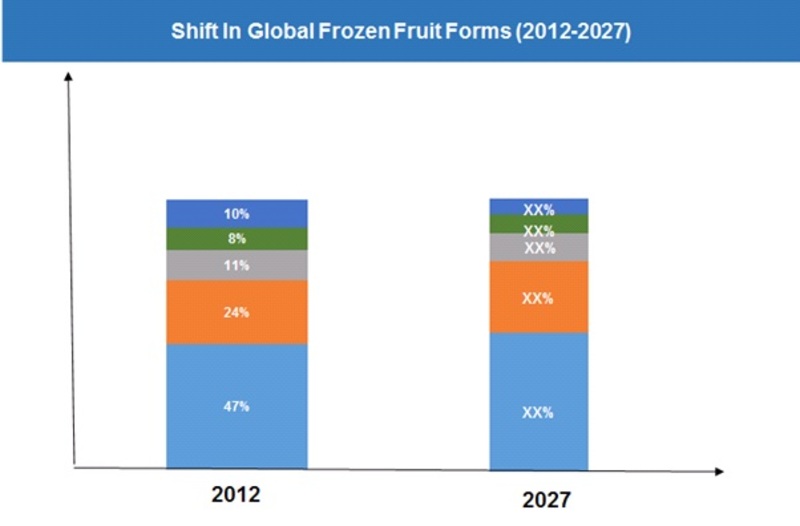 Increase in demand for juices and smoothies, bakery and dairy products specifically in whole frozen fruit will drive demand this market. Among various frozen fruit forms, whole/sliced/cut was estimated a larger share in the year 2016. In North America, frozen whole fruits are growing at higher rate followed by puree. U.S. has maximum market share of frozen fruit in various form which is followed by Europe and APAC. In Europe, frozen fruit bar will sustain higher demand among the frozen fruit form segments during the forecasted period.
Through this report Market Research future aims to provide understanding of the global frozen fruits market by form and assists identification of ongoing trends along with anticipated growth in the coming years. For this research extensive primary research was conducted to gain a deeper insight of the market performance. Various industry experts and Key Opinion Leaders (KOLs) were contacted from both supply side and demand side of global frozen fruits market. The supply side industry experts consisted of CEOs, Directors, Marketing Managers, Sales Mangers, R&D Specialists, Country Manager, Regional Managers frozen fruits companies, Retailers, and Distributors amongst others.