Global Commodity Plastic Market, By Type
The global commodity plastic market has grown at a CAGR of more than 5% in terms of volume and value, during the period 2016-2022. The factors driving the growth of the global market are advancements in the end user industries of commodity plastics, growing application industries, and increasing demand from Consumer goods and FMCG sectors. For the purpose of this study, the global commodity plastic market by type has been divided into polyethylene, polyethylene, polyvinyl chloride, polyethylene terephthalate, polystyrene and other, however, polyethylene has acquired the largest market share of total market with an estimated value of more than 100 billion in 2016 and is expected to grow at a CAGR of 5.58%, followed by polypropylene and polyvinyl chloride.
Global Commodity Plastic Market Share (%), By Type (2015)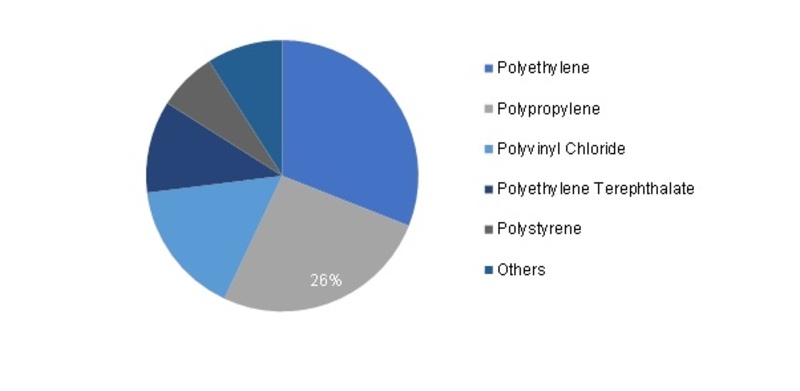 Polyethylene has accounted the largest market share among all the type of commodity plastic. Polyethylene (PE) is undoubtedly one of the most popular plastic across the globe which is majorly used in the plastic industries to manufacture plastic bottles, plastic toys, and grocery bags and also in bullet proof jackets. Along with this, PE also holds a significant role in other application industries such as packaging, electronics, automotive and many others. In the global commodity plastic market, polyethylene holds a largest market share in 2016 with a growing CAGR of 5.85%.
The major factors that has driven the polyethylene market are increasing popularity among plastic manufacturers, growing demand from Chinese manufacturers, and growing application industries and among others. On the other side, the government regulations on anti-plastic bag and changing prices have affected the global as well as regional market demand. North America is also an attractive market for polyethylene owing to the ongoing PE projects of Formosa, Sasol, Equistar, Equistar and other giants.
Market Research future through this report aims to provide understanding of the global commodity plastic market on the basis of type, and also assists identification of ongoing trends along with anticipated growth during the forecasted period. For this report, extensive primary research was conducted to gain a deeper insight of the market performance. Various industry experts and Key Opinion Leaders (KOLs) were contacted and interviewed to get an idea of global commodity plastic market.

List of Tables
TABLE 1 GLOBAL COMMODITY PLASTIC MARKET, BY TYPE, 2014-2022 (USD BILLION)
TABLE 2 GLOBAL COMMODITY PLASTIC MARKET, BY TYPE, 2014-2022 (MMT)
TABLE 3 GLOBAL POLYETHYLENE MARKET FOR COMMODITY PLASTIC, BY REGIONS (2014-2022) (USD BILLION)
TABLE 4 GLOBAL POLYETHYLENE MARKET FOR COMMODITY PLASTIC, BY REGIONS (2014-2022) (MMT)
TABLE 5 GLOBAL POLYPROPYLENE MARKET FOR COMMODITY PLASTIC, BY REGIONS (2014-2022) (USD BILLION)
TABLE 6 GLOBAL POLYPROPYLENE MARKET FOR COMMODITY PLASTIC, BY REGIONS (2014-2022) (MMT)
TABLE 7 GLOBAL POLYVINYL CHLORIDE MARKET FOR COMMODITY PLASTIC, BY REGIONS (2014-2022) (USD BILLION)
TABLE 8 GLOBAL POLYVINYL CHLORIDE MARKET FOR COMMODITY PLASTIC, BY REGIONS (2014-2022) (MMT)
TABLE 9 GLOBAL POLYETHYLENE TEREPHTHALATE MARKET FOR COMMODITY PLASTIC, BY REGIONS (2014-2022) (USD BILLION)
TABLE 10 GLOBAL POLYETHYLENE TEREPHTHALATE MARKET FOR COMMODITY PLASTIC, BY REGIONS (2014-2022) (MMT)
TABLE 11 GLOBAL POLYSTYRENE MARKET FOR COMMODITY PLASTIC, BY REGIONS (2014-2022)
(USD BILLION)
TABLE 12 GLOBAL POLYSTYRENE MARKET FOR COMMODITY PLASTIC, BY REGIONS (2014-2022) (MMT)
TABLE 13 GLOBAL OTHER TYPES MARKET FOR COMMODITY PLASTIC, BY REGIONS (2014-2022)
(USD BILLION)
TABLE 14 GLOBAL OTHER TYPES MARKET FOR COMMODITY PLASTIC, BY REGIONS (2014-2022) (MMT)

List of Figures
FIGURE 1 GLOBAL COMMODITY PLASTIC MARKET SHARE, BY TYPE IN 2015
FIGURE 2 GLOBAL POLYETHYLENE MARKET FOR COMMODITY PLASTIC, BY REGION, 2015 (%)
FIGURE 3 GLOBAL POLYPROPYLENE MARKET FOR COMMODITY PLASTIC, BY REGION, 2015 (%)
FIGURE 4 GLOBAL POLYVINYL CHLORIDE MARKET FOR COMMODITY PLASTIC, BY REGION, 2015 (%)
FIGURE 5 GLOBAL POLYETHYLENE TEREPHTHALATE MARKET FOR COMMODITY PLASTIC, BY REGION, 2015 (%)
FIGURE 6 GLOBAL POLYSTYRENE MARKET FOR COMMODITY PLASTIC, BY REGION, 2015 (%)
FIGURE 7 GLOBAL OTHER TYPES MARKET FOR COMMODITY PLASTIC, BY REGION, 2015 (%)