The Global Color Masterbatch Market is segmented into consumer goods & retails, textile, packaging, automotive and others. Color masterbatch have witnessed various advancement till date due to high demand from application industry. The need for color masterbatch is to improve a functionality and visual appeal of products.
The market is also segmented based on application and is divided into consumer goods & retails, textile, packaging, automotive and others. Packaging industry consumes large amount of white and standard color masterbatch, however it has been estimated to be the largest segment in market share in 2015. Packaging sector use shades of colors to provide functional appeal to attract the consumer attention. Innovations in packaging materials like anti-shrinkage, heat resistant, anti-microbial and anti-fog have increased the demand for masterbatches in food packaging sector. Automotive sector holds the second largest segment in terms of market share. This growth is attributed towards growing automobile sector which facilitates the use of plastics masterbatch to reduce weight of vehicles and increase fuel efficiency and lower down carbon footprints
Global Color Masterbatch Market, By Application (USD Million) (2014-2027)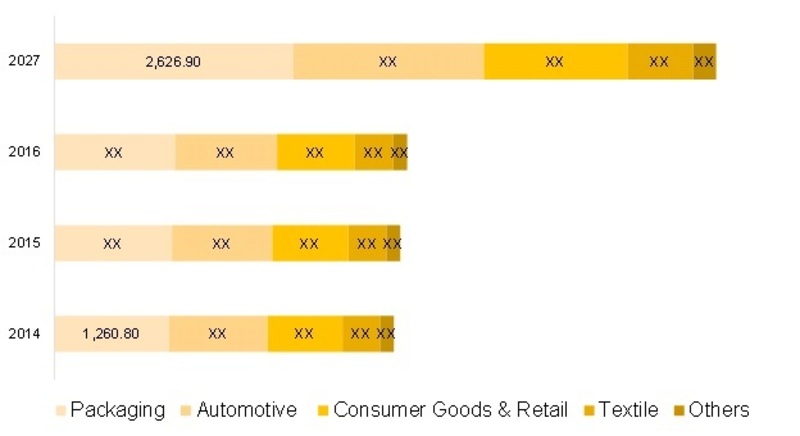 Source: MRFR Analysis
Color masterbatch is one of the key component which plays a crucial role in the plastic as well as plastic packaging industry. Even, the plastic industry has accounted the largest market share in the global color masterbatch market. On the regional basis, Asia-Pacific is one of the premier producer of plastic followed by Europe and North America, however, Asia-Pacific is the crucial region where the market can achieve the higher growth due to the presence of emerging economies such as China, Japan, India and others.
Market Research future through this report aims to provide understanding of the global color master batch market on the basis of application, and also assists identification of ongoing trends along with anticipated growth during the forecasted period. For this report, extensive primary research was conducted to gain a deeper insight of the market performance. Various industry experts and Key Opinion Leaders (KOLs) were contacted and interviewed to get an idea of global color master batch market.