Asia-Pacific Commodity Plastic Market
Asia-Pacific commodity plastic market has seen a remarkable growth over the past few years and is expected to increase at a growing CAGR by the end of forecasted period. The APAC region is the largest consumer of commodity plastic in the world, accounted for more than 45% of commodity plastic market in 2015. Due to increasing demand on the domestic front, increasing income levels, and easy access to resources, APAC has emerged as the leading consumer as well as producer of commodity plastic.

Asia-Pacific Commodity Plastic Market Share (%), 2015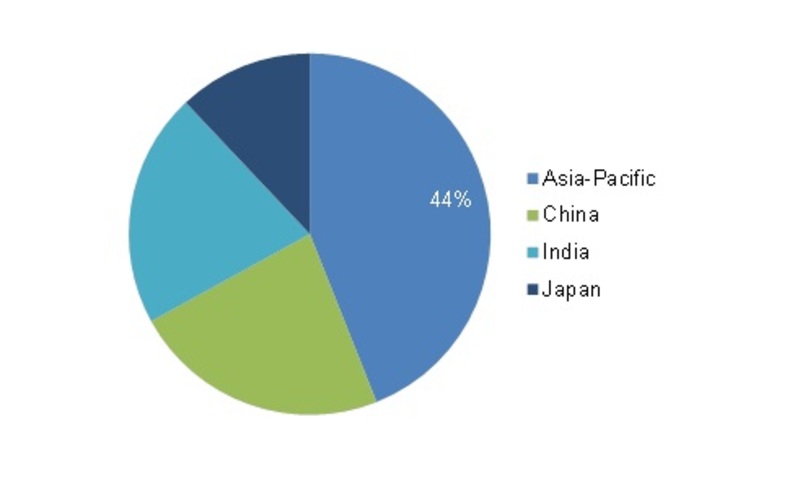 In the Asia-Pacific region, China is the one of the largest economy and is still growing at a rapid pace. China is making deliberate efforts to boost various industries including packaging, consumer good, retail, automotive, automotive and consumer products; growing industrial activity has resulted in increasing demand for commodity plastic. Currently, China is the single largest market for commodity plastic, accounting more than 45% of the total market in APAC. Although new environmental regulations and the protection of forest resources by the Chinese government are affecting the Chinese commodity plastic market. Moreover, the recession had little impact on various end markets for commodity plastic in China, including packaging, automotive, FMCG and others which continue to drive demand for commodity plastic.
Japan is the second largest commodity plastic consumer in the APAC region. Unlike other countries in the region, Japan's market for commodity plastic is mature, and is experiencing relatively sluggish growth. Japan has well established environmental regulations for the commodity plastic market.
Currently, India is the second most populous country in the world, and among the largest consumers of commodity plastic in APAC. India is also the second fastest growing country in the region and in the coming years it is expected to grow at a double digit rate. The consumption of commodity plastic in India is low as compared to other countries like China, Japan, Korea and Australia. Disposable products are an area of robust growth for India; production of these products is currently very low in the country, but is expected to go up substantially. The megatrend of resource efficiency is regarded as one of the key growth drivers for the future of commodity plastic in India.

List of Tables
TABLE 1 ASIA-PACIFIC COMMODITY PLASTIC MARKET, BY COUNTRY, 2014-2022 (USD BILLION)
TABLE 2 ASIA-PACIFIC COMMODITY PLASTIC MARKET, BY COUNTRY, 2014-2022 (MMT)
TABLE 3 ASIA-PACIFIC COMMODITY PLASTIC MARKET, BY TYPE, 2014-2022 (USD BILLION)
TABLE 4 ASIA-PACIFIC COMMODITY PLASTIC MARKET, BY TYPE, 2014-2022 (MMT)
TABLE 5 ASIA-PACIFIC COMMODITY PLASTIC MARKET, BY APPLICATION, 2014-2022 (USD BILLION)
TABLE 6 ASIA-PACIFIC COMMODITY PLASTIC MARKET, BY APPLICATION, 2014-2022 (MMT)
TABLE 7 CHINA COMMODITY PLASTIC MARKET, BY TYPE, 2014-2022 (USD BILLION)
TABLE 8 CHINA COMMODITY PLASTIC MARKET, BY TYPE, 2014-2022 (MMT)
TABLE 9 CHINA COMMODITY PLASTIC MARKET, BY APPLICATION, 2014-2022 (USD BILLION)
TABLE 10 CHINA COMMODITY PLASTIC MARKET, BY APPLICATION, 2014-2022 (MMT)
TABLE 11 JAPAN COMMODITY PLASTIC MARKET, BY TYPE, 2014-2022 (USD BILLION)
TABLE 12 JAPAN COMMODITY PLASTIC MARKET, BY TYPE, 2014-2022 (MMT)
TABLE 13 JAPAN COMMODITY PLASTIC MARKET, BY APPLICATION, 2014-2022 (USD BILLION)
TABLE 14 JAPAN COMMODITY PLASTIC MARKET, BY APPLICATION, 2014-2022 (MMT)
TABLE 15 INDIA COMMODITY PLASTIC MARKET, BY TYPE, 2014-2022 (USD BILLION)
TABLE 16 INDIA COMMODITY PLASTIC MARKET, BY TYPE, 2014-2022 (MMT)
TABLE 17 INDIA COMMODITY PLASTIC MARKET, BY APPLICATION, 2014-2022 (USD BILLION)
TABLE 18 INDIA COMMODITY PLASTIC MARKET, BY APPLICATION, 2014-2022 (MMT)
TABLE 19 REST OF ASIA-PACIFIC COMMODITY PLASTIC MARKET, BY TYPE, 2014-2022 (USD BILLION)
TABLE 20 REST OF ASIA-PACIFIC COMMODITY PLASTIC MARKET, BY TYPE, 2014-2022 (MMT)
TABLE 21 REST OF ASIA-PACIFIC COMMODITY PLASTIC MARKET, BY APPLICATION, 2014-2022(USD BILLION)
TABLE 22 REST OF ASIA-PACIFIC COMMODITY PLASTIC MARKET, BY APPLICATION, 2014-2022 (MMT)

List of Figures
FIGURE 1 ASIA-PACIFIC COMMODITY PLASTIC MARKET VALUE (2015), (USD BILLION)
FIGURE 2 ASIA-PACIFIC COMMODITY PLASTIC MARKET VOLUME (2014), (MMT)
FIGURE 3 CHINA COMMODITY PLASTIC MARKET GROWTH (2014-2022) (USD BILLION)
FIGURE 4 CHINA COMMODITY PLASTIC MARKET GROWTH (2014-2022) (MMT)