Cryptocurrency Market, By Type (Bitcoin, Ethereum, Litecoin, Zcash, Dash, Monero, Ripple, Others), By End-User (Individuals, SMEs, Large Enterprises, Others) - Forecast 2023
Market Synopsis of Cryptocurrency Market:
Market Scenario:
Airbitz is one of the prominent player in cryptocurrency market. The company has designed a Bitcoin wallet that offers strong privacy levels, security and seamless platform that is quite familiar and usable to the masses. The wallets designed by companies are always auto encrypted, provides back up of confidential data, and operates even when Airbitz servers go down. Bitcoin Suisse is a key player in cryptocurrency market. The company has recently announced that it is working with Falcon Private Bank to provide additional cryptocurrency service such as Ether, litecoin and bitcoin cash (BCH) to the bank blockchain asset management services. Bitgo company empowers enterprises to adopt digital currencies into their existing financial systems securely. BitGo founded multi-signature technology, key recovery solutions, zero confirm transaction services and other safety and usability protocols that have empowered enterprises to use digital currencies. The company provides secure platform and services for payments, management risk, compliance, processing, treasury, logistics and business to business and business to customer application.
North America region is dominating the cryptocurrency market with the largest market share owing to the high purchasing power of the people, developed network infrastructure, advanced technology adoption by finance sector and rising security and value of cryptocurrency. Asia-Pacific region is expected to grow with the highest CAGR owing to negligible fees for transaction, increase in purchasing power of people, elimination of third party and less chances of security threats.
By component segment the cryptocurrency market consists of by type and end-user. By type it includes bitcoin, ethereum, litecoin, zcash, dash, monero, ripple, others. Ethereum is a software platform based on blockchain technology. It has its own decentralized platform. The benefits of ethereum decentralized platform includes, strong security level such that the third party cannot make any changes to the existing data. There is no chance of corruption due to the application that is built around a network that consists of certain protocols such as consensus, therefore making censorship impossible.
The major growth driver of cryptocurrency market includes rising demand for better income saving structure, advanced technology implementation in improving banking network, safety and security associated with the currency, increase in purchasing power of people, elimination of third party and less chances of security threats. BFSI accounts for high market share owing to high adoption of online banking, contactless payments and mobile banking application and increasing number of universal cryptocurrencies companies.
The cryptocurrency market is expected to grow at approximately USD 51 Billion by 2023, at 14% of CAGR between 2017 and 2023.


Cryptocurrency Market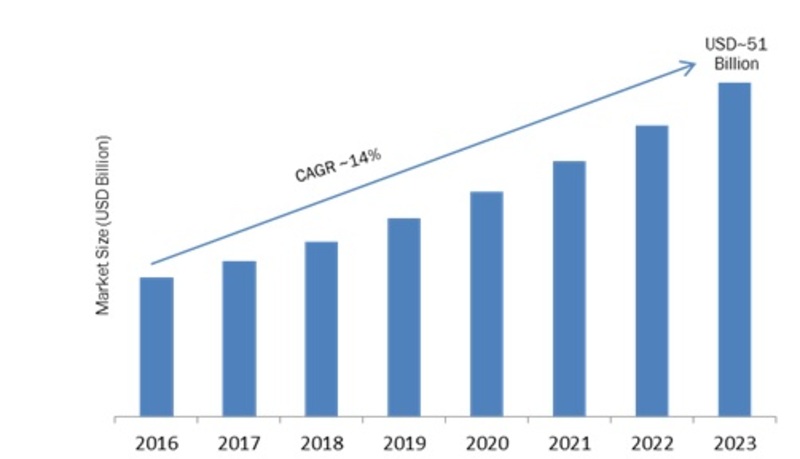 Key Players:
The prominent players in the cryptocurrency market are- 37Coins (U.S.), Airbitz (U.S.), Bips (Denmark), Bitcoin Suisse (Switzerland), Bitgo (U.S.), Bitwala (Germany), Bitway (U.S.), Bitgo (U.S.), Bitinstant (U.S.), Coincheck (Japan), Gatecoin (Hong Kong) and others.
Segments:
Cryptocurrency market for segment on the basis of type and end-user.
Cryptocurrency Market by Type:



Bitcoin




Ethereum




Litecoin




Zcash




Dash




Monero




Ripple




Others



Cryptocurrency Market by End-User:



Individuals




SMEs




Large Enterprises




Others



Intended Audience



Investors and consultants




System Integrators




Research/Consultancy firms




Technology solution providers




IT Solution Providers




Distributors & Retailers




Software Providers



TABLE OF CONTENTS
1 MARKET INTRODUCTION

1.1 INTRODUCTION

1.2 SCOPE OF STUDY

1.2.1 RESEARCH OBJECTIVE

1.2.2 ASSUMPTIONS

1.2.3 LIMITATIONS

1.3 MARKET STRUCTURE
2 RESEARCH METHODOLOGY

2.1 RESEARCH TYPE

2.2 PRIMARY RESEARCH

2.3 SECONDARY RESEARCH

2.4 FORECAST MODEL

2.4.1 MARKET DATA COLLECTION, ANALYSIS & FORECAST

2.4.2 MARKET SIZE ESTIMATION
3 MARKET DYNAMICS

3.1 INTRODUCTION

3.2 MARKET DRIVERS

3.3 MARKET CHALLENGES

3.4 MARKET OPPORTUNITIES

3.5 MARKET RESTRAINTS
4 EXECUTIVE SUMMARY
5. MARKET FACTOR ANALYSIS

5.1 PORTER'S FIVE FORCES ANALYSIS

5.2 SUPPLY CHAIN ANALYSIS
6 CRYPTOCURRENCY MARKET, BY SEGMENTS

6.1 INTRODUCTION

6.2 MARKET STATISTICS

6.2.1 BY TYPE

6.2.1.1 BITCOIN

6.2.1.2 ETHEREUM

6.2.1.3 LITECOIN

6.2.1.4 ZCASH

6.2.1.5 DASH

6.2.1.6 MONERO

6.2.1.7 RIPPLE

6.2.1.8 OTHERS

6.2.2 BY END-USER

6.2.2.1 INDIVIDUALS

6.2.2.2 SMES

6.2.2.3 LARGE ENTERPRISES

6.2.2.4 OTHERS

6.2.3 BY GEOGRAPHY

6.2.3.1 NORTH AMERICA

6.2.3.2 EUROPE

6.2.3.3 ASIA-PACIFIC

6.2.3.4 REST OF THE WORLD

7 COMPETITIVE ANALYSIS

7.1 MARKET SHARE ANALYSIS

7.2 COMPANY PROFILES

7.2.1 37COINS (U.S.)

7.2.2 AIRBITZ (U.S.)

7.2.3 BIPS (DENMARK)

7.2.4 BITCOIN SUISSE (SWITZERLAND)

7.2.5 BITGO (U.S.)

7.2.6 BITWALA (GERMANY)

7.2.7 BITWAY (U.S.)

7.2.8 BITGO (U.S.)

7.2.9 BITINSTANT (U.S.)

7.2.10 COINCHECK (JAPAN)

7.2.11 GATECOIN (HONG KONG)

7.2.12 OTHERS
 

LIST OF TABLES
TABLE 1 CRYPTOCURRENCY MARKET, BY TYPE

TABLE 2 CRYPTOCURRENCY MARKET, BY END-USER

TABLE 3 CRYPTOCURRENCY MARKET, BY REGION

TABLE 4 NORTH AMERICA CRYPTOCURRENCY MARKET, BY TYPE

TABLE 5 NORTH AMERICA CRYPTOCURRENCY MARKET, BY END-USER

TABLE 6 U.S. CRYPTOCURRENCY MARKET, BY TYPE

TABLE 7 U.S. CRYPTOCURRENCY MARKET, BY END-USER

TABLE 8 CANADA CRYPTOCURRENCY MARKET, BY TYPE

TABLE 9 CANADA CRYPTOCURRENCY MARKET, BY END-USER

TABLE 10 EUROPE CRYPTOCURRENCY MARKET, BY TYPE

TABLE 11 EUROPE CRYPTOCURRENCY MARKET, BY END-USER

TABLE 12 GERMANY CRYPTOCURRENCY MARKET, BY TYPE

TABLE 13 GERMANY CRYPTOCURRENCY MARKET, BY END-USER

TABLE 14 FRANCE CRYPTOCURRENCY MARKET, BY TYPE

TABLE 15 FRANCE CRYPTOCURRENCY MARKET, BY END-USER

TABLE 16 U.K. CRYPTOCURRENCY MARKET, BY TYPE

TABLE 17 U.K. CRYPTOCURRENCY MARKET, BY END-USER

TABLE 18 REST OF EUROPE CRYPTOCURRENCY MARKET, BY TYPE

TABLE 19 REST OF EUROPE CRYPTOCURRENCY MARKET, BY END-USER

TABLE 20 ASIA-PACIFIC CRYPTOCURRENCY MARKET, BY TYPE

TABLE 21 ASIA-PACIFIC CRYPTOCURRENCY MARKET, BY END-USER

TABLE 22 REST OF THE WORLD CRYPTOCURRENCY MARKET, BY TYPE

TABLE 23 REST OF THE WORLD CRYPTOCURRENCY MARKET, BY END-USER


LIST OF FIGURES
FIGURE 1 RESEARCH TYPE

FIGURE 2 IMAGE SENSORMARKET: BY TYPE (%)

FIGURE 3 IMAGE SENSORMARKET: BY END-USER (%)

FIGURE 4 IMAGE SENSORMARKET: BY REGION (%)

FIGURE 5 NORTH AMERICA IMAGE SENSORMARKET, BY TYPE (%)

FIGURE 6 NORTH AMERICA IMAGE SENSORMARKET, BY END-USER (%)

FIGURE 7 EUROPE IMAGE SENSORMARKET, BY TYPE (%)

FIGURE 8 EUROPE IMAGE SENSORMARKET, BY END-USER (%)

FIGURE 9 ASIA-PACIFIC IMAGE SENSORMARKET BY TYPE (%)

FIGURE 10 ASIA-PACIFIC IMAGE SENSORMARKET, BY END-USER (%)

FIGURE 11 ROW IMAGE SENSORMARKET, BY TYPE (%)

FIGURE 12 ROW IMAGE SENSORMARKET, BY END-USER (%)