Impact of COVID-19 on the Wireless Audio Device Market
Wireless audio systems use wireless platforms, which include radio frequency, Bluetooth, infrared, SKAA, airplay, and Wi-Fi for streaming music from audio enabled devices to wireless output systems. The spread of COVID-19 across the world has led to lockdowns being imposed, which have forced people to stay within their homes. The rising number of people staying at home has propelled the usage of audio devices for entertainment. The confining of individuals to their homes has proven to be responsible for fueling the demand for video streaming platforms such as Amazon Prime, Netflix, and Hotstar. The increasing trend of live video streaming, video streaming, and video content consumption over the internet during the lockdown has increased the demand for audio devices. Besides, remote working, remote learning, and home workouts have boosted the need for audio products.
However, the COVID-19 pandemic has significantly impacted the wireless audio devices market. The spread of COVID-19 around the world has severely affected the consumer electronics market. The precautionary measures taken by governments of various countries have led to the temporary suspension of businesses and halted the production of consumer electronics products such as smartphones and tablets. The global lockdown has decreased the sales of technologically advanced smartphones and has led to a decline in demand for wireless audio devices, including wireless headsets and headphones. The decrease in the production of wireless audio devices has also affected product sales. The market has also been impacted owing to the disrupted supply chains and halted exports, as China is a hub for raw materials and finished goods used in the manufacturing of electronic products. According to the MRFR analysis, the North American region dominated the growth of the wireless audio devices market owing to the development of construction projects and industrial renovation in the region.
Global Shipments of Hearables by Product Category in Q3 2018 and Q3 2019 (Units in Million)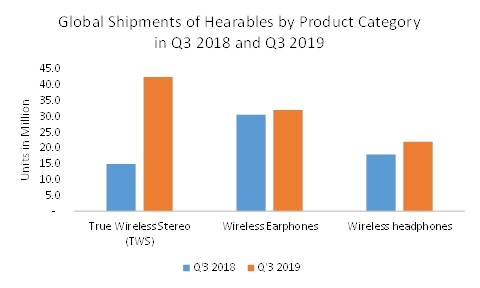 Source: Statista
Impact Analysis