Impact of COVID-19 on the Global Wired Drill Pipe Market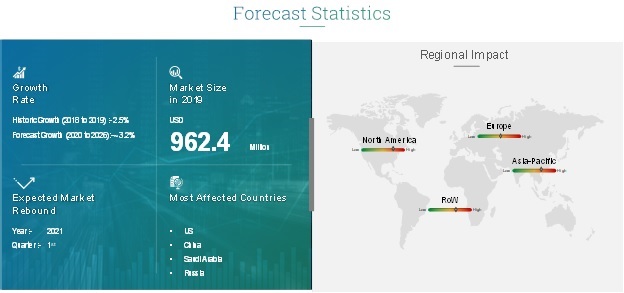 Source: Primary Experts, Secondary Sources, and MRFR Analysis
The spread of COVID-19 has affected businesses across various sectors significantly. Energy and utility being some of the highly impacted sectors, the enterprises in these sectors are focused on safeguarding their assets and providing a safe, reliable supply of natural gas and electricity to their consumers.
A wired drill pipe is a multifunctional tool that can transmit real-time wellbore data at a bandwidth of 57,000 bits/second in a seismic or sonic waveform. The tool is also capable of regulating the downhole tools, which offers an added advantage. The wired drill pipe system helps in controlling the rotary steerable systems, and the Logging While Drilling (LWD) formation testers and geosteering sensors which allow prompt control and approval of commands, permitting exceptionally precise control of the system thereby, driving the demand for wired drill pipes to maximize operational efficiency and production capabilities. With the economic downturn which followed the spread of COVID-19, the market has witnessed a decline in the demand, which is expected to have a short-term impact on the wired drill pipes market.
Number of Oil and Gas Wells Drilled in the US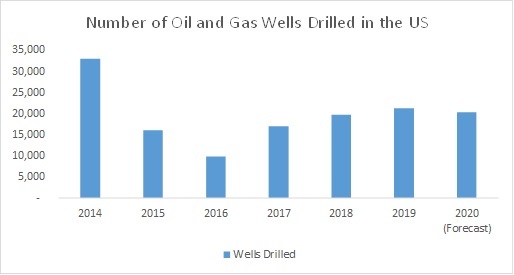 Source: Secondary Sources
Amidst the pandemic, the deployment of rigs has reduced rapidly due to which the drilling and production activities are slowing down, affecting the wired drill pipes market. North America's oil & gas drilling activity accounts for about 40% of the world's current drilling activity, which was creating a huge demand for modern drilling techniques before the outbreak of the COVID-19 pandemic. On the other side, due to the spread of COVID-19, the region has faced a significant economic downturn, lowering the demand for wired drilling pipes during 2020. The US Rig Count shows the impact of the COVID-19 lockdowns imposed during March 2020, wherein 683 rigs were operational before the lockdowns were imposed as compared to the 664 rigs operational post the imposition of the lockdowns. Other factors, such as falling oil prices, office closures, and travel restrictions, have also had an indirect impact on the market. Moreover, the disruptions in the supply chain and impact on the electronics industry have also had an impact on the wired drill pipes market. According to the MRFR analysis, the recession in 2020 is expected to hamper demand, and the enterprises are focused on reducing the spending on high-cost equipment. However, the market is expected to gain traction in early 2021 and grow remarkably during the forecast period.
Table of Contents:
1 Executive Summary

2 Research Methodology

2.1 Scope of the Study

2.1.1 Definition

2.1.2 Research Objective

2.1.3 Assumptions

2.1.4 Limitations

2.2 Research Process

2.2.1 Primary Research

2.2.2 Secondary Research

2.3 Market size Estimation

2.4 Forecast Model

3 Market Dynamics

3.1 Market Drivers

3.2 Market Inhibitors

3.3 Supply/Value Chain Analysis

3.4 Porter's Five Forces Analysis

4 Global Wired Drill Pipe Market, By Location

4.1 Introduction

4.2 Onshore

4.3 Offshore

5 Global Wired Drill Pipe Market, By Component type

5.1 Introduction

5.2 Telemetry

5.3 Electrical Conductors

5.4 Electrical Transmitters

5.5 Pressure Sensors

5.6 Others

6 Global Wired Drill Pipe Market, By Application

6.1 Data Collection

6.2 Managed Pressure Drilling

6.3 Wellbore integrity in Deep-Ultra depleted reservoirs

7 Regional Market Analysis

7.1 Introduction

7.2 North America

7.2.1 U.S.

7.2.2 Canada

7.3 Europe

7.3.1 U.K.

7.3.2 France

7.3.3 Germany

7.3.4 Rest of Europe

7.4 Asia-Pacific

7.4.1 China

7.4.2 Japan

7.4.3 India

7.4.4 Rest of Asia-Pacific

7.5 Rest of the World

8 Competitive Analysis

8.1 Introduction

8.2 Competitive Scenario

8.2.1 Market Share Analysis

8.2.2 Market Development Analysis

8.2.3 Product/Service Benchmarking

8.3 Schlumberger Limited (U.S.)

8.3.1 Overview

8.3.2 Product/Service Offering

8.3.3 Strategy

8.4 The Halliburton Company (U.S.)

8.4.1 Overview

8.4.2 Product/Service Offering

8.4.3 Strategy

8.5 IntelliServ (NOV) (U.S.)

8.5.1 Overview

8.5.2 Product/Service Offering

8.5.3 Strategy

8.6 Baker Hughes (U.S.)

8.6.1 Overview

8.6.2 Product/Service Offering

8.6.3 Strategy

8.7 Weatherford International PLC (U.S.).

8.7.1 Overview

8.7.2 Product/Service Offering

8.7.3 Strategy


LIST OF TABLES:

TABLE 1 GLOBAL WIRED DRILL PIPE MARKET, BY LOCATION

TABLE 2 GLOBAL WIRED DRILL PIPE MARKET, BY COMPONENT TYPE

TABLE 2 GLOBAL WIRED DRILL PIPE MARKET, BY APPLICATION

TABLE 3 GLOBAL WIRED DRILL PIPE MARKET, BY REGION

TABLE 4 NORTH AMERICA WIRED DRILL PIPE MARKET, BY COMPONENT TYPE

TABLE 5 NORTH AMERICA WIRED DRILL PIPE MARKET, BY APPLICATION

TABLE 6 U.S. WIRED DRILL PIPE MARKET, BY COMPONENT TYPE

TABLE 7 U.S. WIRED DRILL PIPE MARKET, BY APPLICATION

TABLE 8 CANADA WIRED DRILL PIPE MARKET, BY COMPONENT TYPE

TABLE 9 CANADA WIRED DRILL PIPE MARKET, BY APPLICATION

TABLE 10 EUROPE WIRED DRILL PIPE MARKET, BY COMPONENT TYPE

TABLE 11 EUROPE WIRED DRILL PIPE MARKET, BY APPLICATION

TABLE 12 GERMANY WIRED DRILL PIPE MARKET, BY COMPONENT TYPE

TABLE 13 GERMANY WIRED DRILL PIPE MARKET, BY APPLICATION

TABLE 14 FRANCE WIRED DRILL PIPE MARKET, BY COMPONENT TYPE

TABLE 15 FRANCE WIRED DRILL PIPE MARKET, BY APPLICATION

TABLE 16 U.K. WIRED DRILL PIPE MARKET, BY COMPONENT TYPE

TABLE 17 U.K. WIRED DRILL PIPE MARKET, BY APPLICATION

TABLE 18 REST OF EUROPE WIRED DRILL PIPE MARKET, BY COMPONENT TYPE

TABLE 19 REST OF EUROPE WIRED DRILL PIPE MARKET, BY APPLICATION

TABLE 20 ASIA-PACIFIC WIRED DRILL PIPE MARKET, BY COMPONENT TYPE

TABLE 21 ASIA-PACIFIC WIRED DRILL PIPE MARKET, BY APPLICATION

TABLE 22 ROW WIRED DRILL PIPE MARKET, BY COMPONENT TYPE

TABLE 23 ROW WIRED DRILL PIPE MARKET, BY APPLICATION

LIST OF FIGURES:

FIGURE 1 RESEARCH APPLICATION

FIGURE 2 GLOBAL WIRED DRILL PIPE MARKET: BY COMPONENT TYPE (%)

FIGURE 3 GLOBAL WIRED DRILL PIPE MARKET: BY APPLICATION (%)

FIGURE 4 GLOBAL WIRED DRILL PIPE MARKET: BY REGION

FIGURE 5 NORTH AMERICA WIRED DRILL PIPE MARKET, BY COMPONENT TYPE (%)

FIGURE 6 NORTH AMERICA WIRED DRILL PIPE MARKET, BY APPLICATION (%)

FIGURE 7 EUROPE WIRED DRILL PIPE MARKET, BY COMPONENT TYPE (%)

FIGURE 8 EUROPE WIRED DRILL PIPE MARKET, BY APPLICATION (%)

FIGURE 9 ASIA-PACIFIC WIRED DRILL PIPE MARKET, BY COMPONENT TYPE (%)

FIGURE 10 ASIA-PACIFIC WIRED DRILL PIPE MARKET, BY APPLICATION (%)

FIGURE 11 ROW WIRED DRILL PIPE MARKET, BY COMPONENT TYPE (%)

FIGURE 12 ROW WIRED DRILL PIPE MARKET, BY APPLICATION (%)