Impact of Covid-19 on the Global Ultra-High-Performance Concrete Market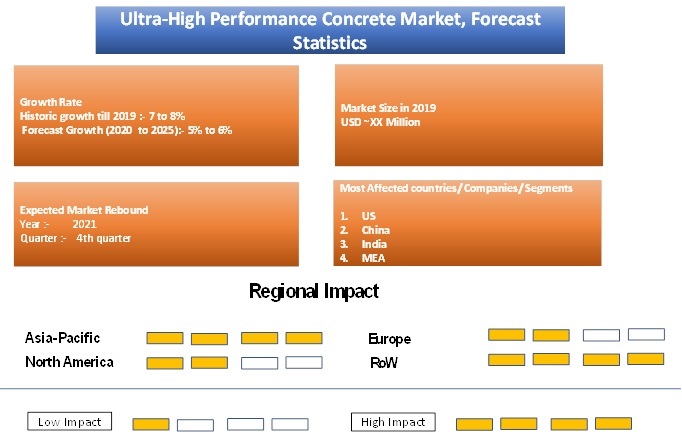 The COVID-19 pandemic has had a major impact on the global economy, as it has severely affected various industry verticals such as automotive, manufacturing, energy, and construction. The pandemic has disrupted the supply chains of the construction sector, as the majority of the countries across the world have imposed lockdown restrictions, hampering the import and export of raw materials, components, and goods, and halting construction projects, worldwide. The lockdown restrictions caused due to the COVID-19 pandemic have led to shortages in the supply of goods and materials, which is expected to lower the profit margins of the manufacturers and suppliers of ultra-high-performance concrete in the upcoming quarters. The global market for ultra-high-performance concrete has been negatively impacted due to the COVID-19 pandemic as several construction projects in the residential, commercial, and industrial sectors have also halted. Additionally, the manufacturers of ultra-high-performance concrete are also facing challenges such as the unavailability of workers, supply chain disruptions, production shutdown, and cash flow constraints. All these factors are likely to affect the ultra-high-performance concrete market in the coming months as the growth in the construction industry has been heavily affected due to the COVID-19 pandemic. The market players are focused on the development of preventive measures and new business models to address the situation in the global market.
Global Investment in the Construction industry, 2018-2025 (USD Trillion)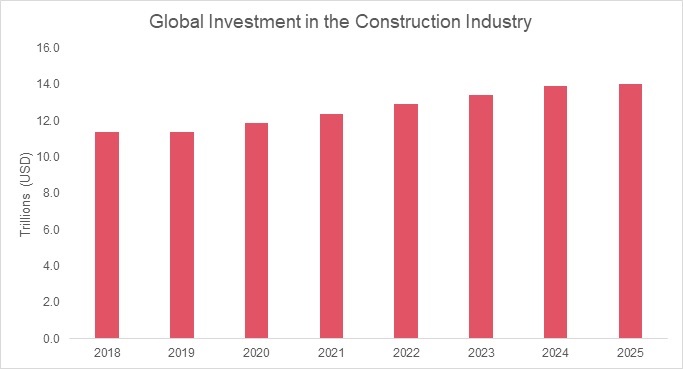 Table of Contents

1 Executive Summary

2 Research Methodology

2.1 Scope of the Study

2.1.1 Definition

2.1.2 Research Objective

2.1.3 Assumptions

2.1.4 Limitations

2.2 Research Process

2.2.1 Primary Research

2.2.2 Secondary Research

2.3 Market size Estimation

2.4 Forecast Model

3 Market Dynamics

3.1 Market Drivers

3.2 Market Inhibitors

3.3 Supply/Value Chain Analysis

3.4 Porter's Five Forces Analysis

4 Global Ultra-high Performance Concrete Market, By Types

4.1 SIFCON (slurry infiltrated fiber concrete)

4.2 RPC (Reactive Powder Concrete)

4.3 CRC (Compacted Reinforced Composite)

4.4 Others

5 Global Ultra-high Performance Concrete Market, By Application

5.1 Introduction

5.2 Bridge Construction

5.3 Building Construction

5.4 Military Construction

5.5 Anti-detonating Construction

5.6 Others

6 Regional Market Analysis

6.1 Introduction

6.2 North America

6.2.1 U.S.

6.2.2 Canada

6.3 Europe

6.3.1 U.K

6.3.2 France

6.3.3 Germany

6.3.4 Spain

6.3.5 Rest of Europe

6.4 Asia Pacific

6.4.1 China

6.4.2 Japan

6.4.3 India

6.4.4 Rest of Asia-Pacific

6.5 Rest of the World

7 Competitive Analysis

7.1 Introduction

7.2 Competitive Scenario

7.2.1 Market Share Analysis

7.2.2 Market Development Analysis

7.2.3 Product /Service Benchmarking

7.3 Lafarge S.A. (France)

7.3.1 Overview

7.3.2 Product /Service Offering

7.3.3 Strategy

7.4 Sika AG (Switzerland)

7.4.1 Overview

7.4.2 Product /Service Offering

7.4.3 Strategy

7.5 RAMPF Holding GmbH & Co. KG (Germany)

7.5.1 Overview

7.5.2 Product /Service Offering

7.5.3 Strategy

7.6 Densit (Denmark)

7.6.1 Overview

7.6.2 Product /Service Offering

7.6.3 Strategy

7.7 ceEntek Pte Ltd. (Singapore)

7.7.1 Overview

7.7.2 Product /Service Offering

7.7.3 Strategy

7.8 Elementbau Osthessen GmbH & Co., ELO KG (Germany)

7.8.1 Overview

7.8.2 Product /Service Offering

7.8.3 Strategy

7.9 TAKTL (U.S.)

7.9.1 Overview

7.9.2 Product /Service Offering

7.9.3 Strategy

7.10 Gulf Precast Concrete Co. L.L.C (UAE)

7.10.1 Overview

7.10.2 Product /Service Offering

7.10.3 Strategy