Impact 0f COVID-19 on the Telehealth Market
1.1 A HISTORICAL PERSPECTIVE
It did not take novel coronavirus for the telehealth industry to start gaining traction among healthcare providers and patients. Telehealth was already experiencing significant momentum and growth prior to this public health emergency, particularly over the past few years as the technology has become more streamlined and young tech-savvy generation is gaining interest in this care model. The appetite for telehealth is growing, but many consumers are confused or unsure about its availability.
What was thwarting the growth of the telehealth industry before the outbreak?



There are certain federal restrictions, regulatory and legislative barriers to the data privacy, cybersecurity, and accuracy of care that had made the adoption of telehealth and remote patient monitoring challenging.



1.2 WHAT HAS CHANGED WITH COVID-19?
Statistically, 40% of doctors are providing care to coronavirus patients, and rest 60% of doctors are forced to stop their services until told otherwise. Social distancing and lockdowns across the countries due to COVID-19 have forced non-urgent healthcare providers to close their doors and pushed many patients to seek care remotely. Due to the uncertainty of the COVID-19 crisis, a number of care providers are thinking about changing their service model and implementing the telehealth solutions as part of their regular medical setup. Telehealth is no longer a supplementary care option but a must-have option for healthcare professionals and patients.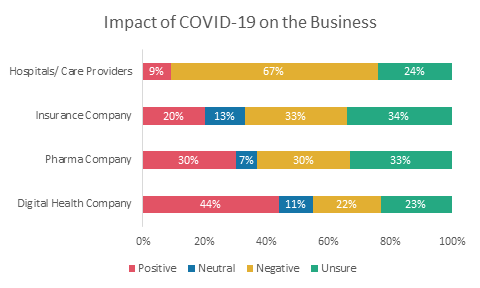 Source: Global Survey, MRFR Analysis
Steps taken by governments across the globe in implementing telehealth services during COVID-19


In the US, the Federal Communications Commission (FCC) has established a USD 200 Million COVID-19 Telehealth Program to help eligible healthcare providers continue to treat patients with the help of telehealth tech. This program will help in making the technology more accessible to patients who might otherwise be unable to access telehealth services.




Lowered Regulatory Barriers (Temporarily) - The regulatory changes have, at least temporarily, reduced or eliminated the barriers that previously existed to encourage both providers and patients to opt for telehealth over in-person visits when appropriate.





On March 17, 2020, the as US Department of Health and Human Services Office for Civil Rights announced wave of penalties for HIPAA violations during the pandemic to encourage the use of regular video conferencing apps including WhatsApp, Facetime, Zoom, and many others which don't have required security features, are permissible (temporarily) to use for teleconsultations






Japanese Ministry, METI, launched a free remote health consultation service to address COVID-19 related concerns. The major participants in this program are Mediplat and LINE healthcare. Both the companies have managed to handle up to 5,000 consultations a day during the period from March 11 to 31






In April 2020, the Ministry of Health and NITI Aayog release 'Telemedicine' guidelines amidst COVID-19 in India. With these revised guidelines, there have been 70% surge in the patient inquiries for consultations



Countries that are most benefitted due to the existing telehealth infrastructure



US, Canada, Germany, Australia, Singapore



1.3 USE OF TELEHEALTH SERVICES IN FIGHTING COVID-19



To protect clinicians by reducing physical contact with infected patients. Suspected cases and milder COVID-19 cases that do not need hospitalization can be remotely monitored, freeing up beds for serious cases



1.4 MEDICAL APPLICATIONS WHICH HAVE SEEN SURGE IN THE USE OF TELEHEALTH DURING COVID-19



Counseling mental health patients through video conferencing as it has turned out to be the most affected patient population during the pandemic, social distancing, and lockdowns




Remotely monitoring cancer patients




Routine follow-ups with diabetic patients




Refilling prescriptions of patients with chronic disease conditions




Remotely screening the patients with skin conditions




Screening of patients with mild symptoms including fever, cough, and cold, etc.



1.5 POST COVID-19 TELEHEALTH SCENARIO



As people have already seen telehealth in action during this uncertain time and are experiencing its benefits; going forward, the telehealth industry will observe an increase in adoption with improved functionality and accessibility across the world






As it is expected, the relaxation HIPAA regulations and the waver on violation penalty will be lifted post the pandemic, care providers and patients are likely to switch to a HIPAA compliant and more secure Telehealth platforms for seeking medical care



Outcome of the survey conducted with 500 US consumers


Source: Global Survey, MRFR Analysis
1.6 PROCESSES TO BE STREAMLINED POST THE PANDEMIC