Impact of COVID-19 on the Smart Light and Control Market
Smart lights are also referred to as a distributed lighting control system, which is composed of wired/wireless communication technology, an Internet of Things (IoT) system, embedded computer intelligent information processing, and power carrier communication technology, among other components. Smart Lights are widely adopted in commercial and residential applications owing to the benefits provided by these systems, such as managing devices from one place and remotely accessing the devices. Smart light and control systems reduce the power of LED lights according to the ambient conditions of light intensity owing to its ability to dim the lights. Factors responsible for the growth of the market include the advent of integrated lighting control systems, rising adoption of LEDs, and the integration of lighting solutions with smart devices. However, COVID-19 pandemic has impacted the demand for products and services across the world. Due to the spread of the pandemic, lockdowns have been imposed by governments worldwide, which has resulted in the shutting down of manufacturing facilities. This scenario has slowed down the production of lighting components, which has drastically affected the growth of the smart light and control market. Companies are focused on reducing operational costs to maximize profits. Major manufacturers have suspended their operations in emerging countries and Europe, drastically impacting the production of smart lighting systems.
The continuation of the lockdowns is expected to result in the permanent closure of some of the manufacturing companies owing to the revenue losses, unavailability of the workforce, and disruptions in the supply chain activities. Besides, the halt in the launch of new lighting control systems, as well as the decreasing adoption of LEDs, is hampering the growth of the market. Besides, the lockdowns in the countries have also led to a pause in the construction of new residential and commercial projects, which has lowered the adoption of smart lighting and control systems. Asia-Pacific is expected to dominate the market over the forecast period owing to the rising installation of smart lights and control systems in commercial and residential areas.
Global Smart Lighting Market Size, 2016–2023 (USD Billion)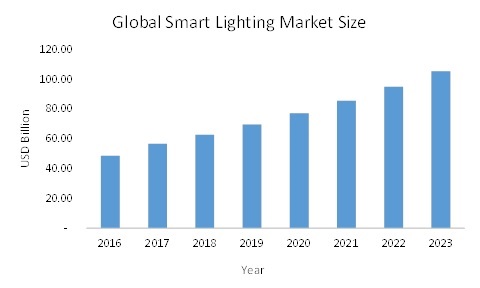 Source: Statista
Impact Analysis