Impact of COVID-19 on the Produced Water Treatment Market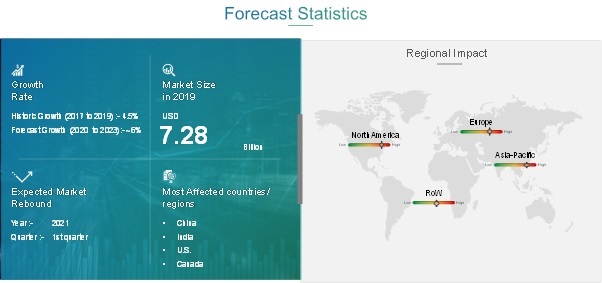 Source: Primary Experts, Secondary Sources, and MRFR Analysis
Produced water treatment is a term for reservoir water, which is produced through the oil & gas phases. Oil & gas reservoirs contain oil, water, condensates, solids, and gas. The upsurge in the oil & gas industry has boosted the demand for produced water treatment. Besides, the increase in onshore and offshore exploration is driving the growth of the produced water treatment market. COVID-19 has spread across the globe and has impacted various industries. The decrease in the demand and prices of crude oil has affected the oil & gas industry, which has led to a reduction in drilling activities, thus hindering the growth of the market. The disruptions in shipping activities, supply chains, and trade, due to the spread of COVID-19 have also hampered the growth of the market. Besides, the suspension of drilling activities at offshore and onshore sites owing to the lockdowns initiated by government authorities to curb the spread of the virus has significantly impacted the growth of the market. The supply of water treatment chemicals is expected to witness disruptions and shortages owing to the outbreak of COVID-19. The industrial sector as a whole is estimated to boost the demand for water treatment systems, dewatering equipment, and membranes, owing to the increasing need for a safe and hygienic environment.
NUMBER OF OFFSHORE RIGS WORLDWIDE AS OF JANUARY 2018, BY REGION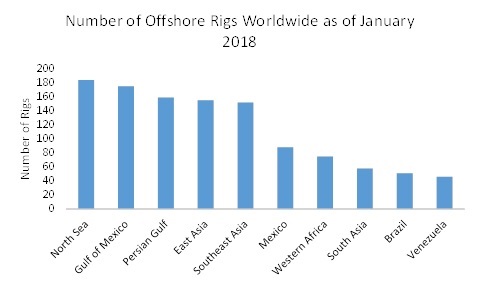 Source: Secondary Sources
Besides, the increasing production of natural gas as a result of technological advancements in terms of the growing significance of LNG is projected to uphold the use of water management services. However, the pandemic has significantly impacted the LNG business, due to disruptions in LNG supply, LNG shipping and trade, and a decrease in the demand for LNG, which has also hampered the growth of the market. According to the MRFR analysis, the North American region dominates the produced water treatment market. Crude oil reserves in countries such as Canada and the U.S. are likely to raise the demand for water management services.