Impact of Covid-19 on the Global Hard Surface Flooring Market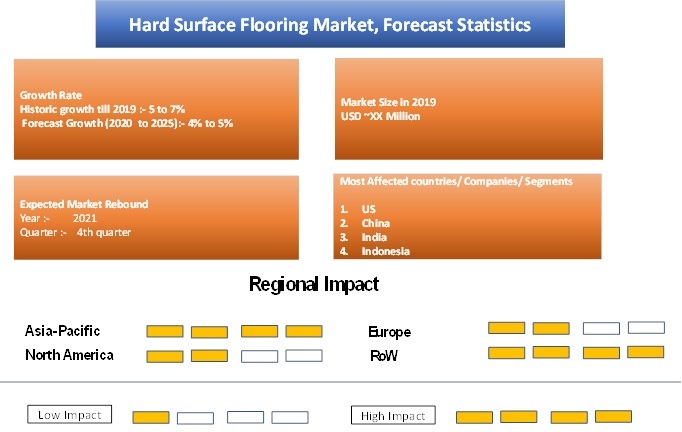 The COVID-19 pandemic has had a harsh impact on the global economy and has also impacted the construction industry significantly. The pandemic has halted several construction and infrastructure projects worldwide. Most of the countries around the world have imposed lockdown restrictions that have not only disrupted the supply chains of goods and materials in the construction sector but have also reduced the production rate due to the shutting down of construction sites. A majority of residential and non-residential construction projects have also been halted or ordered to be shut down, which have negatively impacted the demand for hard surface flooring. Thus, the global market for hard surface flooring has been adversely impacted by the COVID-19 pandemic. Additionally, the hard surface flooring manufacturers and suppliers, are facing several challenges due to the shutdown of production facilities, halting of infrastructure projects, supply chain disruptions, unavailability of workers, reduced demand for hard surface floors, and cash flow constraints. The restrictions placed on construction activities at project sites have put a further financial burden on manufacturers in the hard surface flooring market. Amidst the COVID-19 pandemic, workers have migrated back to their respective native places, which has led to delays in the completion of projects.
Apart from these factors, changes in consumer behavior are also anticipated to affect the hard surface flooring market, as investors are pulling out from real-estate infrastructure projects. All these factors are likely to affect the hard surface flooring market in the upcoming months as construction projects have been heavily affected by the COVID-19 pandemic. Additionally, market players are trying to focus on the development of new business models to address the situation in the global market.
Global Investment in the Construction industry (USD Trillion)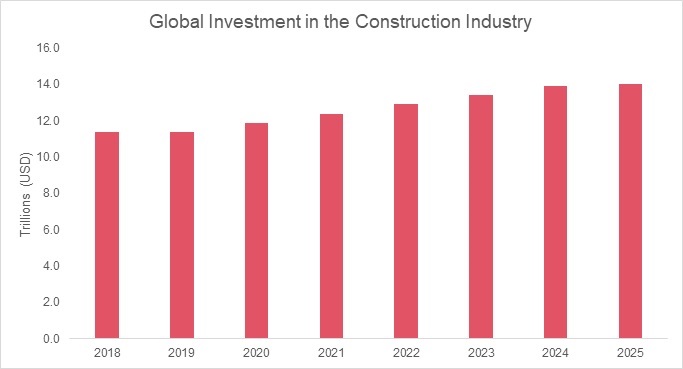 Table of Contents

1 Executive Summary

2 Research Methodology

2.1 Scope of the Study

2.1.1 Definition

2.1.2 Research Objective

2.1.3 Assumptions

2.1.4 Limitations

2.2 Research Process

2.2.1 Primary Research

2.2.2 Secondary Research

2.3 Market size Estimation

2.4 Forecast Model

3 Market Dynamics

3.1 Market Drivers

3.2 Market Inhibitors

3.3 Supply/Value Chain Analysis

3.4 Porter's Five Forces Analysis

4 Global Hard Surface Flooring Market, By Type

4.1 Introduction

4.2 Resilient flooring (vinyl flooring, vinyl sheet, rubber flooring, and others)

4.3 Non-resilient flooring (seamless flooring, wood flooring, and laminate flooring)

5 Global Hard Surface Flooring Market, By Application

5.1 Introduction

5.2 Residential

5.3 Non-residential

6 Regional Market Analysis

6.1 Introduction

6.2 North America

6.2.1 U.S.

6.2.2 Canada

6.3 Europe

6.3.1 U.K

6.3.2 France

6.3.3 Germany

6.3.4 Spain

6.3.5 Rest of Europe

6.4 Asia Pacific

6.4.1 China

6.4.2 Japan

6.4.3 India

6.4.4 Rest of Asia-Pacific

6.5 Rest of the World

7 Competitive Analysis

7.1 Introduction

7.2 Competitive Scenario

7.2.1 Market Share Analysis

7.2.2 Market Development Analysis

7.2.3 Product/Service Benchmarking

7.3 Mohawk Industries

7.3.1 Overview

7.3.2 Product/Service Offering

7.3.3 Strategy

7.4 Armstrong World Industries

7.4.1 Overview

7.4.2 Product/Service Offering

7.4.3 Strategy

7.5 Mannington Mills

7.5.1 Overview

7.5.2 Product/Service Offering

7.5.3 Strategy

7.6 Shaw Industries Group

7.6.1 Overview

7.6.2 Product/Service Offering

7.6.3 Strategy

7.7 Beaulieu International Group

7.7.1 Overview

7.7.2 Product/Service Offering

7.7.3 Strategy

7.8 Marazzi

7.8.1 Overview

7.8.2 Product/Service Offering

7.8.3 Strategy

7.9 Berry Group

7.9.1 Overview

7.9.2 Product/Service Offering

7.9.3 Strategy

7.10 Burke Industries

7.10.1 Overview

7.10.2 Product/Service Offering

7.10.3 Strategy

7.11 Roppe Corporation

7.11.1 Overview

7.11.2 Product/Service Offering

7.11.3 Strategy

7.12 Surface America

7.12.1 Overview

7.12.2 Product/Service Offering

7.12.3 Strategy

7.13 Tarkett SAS

7.13.1 Overview

7.13.2 Product/Service Offering

7.13.3 Strategy

7.14 TOLI Corporation

7.14.1 Overview

7.14.2 Product/Service Offering

7.14.3 Strategy

7.15 UNILIN

7.15.1 Overview

7.15.2 Product/Service Offering

7.15.3 Strategy

7.16 Windmöller Flooring Products WFP GmbH

7.16.1 Overview

7.16.2 Product/Service Offering

7.16.3 Strategy