Impact of the COVID-19 Outbreak on the Global Fuel Management System Market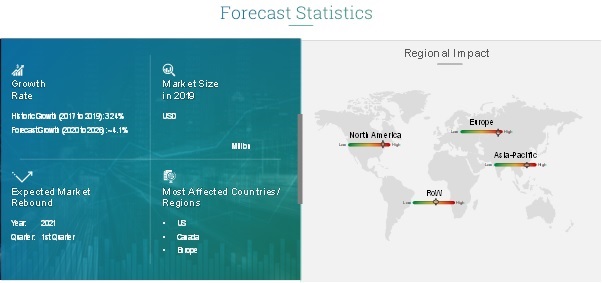 Source: Primary Experts, Secondary Sources, and MRFR Analysis
The fuel management system is designed to manage the use of fuel as well as to efficiently measure the fuel consumption in the transportation and construction industries. It is majorly used to monitor, control, and maintain the fuel consumption and stock in any industry that utilizes transport such as rail, water, air, and road as a means of commerce trade. The primary factors increasing the demand for fuel management systems are the increase in the fuel prices, the growing automobile sector, and the decrease in the waste of oil and gas, as well as the surge in inventory storage. However, COVID-19 has had a negative impact on the automotive industry. The lockdown has resulted in revenue losses for the manufacturing companies. Companies are focusing on reducing operational costs, minimizing risks, and maximizing gains to survive in the competitive market. The shutdown of the manufacturing plants has resulted in a slowdown in the production of new vehicles, which has declined the demand for fuel, which, in turn, has declined the adoption of the fuel management system. Besides, the halt caused in the transport infrastructure across the globe due to lockdowns in the country is also impacting the fuel management system.
Average Automotive Diesel Price Per Liter in June 2020 (Price Per Liter in USD)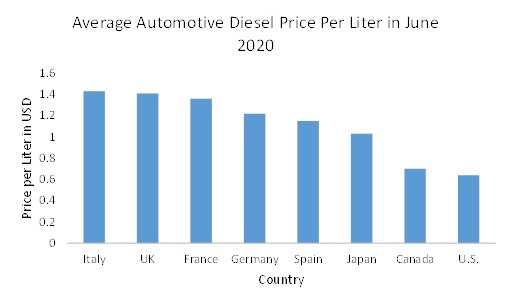 Source: Secondary Sources
According to the MRFR analysis, North America holds the largest market share. The region is expected to dominate the fuel management system market, post the pandemic, due to the growing transport infrastructure and rising fuel consumption from the US and Canada, where major transporting of equipment and goods are dependent on the transport system, which is expected to drive the growth of the fuel management systems market. The production of new vehicles is expected to increase the demand for fuel management systems post the pandemic.
1... Executive Summary

2 Research Methodology

2.1 Scope of the Study

2.1.1 Definition

2.1.2 Research Objective

2.1.3 Assumptions

2.1.4 Limitations

2.2 Research Process

2.2.1 Primary Research

2.2.2 Secondary Research

2.3 Market size Estimation

2.4 Forecast Model

3... Market Dynamics

3.1 Market Drivers

3.2 Market Inhibitors

3.3 Supply/Value Chain Analysis

3.4 Porter's Five Forces Analysis

4 Global Fuel Management System Market, By Type

4.1 Introduction

4.2 Card-Based

4.3 On-Site

4.4 Total Fuel Management

5 Global Fuel Management System Market, By Application

5.1 Introduction

5.2 Mobile Fueling Systems

5.3 Transport Fuel

5.4 Others

6 Regional Market Analysis

6.1 Introduction

6.2 North America

6.2.1 U.S.

6.2.2 Canada

6.3 Europe

6.3.1 U.K.

6.3.2 France

6.3.3 Germany

6.3.4 Rest of Europe

6.4 Asia-Pacific

6.4.1 China

6.4.2 Japan

6.4.3 India

6.4.4 Rest of Asia-Pacific

6.5 Rest of the World

7... Competitive Analysis

7.1 Introduction

7.2 Competitive Scenario

7.2.1 Market Share Analysis

7.2.2 Market Development Analysis

7.2.3 Insulation Type/Service Benchmarking

7.3 OPW Fuel Management Systems (U.S)

7.3.1 Overview

7.3.2 Insulation Type/Service Offering

7.3.3 Strategy

7.4 The Triscan Group (U.K)

7.4.1 Overview

7.4.2 Insulation Type/Service Offering

7.4.3 Strategy

7.5 Piusi S.p.a. (Italy)

7.5.1 Overview

7.5.2 Insulation Type/Service Offering

7.5.3 Strategy

7.6 Franklin Fueling Systems (U.S)

7.6.1 Overview

7.6.2 Insulation Type/Service Offering

7.6.3 Strategy

7.7 Timeplan Fuel Solutions (U.K)

7.7.1 Overview

7.7.2 Insulation Type/Service Offering

7.7.3 Strategy

7.8 Guduza System Technologies (South Africa)

7.8.1 Overview

7.8.2 Insulation Type/Service Offering

7.8.3 Strategy

7.9 Banlaw (Australia)

7.9.1 Overview

7.9.2 Insulation Type/Service Offering

7.9.3 Strategy

7.10 Wayne Fueling Systems LLC (U.S)

7.10.1 Overview

7.10.2 Insulation Type/Service Offering

7.10.3 Strategy

7.11 Sokolis Group (U.S)

7.11.1 Overview

7.11.2 Insulation Type/Service Offering

7.11.3 Strategy

7.12 Orpak Systems Ltd. (Israel)

7.12.1 Overview

7.12.2 Insulation Type/Service Offering

7.12.3 Strategy