Impact of COVID-19 on the Global Automotive Air Flow Meter Market
The automotive air flow meters market has been negatively impacted in recent months owing to the lockdowns imposed in the majority of the countries. These lockdowns have resulted in temporarily halting the manufacture of automobiles since the COVID-19 outbreak in December 2019. Also, several countries witnessed curfew-like situations where non-authorized people were not allowed to travel, impacting the demand for automobiles. Airflow meters are used to measure the volume of air intake flowing into the automotive system. An important characteristic of the automotive air flow meter is that it can measure and detect both forward and backward flows with equal sensitivity. The increasing need for integrated electronics systems in the automotive industry has led to enhancements in technology and improvements in comfort, safety, and security features. Components such as air flow meters, fuel meters, and emission regulation systems, provide vital information to the driver, which helps in tracking fuel consumption and maintaining engine efficiency. An auto engine needs an accurate blend of air and fuel so that the vehicle carburetor and catalyst are entirely operative and can efficiently convert particulate emissions in the exhaust into harmless gases.
The pandemic outbreak has hampered the demand for automobiles significantly; however, the demand for automobiles is anticipated to recover in the coming months as several governments prepare to ease the lockdowns in a phased manner. As a result, the demand for automotive air flow meters is anticipated to increase in the coming months. Currently, the automotive air flow meters market is growing due to increasing concerns regarding the efficiency of vehicles. The growth is primarily attributed to a large number of applications of automotive air flow meters in the automotive industry, which is likely to continue during the forecast years. Stringent government regulations to curb vehicles' exhaust emissions is one of the major factors driving the airflow meters market, globally. The rise in new vehicle sales has boosted the global automotive air flow meters market. The rising demand for automobiles is anticipated to boost the demand for automotive air flow meters over the next few years.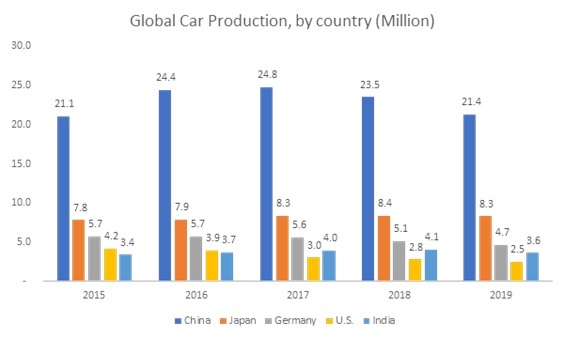 Source: International Organization of Motor Vehicle Manufacturers (OICA)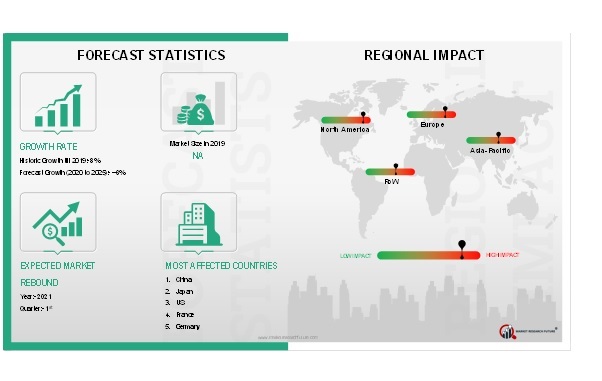 Table of Contents
1 Executive Summary

2 Research Methodology

2.1 Scope of the Study

2.1.1 Definition

2.1.2 Research Objective

2.1.3 Assumptions

2.1.4 Limitations

2.2 Research Process

2.2.1 Primary Research

2.2.2 Secondary Research

2.3 Market size Estimation

2.4 Forecast Model
3 Market Dynamics

3.1 Market Drivers

3.2 Market Inhibitors

3.3 Supply/Value Chain Analysis

3.4 Porter's Five Forces Analysis

4 Global Automotive Air Flow Meter Market, By Vehicle Type

4.1 Introduction

4.2 Heavy duty vehicle

4.3 Light duty vehicle

5 Global Automotive Air Flow Meter Market, By Sales Channel

5.1 Introduction

5.2 Aftersales market

5.3 Original equipment market (OEM)

6 Global Automotive Air Flow Meter Market, By Display Type

6.1. Introduction

6.2 Analog type

6.3 Digital type

7 Regional Market Analysis

7.1 Introduction

7.2 North America

7.2.1 U.S.

7.2.2 Canada

7.3 Europe

7.3.1 U.K

7.3.2 France

7.3.3 Germany

7.3.4 Spain

7.3.5 Rest of Europe

7.4 Asia-Pacific

7.4.1 China

7.4.2 Japan

7.4.3 India

7.4.4 Rest of Asia Pacific

7.5 Rest of the World

8 Competitive Analysis

8.1 Introduction

8.2 Competitive Scenario

8.2.1 Market Share Analysis

8.2.2 Market Development Analysis

8.2.3 Application/Service Benchmarking

8.3 Denso Corporation (Japan)

8.3.1 Overview

8.3.2 Automotive Air flow Meter Type/Service Offering

8.3.3 Strategy

8.4 Robert Bosch GmbH (Germany)

8.4.1 Overview

8.4.2 Automotive Air flow Meter Type/Service Offering

8.4.3 Strategy

8.5 Festo AG & Co. KG (Germany)

8.5.1 Overview

8.5.2 Automotive Air flow Meter Type/Service Offering

8.5.3 Strategy

8.6 Hitachi, Ltd. (Japan)

8.6.1 Overview

8.6.2 Automotive Air flow Meter Type/Service Offering

8.6.3 Strategy

8.7 Delphi Automotive PLC (U.K)

8.7.1 Overview

8.7.2 Automotive Air flow Meter Type/Service Offering

8.7.3 Strategy

8.8 ACDelco (U.S)

8.8.1 Overview

8.8.2 Automotive Air flow Meter Type/Service Offering

8.8.3 Strategy

8.9 Mitsubishi Motors Corporation (Japan)

8.9.1 Overview

8.9.2 Automotive Air flow Meter Type/Service Offering

8.9.3 Strategy

8.10 K&N Engineering, Inc. (U.S)

8.10.1 Overview

8.10.2 Automotive Air flow Meter Type/Service Offering

8.10.3 Strategy

8.11 Nissan Motor Co., Ltd. (Japan)

8.11.1 Overview

8.11.2 Automotive Air flow Meter Type/Service Offering

8.11.3 Strategy

8.12 FLIR Systems (U.S)

8.12.1 Overview

8.12.2 Automotive Air flow Meter Type/Service Offering

8.12.3 Strategy