Impact of COVID-19 on the Global Automated Test Equipment Market
The automated test equipment market has been impacted negatively since the outbreak of COVID-19 in December 2019. The pandemic has resulted in numerous countries imposing lockdowns and shutting down businesses except for essential services (allowed with minimal workforce). However, the demand for EDWs is anticipated to recover in the coming months as numerous countries begin to remove the lockdowns in a phased manner. The governments of several countries have granted permission to restart businesses, keeping in mind the safety guidelines. Automated test equipment (ATE) is utilized to identify defects in devices under tests (DUT) and aid in ensuring device quality. The adoption of ATE plays a crucial role in reducing manufacturing costs and aids in eliminating faulty devices from entering the market. ATE is widely used to test faults in integrated circuits, semiconductor wafers, printed circuit boards, chips, and other electronic components. It is widely utilized in the semiconductors industry to test electronic systems and electronic semiconductor components for defects throughout the manufacturing process to ensure quality products.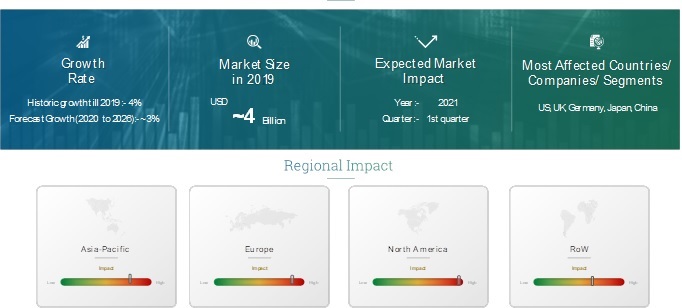 The automated test equipment market is likely to grow at a significant pace owing to the increasing adoption of ATE, constant innovations, and continuous advancements in technology. These products find applications in consumer electronics, automotive, aerospace & defense, and telecommunications, among other industries. The growth of the automated test equipment (ATE) market can be attributed to the rising demand for efficient power management, the increasing adoption of smartphones which is boosting the semiconductors industry, and the growth of the consumer electronics market. The key factors that drive the growth of the ATE market are rising complexities in consumer electronics and a reduction in manufacturing time & cost. Hence, it is anticipated that the market for automated test equipment will grow at a significant CAGR in the coming years. The demand for ATE is anticipated to rebound in the first quarter of 2021 as several countries prepare to resume operations to restore their economic situations.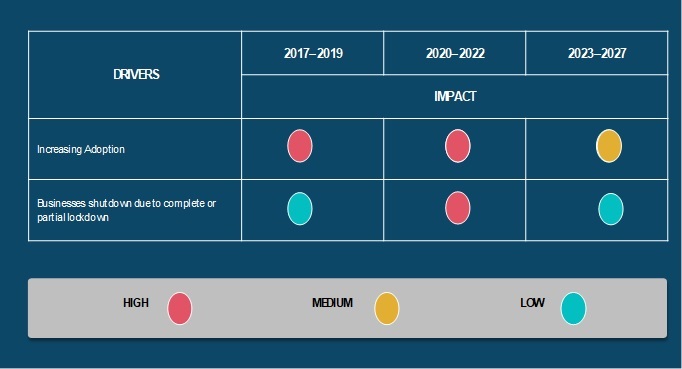 1 INTRODUCTION
1.1 INTRODUCTION 11
1.2 SCOPE OF STUDY 11
1.3 RESEARCH OBJECTIVES 11
1.3.1 ASSUMPTION 11
1.3.2 LIMITATION 11
1.3.3 MARKET STRUCTURE 11
1.3.3.1 Global Automated Test Equipment Market by Component 11
1.3.3.2 Global Automated Test Equipment Market by Type 11
1.3.3.3 Global Automated Test Equipment Market by Application 12
1.3.3.4 Global Automated Test Equipment Market by Region 12

2 RESEARCH METHODOLOGY
2.1 RESEARCH PROCESS 13
2.2 PRIMARY RESEARCH 14
2.3 SECONDARY RESEARCH 14
2.4 FORECAST MODEL 15
2.4.1 MARKET DATA COLLECTION, ANALYSIS & FORECAST 15
2.4.2 MARKET SIZE ESTIMATION 15
2.4.3 MARKET CRACKDOWN & DATA TRIANGULATION 17

3 MARKET OVERVIEW
3.1 INTRODUCTION 18
3.2 DEFINITION 18
3.2.1 MARKET SEGMENTATION OF AUTOMATED TEST EQUIPMENT 18
3.2.1.1 Market Segmentation On the Basis of Components 18
3.2.1.2 Market Segmentation On the Basis of Types 19
3.2.1.3 Market Segmentation On the Basis of Application 19

4 FORECAST INDICATORS
4.1 GROWTH DRIVERS 20
4.1.1 RISING COMPLEXITIES IN THE DESIGN OF CONSUMER ELECTRONIC DEVICES 20
4.1.2 REQUIREMENT OF HIGH EFFICIENCY OF THE ATES, FOR INCREASING THE THROUGHPUT 20
4.1.3 STRONG RISE IN APPLICATIONS IN THE AUTOMOTIVE MARKET 21
4.1.4 REDUCED MANUFACTURING TIME AND COST 21
4.2 BARRIERS 21
4.2.1 HIGH COMPETITION AMONGST THE INDUSTRY MANUFACTURERS 21
4.2.2 DYNAMIC CHANGES IN THE ATE TECHNOLOGY LIMITS THE DEMAND OF ATE IN THE MARKET 22
4.2.3 HIGH COSTS OF ATE EXPECTED TO RESTRAIN THE MARKET GROWTH 22
4.3 OPPORTUNITY 22
4.3.1 DEVELOPMENT OF SEMICONDUCTOR MANUFACTURING PROCESSES 22
4.3.2 EXPANSION OF WIRELESS NETWORKS 23
4.3.3 ADAPTION OF ENERGY EFFICIENT INTEGRATED CIRCUIT 23
4.4 MEGA TRENDS 23
4.4.1 HIGH INVESTMENT IN R&D 23
4.4.2 INCREASE GOVERNMENT INTEREST 23

5 MARKET ANALYSIS
5.1 VALUE CHAIN 24
5.2 PORTER'S 5 FORCES ANALYSIS 26
5.3 THREAT OF NEW ENTRANTS 27
5.4 SUPPLIER'S POWER 27
5.5 THREAT OF SUBSTITUTES 28
5.6 BUYER'S POWER 28
5.7 DEGREE OF COMPETITION 28

6 GLOBAL AUTOMATED TEST EQUIPMENT MARKET: BY COMPONENTS
6.1 INTRODUCTION 29
6.1.1 INDUSTRIAL PC 29
6.1.2 MASS INTERCONNECT 29
6.1.3 HANDLER 29
6.1.4 PROBER 29
6.1.5 SEMICONDUCTOR 30

7 GLOBAL AUTOMATED TEST EQUIPMENT MARKET: BY TYPES
8.1 INTRODUCTION 39
8.2 CONSUMER ELECTRONICS 40
8.3 AUTOMOTIVE 42
8.4 AEROSPACE & DEFENSE 43
8.5 TELECOMMUNICATION 44
8.6 OTHERS (MEDICAL/EDUCATION INDUSTRY) 45

8 GLOBAL AUTOMATED TEST EQUIPMENT MARKET: BY COUNTRY
9.1 INTRODUCTION 47
9.2 AMERICAS: 48
9.2.1 NORTH AMERICA 50
9.2.2 LATIN AMERICA 51
9.3 EUROPE 51
9.4 ASIA-PACIFIC 53
9.5 ROW 56

9 GLOBAL AUTOMATED TEST EQUIPMENT MARKET: COMPETITIVE LANDSCAPE
10.1 INTRODUCTION 57
10.2 KEY MARKET DEVELOPMENT TRENDS 57
10.3 ACHIEVEMENT 58
10.4 COLLABORATION AND PARTNERSHIP 58
10.5 ACQUISITION 59
10.6 NEW PRODUCT DEVELOPMENT 60
10.7 INVESTMENT 61

10 COMPANY PROFILE
11.1 CHROMA ATE INC. 62
11.1.1 OVERVIEW 62
11.1.2 PRODUCT/BUSINESS SEGMENT OVERVIEW 62
11.1.3 FINANCIALS 63
11.1.4 KEY DEVELOPMENTS 63
11.1.5 SWOT ANALYSIS 64
11.2 COBHAM PLC 65
11.2.1 OVERVIEW 65
11.2.2 PRODUCT/BUSINESS SEGMENT OVERVIEW 65
11.2.3 FINANCIALS 66
11.2.4 KEY DEVELOPMENTS 66
11.2.5 SWOT ANALYSIS 67
11.3 ASTRONICS TEST SYSTEMS (SUBSIDIARY OF ASTRONICS CORPORATION). 68
11.3.1 OVERVIEW 68
11.3.2 PRODUCT/BUSINESS SEGMENT OVERVIEW 68
11.3.3 FINANCIALS 69
11.3.4 KEY DEVELOPMENTS 69
11.3.5 SWOT ANALYSIS 70
11.4 AGILENT TECHNOLOGIES INC. 71
11.4.1 OVERVIEW 71
11.4.2 PRODUCT/BUSINESS SEGMENT OVERVIEW 71
11.4.3 FINANCIALS 72
11.4.4 KEY DEVELOPMENTS 72
11.4.5 SWOT ANALYSIS 73
11.5 TERADYNE INC. 74
11.5.1 OVERVIEW 74
11.5.2 PRODUCT/BUSINESS SEGMENT OVERVIEW 74
11.5.3 FINANCIALS 75
11.5.4 KEY DEVELOPMENTS 75
11.5.5 SWOT ANALYSIS 76
11.6 ADVANTEST CORPORATION 77
11.6.1 OVERVIEW 77
11.6.2 PRODUCT/BUSINESS SEGMENT OVERVIEW 77
11.6.3 FINANCIALS 78
11.6.4 KEY DEVELOPMENTS 78
11.7 LTX-CREDENCE CORPORATION (SUBSIDIARY OF XCERRA COMPANY) 79
11.7.1 OVERVIEW 79
11.7.2 PRODUCT/BUSINESS SEGMENT OVERVIEW 79
11.7.3 FINANCIALS 80
11.7.4 KEY DEVELOPMENTS 80
11.8 ROOS INSTRUMENTS INC. 81
11.8.1 OVERVIEW 81
11.8.2 PRODUCT/BUSINESS SEGMENT OVERVIEW 81
11.8.3 KEY DEVELOPMENTS 81
11.9 NATIONAL INSTRUMENTS CORPORATION: 82
11.9.1 OVERVIEW 82
11.9.2 PRODUCT/BUSINESS SEGMENT OVERVIEW 82
11.9.3 FINANCIALS 83
11.9.4 KEY DEVELOPMENTS 83
11.10 MARVIN TEST SOLUTION INC. 84
11.10.1 OVERVIEW 84
11.10.2 PRODUCT/BUSINESS SEGMENT OVERVIEW: 84
11.10.3 KEY DEVELOPMENTS: KEY DEVELOPMENTS 84
11.11 ADVANCE INTEGRATION, LLC 85
11.11.1 OVERVIEW 85
11.11.2 PRODUCT/BUSINESS SEGMENT OVERVIEW 85
11.11.3 KEY DEVELOPMENTS 85

11 APPENDIX
12.1 DISCUSSION BLUE PRINT 86
12 List of Tables
TABLE 1 MARKET FACTOR ANALYSIS 27
TABLE 2 GLOBAL AUTOMATED TEST EQUIPMENT MARKET, BY TYPE (USD BILLION) 31
TABLE 3 MEMORY AUTOMATED TEST EQUIPMENT MARKET, BY APPLICATION (USD BILLION) 32
TABLE 4 MEMORY AUTOMATED TEST EQUIPMENT MARKET, BY REGION (USD BILLION) 33
TABLE 5 NON-MEMORY AUTOMATED TEST EQUIPMENT MARKET, BY APPLICATION (USD BILLION) 34
TABLE 6 NON-MEMORY AUTOMATED TEST EQUIPMENT MARKET, BY REGION (USD BILLION) 35
TABLE 7 DISCRETE AUTOMATED TEST EQUIPMENT MARKET, BY APPLICATION (USD BILLION) 36
TABLE 8 DISCRETE AUTOMATED TEST EQUIPMENT MARKET, BY REGION (USD BILLION) 37
TABLE 9 GLOBAL AUTOMATED TEST EQUIPMENT MARKET, BY APPLICATION (USD MILLION) 39
TABLE 10 CONSUMER ELECTRONICS ATE MARKET BY TYPE (USD MILLION) 41
TABLE 11 AUTOMOTIVE ATE MARKET BY TYPE (USD MILLION) 42
TABLE 12 AEROSPACE & DEFENSE ATE MARKET BY TYPE (USD MILLION) 43
TABLE 13 TELECOMMUNICATION ATE MARKET BY TYPE (USD MILLION) 44
TABLE 14 OTHERS ATE MARKET BY TYPE (USD MILLION) 46
TABLE 15 GLOBAL AUTOMATED TEST EQUIPMENT MARKET SIZE, BY REGION (USD MILLION) 47
TABLE 16 NORTH AMERICA AUTOMATED TEST EQUIPMENT MARKET SIZE BY COUNTRY (USD MILLION) 48
TABLE 17 NORTH AMERICA AUTOMATED TEST EQUIPMENT MARKET SIZE BY MEMORY TYPE (USD MILLION) 49
TABLE 18 EUROPE AUTOMATED TEST EQUIPMENT MARKET SIZE (USD MILLION) 51
TABLE 19 EUROPE AUTOMATED TEST EQUIPMENT MARKET SIZE BY MEMORY TYPE (USD MILLION) 52
TABLE 20 ASIA-PACIFIC AUTOMATED TEST EQUIPMENT MARKET SIZE (USD MILLION) 54
TABLE 21 ASIA-PACIFIC AUTOMATED TEST EQUIPMENT MARKET SIZE BY MEMORY TYPE (USD MILLION) 55
TABLE 22 ROW AUTOMATED TEST EQUIPMENT MARKET SIZE BY MEMORY TYPE (USD MILLION) 56
 

13 List of Figures
FIGURE 1 RESEARCH PROCESS 13
FIGURE 2 GLOBAL AUTOMATED TEST EQUIPMENT MARKET, BY TYPE (USD BILLION) 32
FIGURE 3 MEMORY AUTOMATED TEST EQUIPMENT MARKET, BY APPLICATION 33
FIGURE 4 MEMORY AUTOMATED TEST EQUIPMENT MARKET, BY REGION 34
FIGURE 5 NON-MEMORY AUTOMATED TEST EQUIPMENT MARKET, BY APPLICATION 35
FIGURE 6 NON-MEMORY AUTOMATED TEST EQUIPMENT MARKET, BY REGION 36
FIGURE 7 DISCRETE AUTOMATED TEST EQUIPMENT MARKET, BY APPLICATION 37
FIGURE 8 DISCRETE AUTOMATED TEST EQUIPMENT MARKET, BY REGION 38
FIGURE 9 GLOBAL AUTOMATED TEST EQUIPMENT MARKET, BY APPLICATION (USD MILLION) 40
FIGURE 10 CONSUMER ELECTRONICS ATE MARKET BY TYPE (USD MILLION) 41
FIGURE 11 AUTOMOTIVE ATE MARKET BY TYPE (USD MILLION) 42
FIGURE 12 AEROSPACE & DEFENSE ATE MARKET BY TYPE (USD MILLION) 44
FIGURE 13 TELECOMMUNICATION ATE MARKET BY TYPE (USD MILLION) 45
FIGURE 14 OTHERS ATE MARKET BY TYPE (USD MILLION) 46
FIGURE 15 GLOBAL AUTOMATED TEST EQUIPMENT MARKET SIZE, BY REGION 48
FIGURE 16 NORTH AMERICA AUTOMATED TEST EQUIPMENT MARKET SIZE BY COUNTRY 49
FIGURE 17 NORTH AMERICA AUTOMATED TEST EQUIPMENT MARKET SIZE BY MEMORY TYPE 50
FIGURE 18 EUROPE AUTOMATED TEST EQUIPMENT MARKET SIZE 52
FIGURE 19 EUROPE AUTOMATED TEST EQUIPMENT MARKET SIZE BY MEMORY TYPE 53
FIGURE 20 ASIA-PACIFIC AUTOMATED TEST EQUIPMENT MARKET SIZE 54
FIGURE 21 ASIA-PACIFIC AUTOMATED TEST EQUIPMENT MARKET SIZE BY MEMORY TYPE 55
FIGURE 22 ROW AUTOMATED TEST EQUIPMENT MARKET SIZE BY MEMORY TYPE 56